2014 NFL Draft: McCarron, Kouandjio struggle in Sugar Bowl loss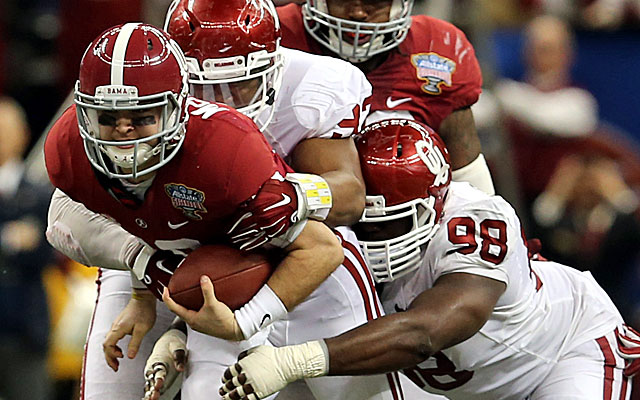 Starting with head coach Bob Stoops and his staff, the Oklahoma Sooners deserve plenty of credit for their impressive Sugar Bowl victory Thursday night over Alabama.
And while the Sooners deserve kudos -- especially quarterback Trevor Knight, receiver Jalen Saunders and linebacker Eric Striker -- it was the surprisingly poor play from two of Alabama's more highly celebrated NFL prospects that could prove the bigger story in this game, at least from a scouting perspective.
Tagged by critics as a game-manager throughout his remarkable career at Alabama, senior quarterback AJ McCarron turned the ball over three times in the 45-31 loss, throwing two bad interceptions and losing the fumble which was returned by defensive end Geneo Grissom for the game-clinching score.
McCarron was given little help up front by the normally stellar Alabama offensive line. Star left tackle Cyrus Kouandjio -- a player I have touted all year long as a potential first round prospect -- certainly didn't play the part of a top 32 NFL prospect against the Sooners, however, allowing at least two sacks, including the hit from Striker which forced McCarron's late fumble.
Kouandjio's struggles against Striker, listed by Oklahoma at 219 pounds, is not particularly surprising given the the 6-foot-5, 310 pound junior left tackle has struggled with speed in the past. While athletic and possessing the long arms and strong hands to compete at left tackle, his technique remains inconsistent. On multiple occasions against Oklahoma, Kouandjio was either late off the snap or failed to get an initial punch on the defender. Typically, he's able to catch up with pass rushers because of his length and McCarron's underrated mobility and awareness in the pocket. When Kouandjio was late and unable to latch on at all, however, Oklahoma was able to pressure McCarron easily.
One poor game won't push Kouandjio out of the first round. It will force scouts who had projected him as a left tackle to rethink whether his best fit in the NFL may lie on the right side. The poor performance also could increase the chances that Kouandjio, just 20 years old, elects to return to Alabama for a fourth season.
With his eligibility gone, McCarron doesn't have the luxury of returning for another season to polish his game. And while he showed off the same traits which have intrigued scouts throughout his career -- the ability to read defenses, good touch on the deep ball and functional mobility -- it was also clear that the poise in which he's often been celebrated for possessing wasn't as evident once he started getting hit.
As Oklahoma's pass rush got to McCarron, his eyes dropped to look at the defenders coming toward him rather than searching downfield for receivers breaking free. Considering that McCarron has played behind one of the nation's elite offensive lines throughout his career, it is fair to wonder how much success he would have had in the SEC if playing behind a less talented front.
Worse, considering McCarron's experience, both of his interceptions were poor plays.
The first, which came with Alabama holding a 7-0 lead and momentum after intercepting Knight, was an inexcuseable throw into triple coverage.
McCarron faced heavy pressure on the second interception and because of that he could be given a pass by some talent evaluators. Oklahoma hardly disguised their intentions on 2nd and 10, however, the Sooners crowded the line of scrimmage with five defenders (three defensive linemen and two linebackers), advertising an oncoming blitz.
Each of the five came after McCarron and Alabama's offensive line held up reasonably well against these five. It was a sixth defender -- senior defensive back Kass Everett -- who caught Alabama by surprise by coming on a delayed blitz from McCarron's left.
McCarron turned toward Everett, almost surely watching the defender rushing towards him. Rather than tuck the ball and run, throw the ball away or step into his throw to put some velocity into it, the senior quarterback wound up and slid off his throw, offering a relatively soft toss that Zack Sanchez stepped in front of intended target Amari Cooper to easily steal.
While McCarron's final game for the Tide was unquestionably disappointing, no scout is going to forget the remarkable success enjoyed throughout his career. Further, it is worth pointing out that McCarron did pass for 387 yards and two scores in this contest and was in position to lead Alabama to the potentially game-tying score with just under a minute remaining.
In a game in which Oklahoma's biggest stars shined under the brights lights, however, two of Alabama's most celebrated prospects struggled. Scouts won't forget that, either.