2014 NFL Draft: Oregon State DE Scott Crichton making NFL jump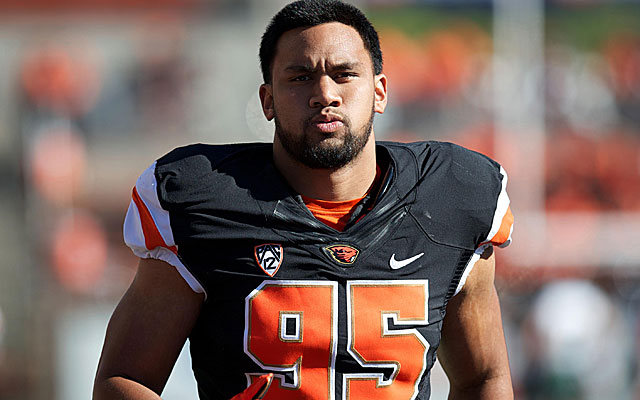 As it currently stands, the 2014 NFL draft appears stronger already than last year's crop of talent. Defensive end, one position in which this year's senior class was perhaps lacking, has received a huge infusion in talent in recent days with the news that South Carolina superstar Jadeveon Clowney has joined the mix, as well as Missouri's Kony Ealy, each projected as first round prospects by NFLDraftScout.com.
Oregon State' Scott Crichton hasn't received as much fanfare from a national perspective but expect that to change in the coming months.
The 6-foot-3, 265-pound Crichton added his name to the growing list of pass rushers heading early to the NFL, according to an email sent by his attorney, Nelson Fraley.
While lacking Clowney and Ealy's extraordinary athleticism, Crichton (oronounced CRY-ton) has improved throughout his career with the Beavers and projects well as a traditional 4-3 defensive end in the NFL.
With 7.5 sacks in 2013 despite being the focus of every opponent's blocking scheme, Crichton earned Second Team All-Pac-12 honors. This was a drop from his career-high nine sacks in 2012 but Crichton showed improved strength and versatility during his redshirt junior season, complementing his impressive burst off the snap and terrific motor.
Crichton's broad shoulders and stout frame, overall, allowed the Beavers to move him all over the defensive line in 2013. He typically lined up outside at defensive end but played inside at nose guard against rival Oregon in an attempt to slow down the Ducks' high-powered, up-tempo offense.
Crichton times the snap well, showing an explosive burst off the ball to cross the face of offensive tackles. He uses his hands very well, frequently chopping and ripping through opponents' attempts to latch onto him and possesses good core strength, showing the ability to simply bull-rush would-be blockers into the pocket.
Crichton possesses a well-built frame that does not lend itself well to flexibility, however, making him a bit stiff when changing directions. Further, he does not possess ideal straight-line speed for the position. His motor never quits, but he doesn't possess Clowney or Ealy's acceleration to tackle ball-carriers from behind.
As such, Crichton currently stands on NFLDraftScout.com's board as a second round prospect and our No. 7 defensive end. While perhaps lacking elite upside, Crichton's well-developed game and competitive spirit make him a relatively "safe" pick who could sneak into the draft's top round.
Crichton is the second OSU Beaver to head early into the NFL draft this year, joining wideout Brandin Cooks, the reigning Biletnikoff winner, who made his announcement on Thursday.