2014 NFL Draft: LSU RB Hill reverses field, headed to NFL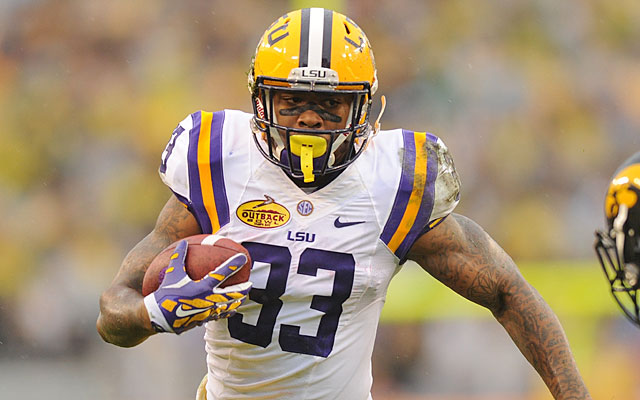 More Draft: NFL Mock Drafts | Prospect Rankings | Latest news | Underclassmen
Potential second- or third-round pick Jeremy Hill is entering the 2014 NFL Draft, he said Monday.
Hill, who rushed for 1,401 yards in 11 games after serving a suspension, surprised many close to the program two days before the underclassmen deadline to enter the 2014 draft. Earlier indications from the team were that Hill was planning to play his junior season at LSU.
NFLDraftScout.com's sixth-ranked running back in the 2016 draft class, Hill is eligible to enter the May draft because he is a redshirt sophomore.
What could have swayed the LSU power back? The program has a commitment from the nation's top running back, Leonard Fournette from New Orleans St. Augustine High, who is expected to sign a national letter of intent with the Tigers on Feb. 6.
Hill (6-feet-1, 235 pounds) had only 203 carries last season and still turned in the second-best season ever by a LSU running back.
By comparison, Alabama's Eddie Lacy was drafted 61st overall in 2013 and became an Offensive Rookie of the Year candidate as the lead back of the Green Bay Packers after just one season as the primary ball-carrier for the Crimson Tide.
Here are NFLDraftScout.com's running back rankings for the 2014 draft with Hill included:
If Hill opted to return, part of the pull back to Baton Rouge would have been repaying coach Les Miles for giving him multiple chances to be part of the team despite legal entanglements.
He was suspended from the opener against TCU and in the first quarter of the home opener against UAB as punishment for an arrest for simple battery. He was captured on camera punching a man from behind outside a bar near the LSU campus.
Hill was unable to sign at LSU after a misdemeanor arrest for carnal knowledge of a juvenile female, but Miles did bring him in months later, in January 2012.
His interview with scouts at the 2014 combine in Indianpolis will be as much about character and contrition as it is football.
In December, Hill, a 3.0 student, said he had turned a corner for good.
"I've learned how to approach my life on a day-to-day basis and try to be an example for guys," Hill said before annihilating Iowa in the Outback Bowl. "I tell them in life you are going to make mistakes, but it's how you come back from them that is the most important thing. If I continue as I have been these last several months, I'll be fine. I want to leave a legacy of people appreciating me. I owe LSU and Coach Miles a lot."