2014 Shrine Game: Monday practice report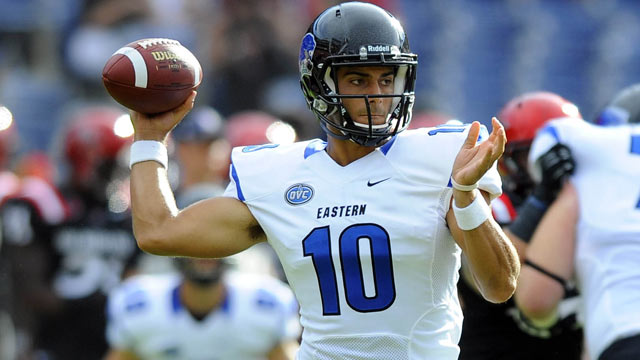 More Draft: NFL Mock Drafts | Prospect Rankings | Latest news | Underclassmen
ST. PETERSBURG, Fla. – Although the first day of practice is usually sloppy with a lot of walk-through as players become acclimated to a new setting, coaches and teammates, there were several prospects who stood out on day one, starting with the quarterbacks on the East Squad.

Cornell QB Jeff Mathews had a middling senior season and entered this week as a prospect under-the-microscope. In Monday's east practice, he started slow, but picked up steam and got into rhythm with as the drills progressed, showing off his big arm and downfield vision. Mathews displayed good placement, accuracy and anticipation, something that he flashed in college, and he gained confidence throughout the practice. His set-up, release and overall process is average at-best, but he has the superior arm strength compared to the other passers in St. Petersburg this week.

While he doesn't have the arm strength of Mathews, Eastern Illinois QB Jimmy Garoppolo showed off what he does well on Monday. He was quick in his set-up, delivery and timing to quickly scan the field and get the ball out of his hand before the rush gets to him. Garoppolo doesn't have an elite arm, but he snaps off better velocity than expected with touch to give his receivers a catchable ball. Different teams will prefer Garopollo's style, while others will lean towards Mathews, but both had a positive first day at East-West Shrine Game practices.

Other practice notes:
The top running back prospect on Day 1 was Northern Arizona's Zach Bauman on the East Team. Listed at 5-10 and 200 pounds, he doesn't look physically imposing and lacks a power element, but he is quick-footed to make explosive jump cuts and pick his way through the defense. Bauman runs low to the ground with light feet to make decisive moves and finish his runs.
Lindenwood CB Pierre Desir entered the week as one of my top defensive prospects in St. Petersburg and he did little to persuade me from that thought during Monday's practice. He looks the part with a tall, long frame and he does a nice job staying low and fluid in his stance, backpedal and overall transition. Desir is going up against FBS-level wide receivers this week like Miami's Allen Hurns and Michigan's Jeremy Gallon, but he hasn't looked out of place through one day of practice. He also received praise from the coaching staff for his ball awareness to get his head turned, find the ball and come off his man to pursue the ballcarrier.
With Notre Dame's T.J. Jones out due to injury, the top receiver spot in this all-star game is up for grabs. And the two receivers who are the favorites in my eyes to separate themselves as the cream of the crop are San Jose State's Chandler Jones (West Team) and Coastal Carolina's Matt Hazel (East Team). Jones has explosive feet to run crisp routes and caught everything with his hands on Monday. Hazel showed tremendous adjustments to the ball and reeled in every ball thrown his way as well. Both are players to watch this week at the wide receiver position.
Besides Jones, other players who are not expected to participate this week due to injury include Missouri CB E.J. Gaines, Missouri OT Justin Britt, Ohio CB Travis Carrie, Navy LB Cody Peterson, Wisconsin SS Dezmen Southward and Concordia DL Zach Moore.