2014 NFL Draft: Five standouts from NFLPA Collegiate Bowl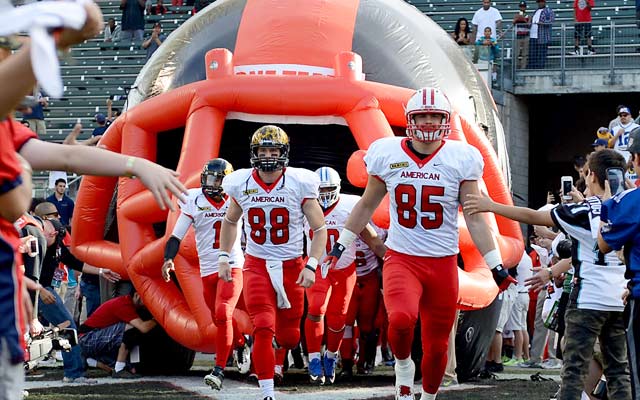 The NFLPA Collegiate Bowl lacks the Senior Bowl and East-West Shrine Game's buzz but it is growing in popularity with scouts, who viewed this year's collection of talent as the best in the contest's young history.
Scouts may favor the one-on-one matchups of the practices preceding All-Star games rather than the fan-friendly contest but they definitely pay attention on Saturday to see if the same prospects who starred throughout the week can carry it through the game.
Playing in pro-style schemes under the tutelage of former NFL head coaches Dick Vermeil and Dennis Green, several prospects flashed the traits worthy of draft consideration. Perhaps most exciting, some of the players who performed the best were making the biggest jump in competition.
QB Dustin Vaughan, West Texas A&M (6-4, 234, #10)
Quarterbacks always generate the hype and all-star games are no exception. While South Carolina's Connor Shaw dominated the pre-game buzz for this contest, West Texas A&M's Dustin Vaughan caught the attention of scouts throughout the week of practice and delivered a handful of passes Saturday afternoon to carry over his positive momentum. Scouts like Vaughan's frame, as well as his functional mobility in the pocket and big arm. He showed the ability to check down to secondary targets, as well as good touch on two deep passes to Fresno State wideout Isaiah Burse. While the stat-book wasn't impressive (2/5 for 38 yards), it would have been better if not for an ugly drop from Burse, who otherwise enjoyed a strong game as a receiver and returner, himself.
DT Khyri Thornton, Southern Mississippi (6-2, 301, #98)
While Vaughan and running backs Roy Finch (Oklahoma), Franklyn Quiteh (Bloomsburg) and J.C. Copeland (LSU) each showed flashes to intrigue, the most dominant player on the field was arguably Thornton.
Thornton frequently took on double-teams, showing the strength to anchor as well as the burst and quick hands to swim over the top when the American Team elected to dedicate just one blocker towards stopping him. This resulted in an impressive sack of Hawaii's Sean Schroeder in the second quarter.
Thornton was the flashiest of an impressive performance from the defensive linemen but he wasn't the only one to impress.
DT Jamie Meder, Ashland (6-2, 306, #67)
Thornton boasts the most talent among a strong group of defensive linemen from the NFLPA Bowl, but it was Meder, the two-time reigning GLIAC Defensive Lineman of the Year, who made the bigger plays. While perhaps not an elite athlete, Meder showed awareness and strength to shed a block in the hole and tackle Arkansas fullback Kiero Small to thwart a fourth-and-2 attempt for the American team in the second quarter. It was Meder's second big play of the early action as he got a mitt up in the air to tip a pass from Missouri's James Franklin, leading to an easy interception by Oklahoma State linebacker Shaun Lewis.
DE/OLB Kasim Edebali, Boston College (6-2, 248, #91)
Edebali showed off his trademark burst, forcing National quarterbacks to step up in the pocket on numerous occasions. Late in the second quarter, his ability to anticipate the snap count helped him slip easily past Georgia left tackle Kenarious Gates, forcing Louisiana-Monroe's Kolton Browning into the arms of Winston-Salem defensive tackle Donnie Owens.
TE Brian Wozniak, Wisconsin (6-4, 256, #85)
It was Miami's Asante Cleveland who made the most impressive play from a tight end in this contest, showing impressive body control and vision to haul in a 27-yard touchdown pass from Cincinnati's Brendon Kay, but Wozniak also flashed, showing surprisingly soft hands considering how rarely he was used in this capacity with the Badgers. Wozniak caught just 15 passes for 127 yards over his career but each of his four touchdowns came in 2013 and he left Madison with 21 starts in 47 games. In a game like this one, catching the eye of scouts is the goal and after being overshadowed by Jacob Pederson throughout much of their respective careers with the Badgers, Wozniak helped his chances at earning an NFL audition with his well-rounded game.