2014 Senior Bowl: Trio of lineman highlight physical North practice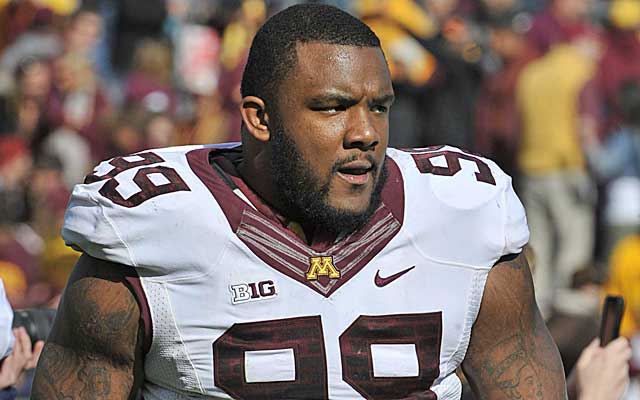 More Draft: NFL Mock Drafts | Prospect Rankings | Latest news | Senior Bowl
MOBILE, Ala. --- Scouts were greeted by a blue sky but 20 mile-per-hour winds at Ladd-Peebles Stadium, making the evaluation of quarterbacks tough. The conditions were ideal for play in the trenches, however, which is where the best talent in the 2014 Senior Bowl resides, anyway.
Minnesota defensive tackle Ra'Shede Hageman (No. 19) and Notre Dame offensive tackle Zack Martin (No. 25) entered the week of practice at the Senior Bowl as NFLDraftScout.com's top-rated prospects playing in the all-star game. At Tuesday morning's North team practice, it was easy to justify their projected first round grade.
The well-built Hageman flashed dominating strength and length, routinely driving opponents into the backfield with a his bull rush and showing impressive burst for a man of his imposing 6-foot-6, 318-pound frame.
Hageman was tough to handle in one-on-one drills -- putting Miami guard Brandon Linder on his back during one particularly explosive rush -- but carried over his impressive play into the full 11-on-11 scrimmages, as well. He remains a prospect who flashes rather than consistently dominates but considering his power, size and athleticism, teams operating under 4-3 and 3-4 principles, alike, were taking notice.
Hageman's scheme and position versatility is in stark contrast to an even flashier player -- Pittsburgh's Aaron Donald -- who by all accounts was the star of Monday's practice.
Donald's burst makes him a terror during individual pass-rush drills but at a shade under 6-foot-1 and 288 pounds, he projects best as a pass-rush specialist three-technique defensive tackle in the 4-3 alignment. A team in need of an interior pass rusher certainly could justify selecting him in the first round because Donald could emerge as a 8-10 sack threat in the NFL but he'll almost certainly be doing so as a rotational player -- which not every team in the league is comfortable to dedicating a first round pick towards.
On the offensive side of the ball, Martin locked down the blindside for most of the day, showing his trademark patience, forceful hands and underrated athleticism. While he generally played well, Martin's lack of ideal size was exposed a bit by some of the longer defensive ends he faced during Tuesday's practice, most notably West Virginia's Will Clarke, a 6-foot-6, 271-pounder with nearly 34" arms.
While Notre Dame's standout handled speed rushers, Clarke used his long arms to keep Martin's hands from grabbing hold of him. Unable to latch on, Martin was beaten to the outside, on occasion, reinforcing the theory that while he could remain at tackle in the NFL, he projects as a potential Pro Bowl guard.
A few other notes after focusing on the line of scrimmage:
Baylor guard Cyril Richardson and Stanford edge rusher Trent Murphy, two players who I've previously ranked highly, are thus far struggling to adapt to the different schemes used by the Atlanta Falcons' coaching staff. Richardson, a monstrous man at 6-foot-4 (and a 1/2) and 348 pounds is fine when asked to block straight-ahead, which he did so impressively on a few occasions against Donald, pancaking Pittsburgh's star on one occasion. Richardson's lack of ideal lateral agility and balance was exposed by Donald on numerous other snaps during one-on-one drills, however. More alarming was the inconsistency the former Baylor Bear showed during scrimmages, too often losing his balance and slipping off blocks.
Murphy, a playmaking outside linebacker for a highly physical Stanford squad, is also having a tough time adjusting as the Falcons are asking him to play defensive end. While known for his toughness and physicality with the Cardinal, Murphy looked surprisingly lean during Monday's weigh-ins, showing little upper body development on his 6-foot-5, 253-pound frame. He has strong, active hands to knock away blockers' attempts to latch on and accelerates around the edge in a controlled, efficient manner. He isn't an explosive athlete in any way, however, leading to questions about where he'll fit at the next level as he does not possess great burst nor the strength teams are looking for in an end capable of setting the edge.
One player lacking elite measureables who pleasantly surprised me along the line of scrimmage today was Clemson tackle Brandon Thomas. While shorter than ideal at 6-foot-3 (and a 1/2), the 316-pounder has good balance and the reach (34 3/8" arms) to latch and control on the perimeter. He, like Martin, may project best inside for some but handled speed and strength, alike, during Tuesday's practice.