2014 Senior Bowl: Defenders Ford, Watkins shine on Tuesday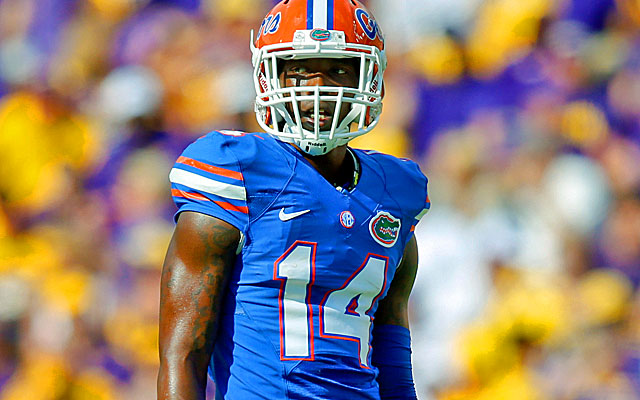 More Draft: NFL Mock Drafts | Prospect Rankings | Latest news | Senior Bowl

MOBILE, Ala. – The Southeastern Conference breeds future NFL stars and the South squad at the Senior Bowl has 22 players on the roster from college football's superior conference. And two former SEC players specifically stood out during Tuesday's practice: Auburn DE Dee Ford and Florida CB Jaylen Watkins.

Ford has been dominating offensive tackles all week with his explosive athleticism and natural bend off the edge. He has displayed the first step burst and quick acceleration to win with speed and never slow his get-off momentum through the rush. Ford keeps his frame low and does a nice job attacking the body of blockers to win leverage before quickly ripping past them. He made mincemeat out of North Dakota State's Billy Turner and Vanderbilt's Wesley Johnson on a few occasions, building on the buzz he started in Monday's practice.

On the other side of the field, Watkins, who is the older brother of Clemson WR Sammy Watkins, put together a string of positive plays during drills, getting his hands on the ball on a few reps. He showed smooth feet and hip action to quickly redirect and get his body under control to mirror the movements of the receiver. Watkins also did a nice job getting his head turned around to find the ball, elevate and break up the play. He is noticeably lean and his lack of muscle showed up on tape, but he weighed in at 194 pounds and his scrappy style of play serves him well.

To say the least, Ford and Watkins are prospects who have made the most of this opportunity in Mobile thus far and are helping themselves in the eyes of NFL scouts and the Jacksonville Jaguars' coaching staff. Purely hypothetical at this point, but Ford would be a viable candidate for the Jaguars in the second round for their "LEO" pass rush position and Watkins could be a target a round or two later to help the secondary.

Other notes:
As expected, Fresno State QB Derek Carr has clearly separated himself as the top passer in Mobile with his top-shelf arm strength, athleticism and overall feel for the game. He hasn't been perfect and needs to iron out a few of his bad habits, but the arm talent and competitive drive are there for him to be a starter in the league.
While Carr is the top quarterback on the South roster, Eastern Illinois QB Jimmy Garoppolo has been the next-most-impressive at the position and, in my opinion, is the second-best quarterback in Mobile. He doesn't have elite arm strength, but his velocity is good enough and it has been noticeably better than the arm strength of San Jose State QB David Fales, the other quarterback on the South team. Garoppolo started to build some momentum in St. Petersburg last week at the East-West Shrine Game and it's continuing here at the Senior Bowl. He projects as a solid second day draft choice and a future starter in a year or two in the NFL.
Above I mentioned that Dee Ford had dominated North Dakota State OL Billy Turner on a few occasions, but overall, I was still impressed by the former Bison blocker. With Tennessee OT Ja'Wuan James out due to injury, Turner lined up primarily at right tackle throughout Tuesday's practice, despite showing better when he was at guard on Monday. He was beat a few times, but he also had his positive moments, especially when he could show off his natural feet and powerful punch. Once he learns to consistently bend and sink, Turner will be better suited for NFL rushers. He is well thought of in the NFL scouting community because of what the finished product could be with a little NFL coaching.
Unfortunate news from Tuesday's South practice that Oklahoma CB Aaron Colvin tore his ACL during drills, according to multiple reports. The injury abruptly ends a positive week for the former Sooner defensive back and likely pushes him from possible top-100 draft pick to undrafted free agent. Fresno State TE Marcel Jensen (groin) and Alabama DE Ed Stinson (groin) are also done for the week due to injuries. Boston College OT Matt Patchan and Colorado State TE Crockett Gillmore will arrive in Mobile Tuesday night to help fill spots on the roster.