2014 Senior Bowl: UVA's Moses parts the red D at South practice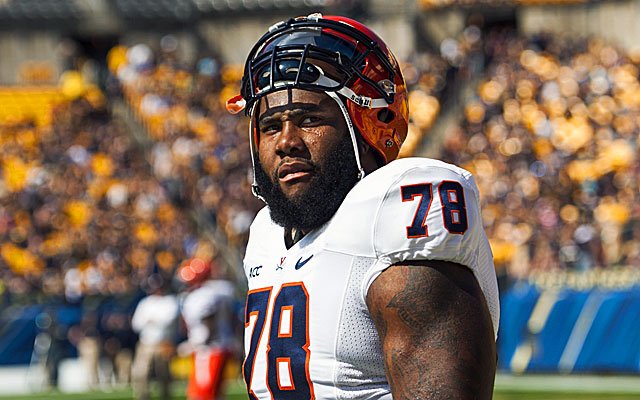 More Draft: NFL Mock Drafts | Prospect Rankings | Latest news | Senior Bowl
MOBILE, Ala. -- Given the rapid ascension enjoyed by Eric Fisher and Lane Johnson at the Senior Bowl a year ago, one can't blame scouts for spending a lot of their time evaluating offensive linemen this week.
Notre Dame's Zack Martin entered the week as NFLDraftScout.com's top-rated offensive lineman participating in the Senior Bowl but with a terrific performance Tuesday afternoon by Virginia's Morgan Moses could result in a significant jump up the board.
Alternately lining up at left and right tackle for the South team, the 6-foot-6, 325 pound behemoth showcased the length, quickness and balance to handle speed rushers like Auburn's Dee Ford (6-foot-2, 243 pounds) and Arkansas' Chris Smith (6-foot-1, 266 pounds), as well as powerful defenders like his former teammate, 6-foot-6, 298-pound defensive end Brent Urban.
Individual pass-rush drills favor the defensive players but other than one exception in which Ford beat Moses with a quick jab-step inside and explosive burst to his right, Moses handled left tackle duties well. When moved back to the right side, Moses also performed admirably, burying Urban with an emphatic pancake block that drew gasps from scouts in the stands.
Best of all, Moses' strong play continued into the scrimmages run by the Jacksonville Jaguars' coaching staff. One particular three-play sequence against the defenders in the South team's red jerseys showcased Morgan's pro-readiness:
On "first down" Moses handled a speed rush from Ford to give his quarterback enough time to complete a quick swing pass to the right.
The next play was a run to the right for solid gain. Moses did not supply a block at the point of attack on the play, instead releasing to run approximately 20 yards downfield to force adjustments from a linebacker and safety. The quickness off the ball, fluidity and straight-line speed Moses used to part the defense was every bit as impressive as the pancake block he'd delivered on Urban during the earlier one-on-one drill.
Appropriately enough, it was Urban who lined up opposite Moses on the next play. Attacking Moses with a strong bull rush that had beaten several other South team blockers throughout the day, Urban instead was stopped in his tracks due to a strong anchor and good core flexibility from the left tackle.
While Moses was the South's best blocker Tuesday, several other offensive and defensive linemen left impressions.
Cal's Deandre Coleman enjoyed a solid day on the interior, repeatedly pushing through Oklahoma's Gabe Ikard and Arkansas' Travis Swanson. Powerful and surprisingly athletic, the 6-foot-5, 315 pounder is position and scheme versatile, though scouts are left to question where this passionate play was throughout a disappointing senior season in the Pac-12. Ikard's quickness and tenacity will intrigue zone-blocking teams but he's struggled with the massive defenders in Mobile. Swanson has also been a bit inconsistent, though most of the struggles he's had over the first two days have come when he's lined up at guard, rather than center. Swanson starred for the Razorbacks at center, showing impressive agility and power in the pivot but at 6-foot-5, 310 pounds, he projects better to guard or even tackle in the opinion of some scouts.
Like Coleman, Tennessee defensive tackle Daniel McCullers bullied opponents with his power, slipping past Swanson with a good rip move early during the one-on-one drills. McCullers, 6-foot-7 and 348 pounds, struggles with leverage, playing much higher than the rest of the South defensive linemen. This allows technicians like Florida State's Bryan Stork (6-foot-4, 306 pounds) to turn and seal the massive Volunteer from the play despite a significant weight disadvantage.
Urban has generated some buzz in recent weeks and it is clear that his length and strength project very well as a traditional five-technique defensive end. He is very strong and uses the power in his upper body to stun and disengage from would-be blockers. He also lost track of the ball, at times, allowing runners to slip past him when he appeared to be in position to stop them.
A year ago Nick Saban made a surprise visit to the sidelines of the Senior Bowl. This year, it was players rather than coaches who were seen visiting at Ladd-Peebles Stadium, as South Carolina's Jadeveon Clowney and North Carolina tight end Eric Ebron were on hand for Tuesday's South practice. While two of the more athletic prospects in the entire country, as underclassmen, neither was eligible to participate in the Senior Bowl and instead likely attended strictly to watch practice and meet NFL decision-makers in town for the all-star game.