2014 Senior Bowl: Under-the-radar defenders highlight North practice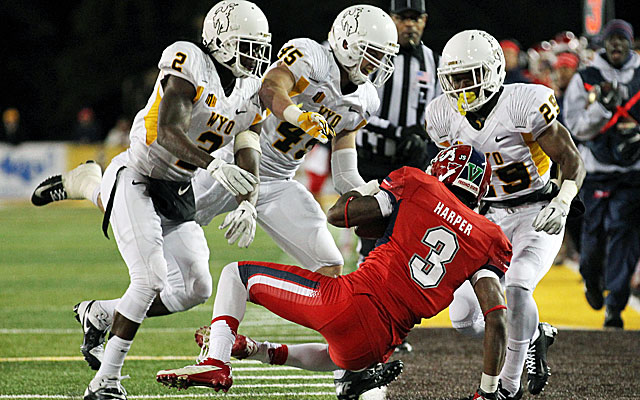 More Draft: NFL Mock Drafts | Prospect Rankings | Latest news | Senior Bowl

MOBILE, Ala. -- Blustery winds frustrated the quarterbacks practicing at the Senior Bowl Tuesday, but a day later it was the awareness and athleticism of defensive backs which made passing difficult.
Wyoming defensive back Marqueston Huff blanketed receivers, showcasing the light feet, fluid hips and straight-line speed to turn with the North's variety of receivers, ranging in size from former Cowboys' teammate Robert Herron (5-foot-9, 193 pounds) to Saginaw Valley State's chiseled 6-foot-2, 212-pound Jeff Janis.
Huff's athleticism is sure to intrigue scouts looking for cover corners and he's previously shown the toughness to handle NFL physicality due to his time at safety at Wyoming.
Another small but feisty defensive back catching the eye of scouts at the Senior Bowl was Northern Illinois' Jimmie Ward.
While lacking the frame scouts would prefer at the position, the 5-foot-10, 193-pound Ward is an aggressive downhill tackler, who crashed the line of scrimmage in run support and raced down the field as a middle defender on kickoff coverage.
Ward was moved all over the field by the Atlanta Falcons' coaching staff, lining up as a single-high safety, dropping down to cover tight ends as a traditional strong safety and splitting out to cover receivers out of the slot. In each case, his vision and burst to the ball consistently put him in position to make big plays.
One particularly impressive play came while he was backed up as a deep centerfielder. Reading a wide run to the right (his left) from West Virginia running back Charles Sims, Ward exploded towards the line of scrimmage, zipping past would-be blockers to "tackle" the 6-foot, 214-pound back in the open-field. Tackling is strictly forbidden during the all-star game practices, but Ward came in so fast, Sims had no choice but to attempt a jump-cut to his right, losing his balance and falling to the ground on a play in which he appeared to have an wide lane for an easy score.
Other standouts from Wednesday morning's North practice:
Given the Seattle Seahawks' success with long, athletic cornerbacks, scouts are keeping a close eye on the North's towering trio of Lindenwood's Pierre Desir (6-foot-1, 191 pounds), Nebraska's Stanley Jean-Baptiste (6-foot-2, 213 pounds) and North Carolina State's Dontae Johnson (6-foot-2, 199 pounds). Each had their moments on Wednesday, with the small-schooler Desir perhaps showing the best fluidity and speed of the group. While an impressive athlete, Desir literally let an opportunity slip through his fingers in dropping an easy interception midway through practice. Desir read a telegraphed pass from Clemson's Tajh Boyd, stepping in front of the wideout near the goal-line. Desir's ball-skills have stood out on tape but this pass slipped through his hands and bounced off his pads, bouncing into the air with an audible thud that could be heard high in the stands. The pass resulted in an incompletion rather than the turnover that could have turned a good play into a great one for the D-II All-American.
Oregon wideout Josh Huff might be the gifted of the North's receivers but he showed the same frustrating struggles with consistency which characterized his career with the Ducks. Possessing broad-shoulders, strength and toughness, Huff is capable of fighting through safeties to gain position, as well as the quickness and speed to separate from cornerbacks. Unfortunately, the tendency to lose focus on the details - like exploding through his routes or securing the football through the entire catch process - again came into play during Wednesday's practice. Huff can make the spectacular play, demonstrating the ability to track the ball over his shoulder on vertical routes as well as twirling to make acrobatic catches against tight coverage. He also dropped a beautiful deep ball down late in practice down the right sideline and too often was knocked off his feet by aggressive cornerbacks.
Frankly, while Huff made some splashy plays, more consistency was shown from Herron and even Northwestern's Kain Colter, who is making the transition to receiver after starring as an option quarterback with the Wildcats. While perhaps best known for his straight-line speed, Herron has impressed scouts with his stout frame, competitiveness and willingness to extend for the contested grab. He made the catch of the day early in practice, soaring high to snatch a high, hard pass from Boyd along the left sideline. While clearly a work in progress as a route-runner, Colter (5-foot-11, 199 pounds) has the agility and balance to generate separation and caught the ball cleanly.
Ohio State OT Jack Mewhort looked strong during drills for the third straight practice on Wednesday, making it a chore for rushers to line up across from him. The former Buckeye blocker lined up primarily at right tackle and did an excellent job sinking his lower body at the point of attack to anchor, dig his cleats in the ground and be a stubborn lineman to move from his spot. Mewhort utilizes every inch of his tall, stout frame (6-foot-6, 306 pounds) and large winspan (80 1/4") to engulf and control rushers. Based off tape and his performance in Mobile this week, Mewhort looks every bit the part of a future starting right tackle in the NFL.
During off-season preparation for the 2013 season, Notre Dame OL Zack Martin emerged as one of Dane Brugler's "prospect crushes" because of his ability square, punch and mirror rushers. He has lined up at both guard and tackle this week and routinely stymied the competition with quickness, power and overall technique. Martin is very good at keeping his feet underneath him while keeping his butt low to handle both speed and power. His lack of elite lateral range was tested on a few occasions, which is why his best NFL position is inside at guard. However, he has been one of the few blockers this week who has been able to keep up with Pittsburgh DT Aaron Donald. Entering the week, Martin was Brugler's top overall player participating in Mobile and after three days of practice, that's not changing any time soon. Some teams will look to keep him at tackle, but he is a future Pro Bowler at guard.
Senior Analyst Dane Brugler contributed to this report.