2014 Senior Bowl: Auburn's Dee Ford headlines list of Risers-Fallers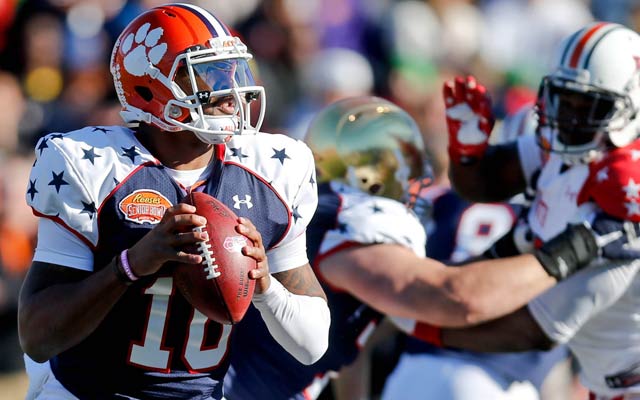 More Draft: NFL Mock Drafts | Prospect Rankings | Latest news | Senior Bowl
A year ago a relative unknown offensive tackle from Central Michigan began his climb towards the No. 1 overall selection in the 2013 NFL draft with a dominant performance at the Senior Bowl.
With underclassmen expected to dominate this year's first round, no one from the 2014 Senior Bowl is going to match Eric Fisher's perch atop the draft. However, revealing performances during the all-important week of practice and the game, itself, is certain to impact NFL draft boards.
Here are the 10 players who helped their NFL stock the most at the Senior Bowl, followed by five players who were unable to answer scouts' concerns during the Mobile, Ala. all-star game.
Helped Themselves:
Dee Ford, DE, Auburn: Ford impressed with a chiseled build at 6-foot-2, 243 pounds during the weigh-in and was virtually unstoppable off the edge during the practices, showing burst, bend and closing speed. He was the most dynamic player on the field during the game, recording two sacks and timing a leap to knock down a pass to earn MVP honors. Ford's dominant week boosted his stock at least a full round and could result in a top 32 selection.
Aaron Donald, DT, Pittsburgh: It was Donald, not Ford, who earned most of the buzz early in the week, whipping interior offensive linemen with his quickness, tenacity and underrated strength. Like Ford, Donald's size (6-foot-1, 288 pounds) limits his fits in the NFL but his ability to pressure quarterbacks could earn him a first-round selection.
Jimmie Ward, S, Northern Illinois: Scouts knew heading into the Senior Bowl that Ward possessed the fluidity and instincts to cover but competition in the MAC is much different than in Mobile. Athletic enough to handle deep coverage, as well as slide down to cover slot receivers, Ward was the Senior Bowl's most impressive pass defender this year.
Crockett Gillmore, TE, Colorado State - Gilmore came in late to the Senior Bowl as an injury replacement, but the former defensive end impressed scouts immediately with his size and overall athleticism. He really caught fire during Thursday's practice, extending to haul in an impressive touchdown and continued his stellar play in the game itself.
Weston Richburg, OC, Colorado State: Arkansas' Travis Swanson entered the week as the nation's top center prospect, but an impressive showing by another CSU Ram has his stock rising quickly. Richburg showed the anchor to handle powerful bull-rushers, as well as impressive agility in getting to the second level.
Brandon Thomas, OL, Clemson: The unquestioned top offensive lineman in Mobile this week was Notre Dame's Zach Martin, who starred at left tackle for the Irish but projects better at guard due to his short arms. Thomas didn't earn nearly the media attention but also performed well at tackle despite a frame (6-foot-3 and a 1/2, 314 pounds) that suggests he too will be making the move inside in the NFL. Late in the game, Thomas was playing outside at tackle with Martin asked to move inside to guard.
Caraun Reid, DT, Princeton: The well-built Ivy Leaguer proved with a competitive week of practice that he was every bit the talent as the more well-known prospects he was facing each snap. He capped off the week with sacks on back-to-back plays during the game, showing the lateral burst and closing speed to project nicely as a three-technique defensive tackle.
Morgan Moses, OT, Virginia: At 6-foot-6, 325 pounds, Moses possesses the frame you'd expect of a dominating run blocker and he showed the ability to clear wide rushing lanes throughout the week. Moses boosted his stock this week, however, by providing reliable pass protection, demonstrating the arm length (34 3/4"), balance and surprising athleticism teams are looking for in a top-64 selection.
Ryan Grant, WR, Tulane: At a rock-solid 6-foot-0, 197 pounds, Grant showed surprising burst, as well as the agility as a route-runner and reliable hands to out-play several more highly-touted pass catchers. A long touchdown during Wednesday's practice drew plenty of praise from scouts.
Christian Kirksey, OLB, Iowa: The Big Ten remains one of college football's most consistent producers of pro-ready linebackers and Kirksey turned heads this week with his athleticism and instincts. A particularly impressive tackle early in the Senior Bowl game showed off his closing speed.
Missed Opportunity:
Tajh Boyd, QB, Clemson: Despite media reports to the contrary, Boyd's inaccuracy throughout the week of practice and game itself has his stock slipping. He possesses plenty of arm strength but was erratic, spraying the ball over the field. An ugly interception early in the Senior Bowl set the tone for a disappointing performance from the North Team's offense, as a whole.
Cyril Richardson, OG, Baylor: At 6-foot-4, 344 pounds, Richardson is a massive interior presence, but he struggled with quicker defensive tackles throughout the week of practice (especially Donald) and wasn't nearly as powerful as a drive blocker as one might expect given his size.
Jordan Matthews, WR, Vanderbilt: Matthews' production in the SEC speaks for itself, but he dropped a handful of passes throughout the week of practice. Even more alarming, he showed little in terms of burst or straight-line speed, struggling to gain separation from opposing cornerbacks.
Will Sutton, DT, Arizona State: Sutton's quickness and power helped him record a tackle-for-loss early in the game, but in weighing in at a soft 315 pounds at under 6-foot-1 did him no favors with scouts. There is no question that the reigning Defensive Player of the Year possesses talent, but questions about his commitment towards reaching his full potential could push him deep into the draft's second day.
Stephen Morris, QB, Miami: Morris earned the nickname "Tin Cup" from some scouts at the Senior Bowl due to his ability to make the amazing throw but struggles with the routine passes commonplace in every NFL offense. Morris boasts a strong arm and throws the deep ball with touch, but like the other two quarterbacks on the North squad (Boyd and Virginia Tech's Logan Thomas), he struggled with accuracy throughout the week.