Super Bowl 2014: Examining five key Denver Broncos draft moments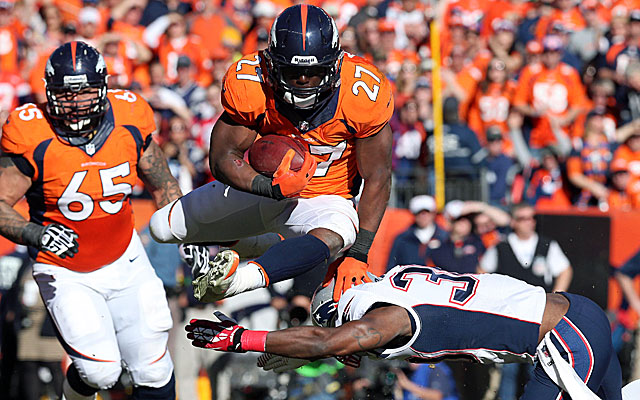 More SB coverage: XLVIII odds | Expert picks | Weather updates | Latest news
It's no secret that the main ingredient for the Broncos run to Super XLVIII has been quarterback Peyton Manning, who was acquired two off-seasons ago via free agency. Even at the age of 37, the future Hall of Famer had a record-breaking season and commanded a Denver offense that led the NFL in total offense (457.3 yards per game), passing offense (340.2 passing yards per game) and set a new NFL single-season record for total points (606). Manning himself set new single-season NFL records for passing yards (5,477) and touchdowns (55).
Besides Manning, the AFC Champions are shaped by several other significant free agent, trade and waiver acquisitions, including cornerback Champ Bailey, wide receiver Wes Welker, guard Louis Vasquez, defensive tackle Terrance Knighton, left tackle Chris Clark and pass rusher Shaun Phillips.
But the core DNA of Denver's roster has been mostly compiled via the NFL Draft. The current regime led by John Elway and company along with the front office minds that came before them have had their share of "misses" (Tim Tebow anyone?) but it's the "hits" that have the Broncos one win away from the third Super Bowl Championship in franchise history.
For those unfamiliar with the Broncos 2013 season, you would understandably expect impact players and former high draft picks like OT Ryan Clady (12th overall pick, 2008) and OLB Von Miller (2nd overall pick, 2011) to be central pieces of Denver's success. But due to injuries (Clady) and a combination of injuries and suspension (Miller), the Broncos were without both most of the season, making their impact on Denver's Super Bowl appearance minimal.
Below are five key NFL Draft moments for the AFC Champion Denver Broncos:
5. Second round offensive linemen
In the 2010 and 2011 NFL Drafts, the Broncos selected an offensive lineman in the second round both years. In 2010, Denver drafted Zane Beadles 45th overall out of Utah and plugged him in at guard and tackle where he's started 62 games the past four seasons, mostly at left guard. He went to his first Pro Bowl after the 2012 season and is due for a payday this off-season when he is set to his free agency. One year after drafting Beadles, the Broncos selected Miami's Orlando Franklin 46th overall in the second round of the 2011 NFL Draft. He became Denver's starter at right tackle from day one and started all but one game the past three seasons. Both are key pieces and leaders for the unit assigned to protect Manning and open up holes in the run game, especially with Clady sidelined.
4. TE Julius Thomas
Entering the 2011 NFL Draft, the Broncos were coming off a 4-12 season and had recently hired a new executive vice president (Elway) and head coach (John Fox) so the draft that year marked a fresh start for the Broncos franchise. With the second overall pick, Denver hit a home run with pass rush dynamo Von Miller who would have an All-Pro rookie season, but it was Julius Thomas, a fourth round selection, that was most intriguing pick of Denver's class. Thomas starred for four seasons on the basketball court at Portland State before swapping his sneakers for cleats, playing one season of college football in 2010. The athletic tight end was viewed as extremely raw as a NFL prospect, but the Broncos saw the long-term value, sending a fifth and sixth round pick to Green Bay in order to trade up and draft Thomas 129th overall. Thomas had just one catch over his first two pro seasons as he battled injuries and developed in the NFL, but he emerged in 2013 as a more-than-capable starter at tight end and a dynamic cog to the Broncos' offense. Thomas finished the 2013 regular season with 65 catches for 788 yards and 12 touchdowns, earning a Pro Bowl nomination. With continued development, Thomas might end up No. 1 on this list in the not-so-distant future.
3. Running back trio
Since 2009, the Broncos have drafted three running backs in the top-75 picks: Knowshon Moreno (12th overall, 2009), Ronnie Hillman (67th overall, 2012) and Montee Ball (58th overall, 2013). And those three backs finished as the top-three rushers for this year's Denver squad, led by Moreno who set a career-best with 1,038 rushing yards, his first NFL season above the 1,000-yard mark. The Broncos started the season with a running back-by-committee approach, but Moreno quickly established himself as the feature back, despite many outsiders giving up on the former Georgia Bulldog. The Broncos surprised some when they drafted Ball out of Wisconsin last April in the second round, ahead of some other well-regarded running backs like Eddie Lacy. Ball, who led the team in yards per carry with a 4.7 average, had 559 yards in his rookie campaign and Hillman, who Denver traded up to draft out of San Diego State, finished third on the team in rushing with 218 yards.
2. Late round and undrafted defensive starters
The Broncos entered the season with several starters on the defensive depth chart who were former early round draft picks like Miller, Champ Bailey, Derek Wolfe, Robert Ayers and Rahim Moore. But it was the later round picks and undrafted players who proved to be the nucleus of the Broncos defense this season. A former sixth round pick, WLB Danny Trevathan (188th overall, 2012) out of Kentucky led the team in tackles (129) and also tied for the team-lead in interceptions (3) with former Kansas Jayhawk CB Chris Harris (undrafted, 2011). The four-leading tacklers for the Broncos were all late rounders or undrafted free agents: Trevathan, MLB Wesley Woodyard (84), SS Duke Ihenacho (73) and Harris (65). Woodyard (undrafted, 2008) out of Kentucky and Ihenacho (undrafted, 2012) of San Jose State went without hearing their name called during draft weekend, but both fought their way onto the Broncos 53-man roster and earned their playing time. A former fifth rounder out of Tennessee, DE Malik Jackson (137th overall, 2012) has also played a pivotal role for the 2013 Denver Broncos due to injuries on the defensive line and led the team in quarterback hurries (15).
1. WR Duo: Demaryius Thomas and Eric Decker
The 2010 NFL Draft will long be remembered for the Broncos as the year Josh McDaniels drafted Tim Tebow in the 1st round. But Denver and McDaniels also came away from that draft with a pair of wide receivers who have been an integral part of the Broncos record-breaking offense this season. The Broncos first draft pick that year, three spots ahead of Tebow, was Demaryius Thomas out of Georgia Tech, the first wideout drafted that year who Denver traded up to get. Thomas showed flashes of greatness over his first two seasons, but injuries kept him on the sidelines as he started just seven games over that span. However with Manning throwing him the ball the past two seasons, Thomas has blossomed into one of the top receivers in the league, recording back-to-back seasons of 90+ catches, 1,400+ receiving yards and 10+ touchdowns. Decker battled injuries in his collegiate career at Minnesota so he slipped in the draft and the Broncos snatched him up in the 3rd round, 87th overall. He missed most of his rookie season in 2010 before becoming a starter in 2011. But like Thomas, Decker really blossomed the past two seasons with Manning in command of the offense, posting back-to-back seasons of 85+ catches, 1,000+ receiving yards and 11+ touchdowns, finishing second on the team in receiving behind Thomas both years.