Examining why Michael Sam's NFL Draft stock is falling
More on Sam: Sam comes out | Fowler: Mizzou backs Sam | Prisco: Life in NFL?
Feb. 9, 2014, will one day be remembered as it should -- as the day in which a young man described himself with pride and honesty.
But make no mistake, it is also the day that Missouri defensive end Michael Sam's stock in the NFL Draft began to drop because he announced he was gay. He was already sliding due to concerns over the dreaded 'tweener label -- with some scouts viewing him as too short for defensive end and a project to convert to stand-up linebacker following an inconsistent week at the Senior Bowl.
NFLDraftScout.com has Sam ranked as the No. 110 overall prospect. An initial drop to 160 from 90 on Monday morning was part of a comprehensive adjustment in the rankings leading up to next week's scouting combine that generated movement among hundreds of prospects. In all, 65 of the top 350 prospects were affected by the rankings update, and Sam was never intended to drop past No. 110. The bottom line is Sam's announcement will affect his position on the draft boards of some teams, but NFLDraftScout.com currently projects him as a third- to fourth-round prospect overall, with all factors considered.
As noted by CBSSports.com's Jeremy Fowler, Sam's teamates at Missouri learned of his secret in August. Rather than allow Sam's private life to divide the locker room, coach Gary Pinkel earned Coach of the Year consideration for his team's 12-2 record, which included their first-ever SEC East xhampionship and a No. 4 overall ranking to end the season -- the highest ever at Missouri.
Sam's teammates and coaches never spoke of Sam's personal life because it was his personal life. On the field, Sam's play spoke for itself. He was named Co-Defensive Player of the Year in the best conference in college football and earned comparisons in this player profile to one of the NFL's most feared pass rushers.
If teammates knew about Sam's homosexuality, you can bet NFL scouts did, as well. And yet they didn't announce to the world that Sam was gay.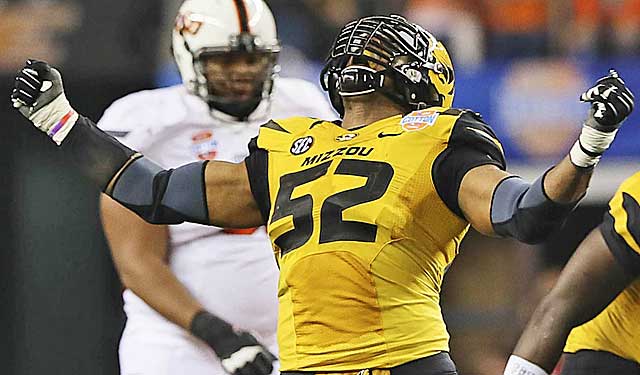 The respect shown by Sam's teammates, coaches and the NFL to this point has been commendable. The NFL issued a statement shortly after the news broke of Sam's courageous announcement that read:
"We admire Michael Sam's honesty and courage. Michael is a football player. Any player with ability and determination can succeed in the NFL. We look forward to welcoming and supporting Michael Sam in 2014."
A statement by the league is a step in the right direction. The mostly positive feedback provided by anonymous NFL personnel in stories written for every sports outlet in the country shows that the league and its members are closer to welcoming a gay player than ever.
But issuing support behind a logo or the cloak of anonymity is far different than welcoming Sam (or other homosexuals) publicly.
In conversations with high-ranking front office officials since 2001, I've been told that a player's sexuality would have no bearing on his draft status. If, as Pete Prisco summarizes here, the player can play, he'll have no problem landing and sticking in the NFL.
The problem is that while Sam is a good prospect, he's not a great one. While starring as a defensive end for the Tigers, Sam was asked to play linebacker at the Senior Bowl and he struggled with the position change, showing limited flexibility and fluidity. This fact could limit him to the defensive end position in the traditional 4-3 alignment, further complicating his stock.
And while NFL teams may be more willing to accept a gay player in 2014, there remains a bit of a don't-ask-don't-tell policy. By announcing his personal lifestyle, Sam made it public. And with that announcement, Sam is inviting the media and by extension the public to follow his journey into the NFL.
Sam's homosexuality isn't the point. There are gay players in the NFL now and almost surely teammates, coaches and front office executives who know about them. But by coming out, Sam turned a very bright spotlight on himself.
And the reality is teams would rather the bright lights shine on their superstars on game day. Any club drafting Sam would add distractions for players, and teams normally work to avoid any distraction.
As the media glare intensifies at the Scouting Combine and the weeks leading up to the draft, Sam will be viewed as more and more of a distraction. That fact -- not Sam's homosexuality -- is what will cause him to slip into the late rounds or perhaps even entirely out of the draft.