2014 NFL Draft: Johnny Manziel criticism -- fact or fiction?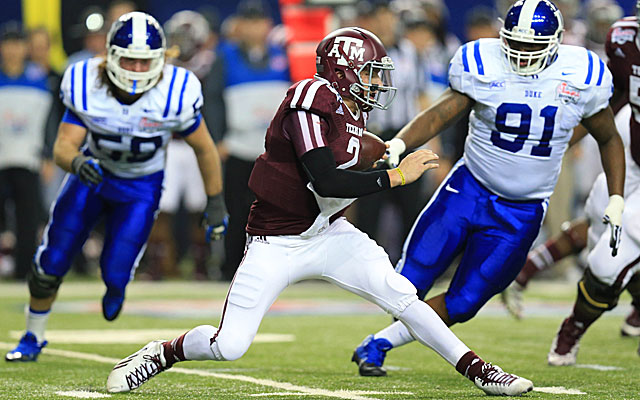 More Draft: NFL Mock Drafts | Prospect Rankings | Latest news | Underclassmen
The quarterback class for the 2014 NFL Draft lacks an Andrew Luck-type of prospect, but it's also a much deeper group than last year, especially at the top with Central Florida's Blake Bortles, Louisville's Teddy Bridgewater and Texas A&M's Johnny Manziel all likely top 10 selections. But the most polarizing quarterback -- and perhaps any prospect -- this year is undoubtedly Johnny Football.
NFL Films producer Greg Cosell turned some heads recently on a Nashville radio program when he said Manziel was "almost undraftable" based on his performances against LSU and Missouri this past season. "He was so bad in those two games, that you'd struggle to figure out, 'Can I even draft this guy?'"
Former NFL general manager Charlie Casserly also offered some negative feedback of Manziel after watching him on film. "He may be a victim of his ability to make plays running the football, so he doesn't stay in the pocket. I'd want to watch tape with him, what are you seeing, why are you running when you don't have to run?"
While both opinions sound harsh for a potential top-five draft pick, I think it's clear Cosell and Casserly have done their homework on Manziel because when I study him on film, his flaws stand out almost as much as the highlight-reel plays that earned him a Heisman Trophy.
When studying NFL prospects, it's easy to praise the highlights, but sometimes we learn more about the player, especially quarterbacks, by examining the lowlights. And when doing a full inventory of Manziel's play the past two seasons, it's the negative plays in particular that stand out.
Rated as my No. 38 overall player, Manziel's college completion percentage (68.9) is a Texas A&M career record, but his inconsistent ball placement is a red flag, especially on deep and power throws. His up-and-down placement appears to stem from an inconsistent base and streaky overall passing mechanics, something that shows frequently on tape. Manziel also needs to learn how to better use his eyes and anticipate passing windows. He telegraphs too many throws and often drops his eye level too quickly when the read is covered.
Manziel's decision-making is something that can be tough to grasp because he will often force passes and tends to be overconfident, often carelessly throwing prayers into coverage. Bottom line, he got away with a lot of throws at the college level that simply won't work in the NFL. Manziel will ignore fundamentals and rely on snap throws, often with his momentum taking him backward, causing some lame ducks. A pupil of quarterback guru George Whitfield, Manziel works hard off the field to improve his mechanics and overall though process, but with the bullets flying in the heat of the moment, it's not so easy to hit the reset button.
The skill-set can be debated all day and I haven't touched on any maturity concerns, but Manziel's size and durability might be the largest concerns for me. It's in his football DNA to hold the ball as long as possible or extend with his legs to make plays, and in a league where defenders are bigger, stronger and faster, violent hits are unavoidable.
How much of a beating can his frame take? Will he hold up for a 16-game NFL schedule? No one has a crystal ball and injuries are a risk for any player who steps onto a football field, but when weighing the odds, chances are it will be an issue at some point for Manziel.
If I were to describe Johnny Football in one word, it would be "unique" -- that's not meant to be negative or positive. He's just different, a unique prospect. There isn't anyone in today's NFL like him.
To be fair, Manziel has plenty of qualities that stand out in a positive way. He has more than enough arm strength. He's extremely fleet of foot with the scrambling instincts to create like no one else. He's smart, ultra-competitive and displays the supreme confidence needed to excel at the position on the biggest of stages. But while the positives are intriguing, the negatives can't be ignored.
Does that mean Johnny Football won't be able to find sustained success? Of course not. But it's easy to see why so many evaluators have concerns about his NFL future.