2014 NFL combine: From 40 times to Fritos, 10 Bold Predictions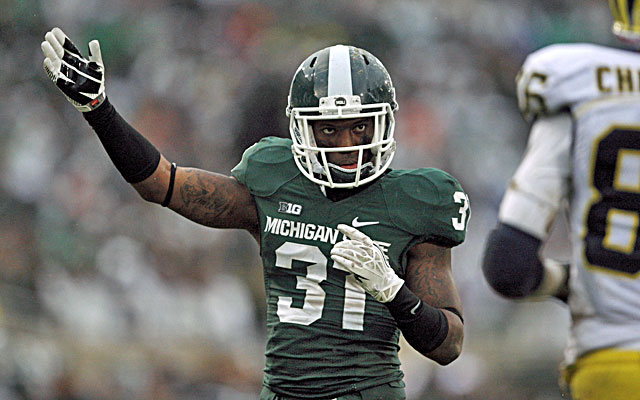 More Draft: NFL Mock Drafts | Prospect Rankings| NFL Combine news and updates
You really do have to tip your cap to the NFL and the evolution of its annual Underwear Olympics, otherwise known as the Scouting Combine.

The event was originally created to provide every team with easy access to the players for medical testing and interviews. It has since morphed into an NFL-version of "Survivor," a reality-TV show pitting college football's elite athletes in a showdown against each other and a stopwatch with millions of dollars at stake.
For many fans, the player workouts have become must-see TV. Never mind that you have never heard of most of the prospects competing or that the results of these workouts constitute only a fraction of their final grade from talent evaluators. There is something addicting about the true apples-to-apples competition that takes place, where players' joy or disappointment is instantly clear rather than hidden by a helmet.
The following are 10 Bold Predictions for this week's festivities in Indianapolis. Spoiler Alert: read any further and you might as well skip watching any of the offensive linemen run the 40-yard dash.
10. News flash - fast guys run fast. There will be plenty of eye-popping results from lower-level players, but expect South Carolina's Jadeveon Clowney, Buffalo's Khalil Mack and UCLA's Anthony Barr -- the three highest-rated defenders on NFLDraftScout.com's board - to star in this setting. Don't be surprised if each is clocked in the 4.5-second range in the 40-yard dash.
9. Speedsters in surprising packages. Speaking of the 40, the top times typically recorded each year come from wide receivers or cornerbacks, but watch out for a pair of running backs -- Baylor's Lache Seastrunk and Oregon's De'Anthony Thomas -- to light up the track.
8. Sleepers at Receiver. Extending the limb a bit, write down the names of these five wide receivers: Fresno State's Davante Adams, Wyoming's Robert Herron, New Mexico State's Austin Franklin, Saginaw Valley State's Jeff Janis and Colorado's Paul Richardson. Each may post all-around workouts that rival or perhaps even beat the efforts this week from Clemson's Sammy Watkins or Southern Cal's Marqise Lee, the two best receivers in the 2014 draft.
7. With Risers, come Fallers. Many NFL personnel types will tell you that a poor workout at the combine can't hurt your grade, but watch how Michigan State cornerback Darqueze Dennard and Florida State wideout Kelvin Benjamin slip down mock drafts when each turns in a slower than ideal 40 time. Neither looks faster than mid-4.5s on tape and times in the 4.6s wouldn't shock me.
6. Big speed. A final note on the 40; two years ago Memphis defensive tackle Dontari Poe sprung up draft boards by clocking in at 4.89 seconds at 6-feet-4, 346 pounds. This year's fastest "fat" guy will be Minnesota's RaShede Hageman, who measured in at 6-6, 318 pounds a few weeks ago at the Senior Bowl and may prove even faster. (Quick side note, because getting beaten to a bloody pulp is decidedly not among the things I'd like to have occur in Indianapolis, let's keep the calling 'Shede "fat" between us, okay?)

5. Teddy will be ready. Louisville quarterback Teddy Bridgewater won't be fat but after officially being listed at 6-3, 205 pounds for the Cardinals throughout his junior season, expect him to weigh in significantly heavier in Indianapolis, easing some of the concerns scouts have about his ability to hold up physically in the NFL.
4. Wiz kid could challenge Wonderlic. The NFL says the famed Wonderlic isn't an intelligence test, but Penn State right guard John Urschel is smart enough to recognize the exam for what it is. This year's recipient of the William V. Campbell Trophy as the nation's top football scholar-athlete is smart enough to recognize plenty of things. He earned a 4.0 GPA while receiving his Master's Degree in Mathematics in May, and spent his off-time teaching a class (Trigonometry and Analytic Geometry) to fellow Penn State students. Further, he had a paper published -- "Instabilities of the Sun-Jupiter-Asteroid Three Body Problem" -- last spring in the journal, Celestial Mechanics and Dynamical Astronomy.
Math is one of several content areas found on the Wonderlic and therefore it is possible that Urschel may not get a perfect score. If he doesn't, I'm pretty confident that with a series of pie charts and bar graphs, he'll be to convince us that his test was actually better than perfect and that the whole 100 percent idea is actually throwing off his Bell curve.
3. Most on the line. Former Oregon tight end Colt Lyerla doesn't have to prove he's as smart as Urschel, but his maturity will definitely be tested in Indianapolis. Because of poor choices off the field, no one has more riding on their combine performance than Lyerla. If his conditioning is right, Lyerla will post first-round caliber results in the athletic testing. It will be the drug and psychological testing, as well as the interviews, however, that will determine when -- or if -- team gambles on his immense upside.
2. Focus on Sam shifts back to field. Michael Sam's interview session with the media will generate more buzz than any player workout at the combine. Unfortunately, that includes Sam's work out, which, frankly, I don't expect to be that impressive. The 6-1 5/8, 260-pounder struggled at outside linebacker at the Senior Bowl, showing limited flexibility and agility. He'll be working out with defensive linemen at the combine, but I expect that his results in the 40, three cone drill and short shuttle are likely to place him very much in the middle-of-the-pack among this group.
1. How brittle is Manziel's chip? While he has already announced that he won't be participating in any athletic testing until his personal pro day March 27, Texas A&M quarterback Johnny Manziel remains the "big" story of the 2014 draft, and therefore by extension the combine.
Just how big remains to be seen.
Manziel was officially listed at 6-1, 210 pounds by the Aggies and what he actually measures in at will be the first of many important tests he'll face in Indianapolis. Another will be what kind of composure he'll show when facing critics who question his assertion that if the Houston Texans select anyone other than him at No. 1, it will be "the worst decision they've ever made."
Electing not to compete on the field at the combine could prove one of the worst decisions Manziel has ever made.
While no one questions Manziel's confidence or improvisational skill, there are plenty of concerns about his accuracy, including when standing still in the pocket - a trait certain to be tested in the combine's drills but not necessarily as much so during Manziel's choreographed session a month and a half from now.
Should Bridgewater, Central Florida's Blake Bortles or Fresno State's Derek Carr take advantage of Manziel's absence with a spectacular throwing session in Indianapolis, they could be the quarterback vaulting up draft boards.
If that were to occur, it won't matter much if the "chip" on Manziel's shoulder was a Frito, Dorito or Tostito. Hate to Ruffles anyone feathers, but rather than Lays down, why not show some Pringles and compete?
More Draft: NFL Mock Drafts | Prospect Rankings| NFL Combine news and updates