2014 NFL Draft: Jadeveon Clowney work ethic 'OK,' per Steve Spurrier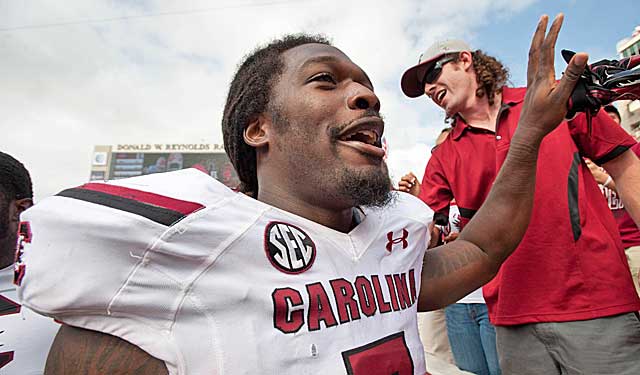 More Draft: NFL Mock Drafts | Prospect Rankings | NFL Combine news and updates
Steve Spurrier did nothing to discourage simmering questions about South Carolina defensive end Jadeveon Clowney's work ethic in a television appearance Wednesday.
Asked to evaluate the 6-foot-5, 274-pound pass rusher's work habits after three years in the Gamecocks' program -- South Carolina totaled 33 wins -- Spurrier might have added to the ammunition for scouts ready to interrogate Clowney at the NFL Scouting Combine this week.
"He was OK," Spurrier said on NFL Network, the implication being that Clowney didn't exactly wear out the alarm clock or tax the hinges on the weight-room door. "It wasn't like Marcus Lattimore, you know, every player is a little different. His work habits are pretty good, they're not quite like Lattimore, a Stephon Gilmore, Melvin Ingram, some of those guys, but when the ball is snapped he's got something no one else has."
Lattimore's legendary work habits were praised by Spurrier prior to the 2013 NFL Draft and fully endorsed by head coach Jim Harbaugh, whose 49ers drafted Lattimore last April. Lattimore spent the season on injured reserve recovering from a second major leg injury in three years.
Spurrier did underscore Clowney's explosiveness, a rare trait that the veteran coach said reminds him of former Florida Gators defensive end Jevon Kearse, a first-round pick of the Tennessee Titans in 1999 who had 74 career sacks.
Clowney could be the story of the 2014 NFL Scouting Combine. If he works out as expected, his collective workout numbers are likely to rival some of the best ever at his position and raise comparisons to top combine headline-makers such as Vernon Davis for his rare power, speed and explosiveness.
Those work ethic and love-of-the-game questions? Not going away anytime soon, especially with poignant observations like those from Spurrier fanning that flame.
More Draft: NFL Mock Drafts | Prospect Rankings | NFL Combine news and updates