2014 NFL Draft: Cowboys win coin flip vs. Ravens, pick 16th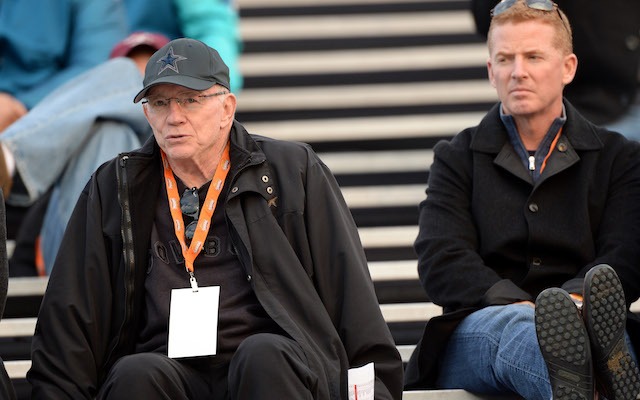 The Dallas Cowboys will pick No. 16 in the first round of the 2014 NFL Draft in May.
The Cowboys won a coin flip with the Baltimore Ravens that took place Wednesday morning at the NFL Scouting Combine in Indianapolis to break a tie. The Ravens will have the No. 17 overall selection, which is their highest pick in the draft since 2008.
Both teams finished the regular season with 8-8 records and had identical strength of schedule ratings. Their 2013 opponents' winning percentage was .484, necessitating the coin flip.
NFLDraftScout.com projects the Ravens selecting wide receiver Mike Evans of Texas A&M at No. 17 and the Cowboys taking defensive tackle Timmy Jernigan of Florida State or defensive tackle Aaron Donald of Pittsburgh at No. 16.
In the 2013 NFL Draft, the Bills selected EJ Manuel with the No. 16 pick while the Steelers took Jarvis Jones with the No. 17 pick.
The middle of the first round has been fertile ground in recent years with names like Ryan Kerrigan, Robert Quinn, Michael Brockers, Bruce Irvin, Michael Floyd and Star Lotulelei peppering that portion of the draft. While Baltimore's draft record is more hits than misses, the Cowboys can't say the same.
The Cowboys had picks in the top 10 in two of the past three drafts, including nabbing Pro Bowl tackle Tyron Smith with the ninth overall pick in 2011. In 2012, Dallas moved up to take Morris Claiborne sixth overall, but the LSU product is at a crossroads with the team after battling injuries most of last season.
In 2005, the Cowboys drafted DeMarcus Ware at No. 11 and in '06 took linebacker Bobby Carpenter (18th) in the first round.
In 1990, Emmitt Smith was 17th overall and in 1992, cornerback Kevin Smith was the Cowboys' pick at No. 17.