2014 NFL combine: Bridgewater may throw; Carr waiting until Pro Day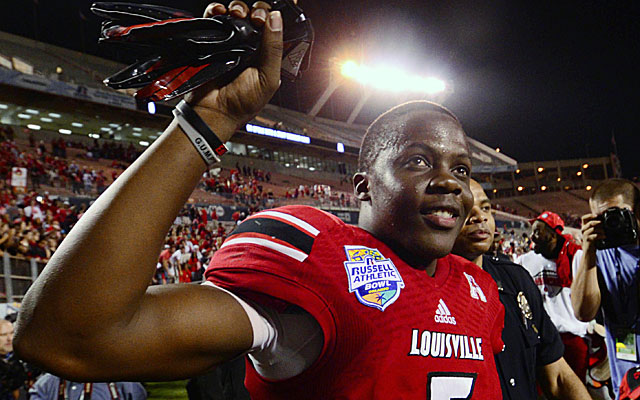 More Draft: NFL Mock Drafts | Prospect Rankings| NFL Combine news and updates
Louisville quarterback Teddy Bridgewater hasn't yet decided whether he's going to participate in the athletic testing -- including passing -- at the 2014 combine.
Bridgewater, NFLDraftScout.com's top-rated quarterback and No. 3 overall prospect, told Jim Corbett of USA Today that he'll confer with his agent Kennard McGuire and decide whether to throw "when the times comes."
Bridgewater could help his stock simply by reassuring scouts of his size. He was officially listed by the Cardinals at 6-foot-3, 205 pounds and is especially slim in his lower half, leading to concerns about whether he'll be able to withstand the punishment of an NFL pass rush.
Bridgewater showed toughness and durability throughout his three starting seasons at Louisville and completed 68.4 percent of his passes for 9,817 yards and 72 touchdowns against just 24 interceptions over his career. In an era of inflated statistics due to relatively simple spread offenses, Bridgewater's production stands out as he played in a pro-style scheme in which he took a high percentage of snaps from under center and was asked to make adjustments at the line of scrimmage.
A strong performance during Sunday's quarterback drills could make a favorable impression on scouts, who likely were disappointed to learn that Fresno State's Derek Carr will be joining Texas A&M's Johnny Manziel in electing to wait until his pro day to compete. According to NFL.com's Ian Rapoport, Carr elected not to participate at the Combine after earning positive reviews for his performance at the Senior Bowl. Instead, Carr will be participating at Fresno State's pro day, March 20. Manziel's pro day is scheduled one week later.
At this point, Central Florida's Blake Bortles is the only quarterback with a first-round grade who has announced his plans to throw in Indianapolis. Two of the more gifted passers from the senior class -- LSU's Zach Mettenberger and Georgia's Aaron Murray -- won't be able to participate this weekend as they recover from surgery to repair a torn ACL.