2014 NFL combine: Manziel falls just short of 6-foot mark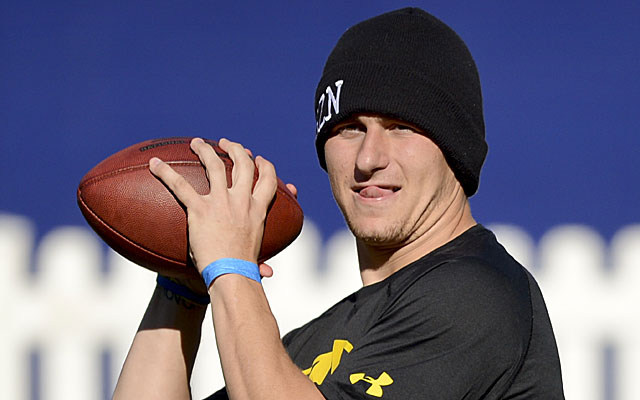 More Draft: NFL Mock Drafts | Prospect Rankings| NFL combine news and updates
Before players run the 40-yard dash or participate in positional drills, they step on the scale and get measured for the "official" height, weight, hand size, arm length and wingspan. There usually aren't too many surprises among the seniors, but with the large number of underclassmen, we can finally get the exact numbers on the juniors and redshirt sophomores.
And going into Friday, there were three main questions for the top quarterbacks in this group that were answered:
Would Manziel get above 6 feet?
No, Johnny Manziel measured in at 5-feet-11¾ and 207 pounds, but he also has the largest hands of any quarterback at the Combine (9 7/8 inches). Manziel has clearly worked his tail off in the locker room since arriving at Texas A&M, adding 35 pounds of muscle to his smaller frame. And with his big hands (and size 15 shoes), it wasn't the worst-case scenario weigh-in for Johnny Football, despite not reaching the 6-foot mark.
Although they have different passing skill-sets, Manziel's size can be compared to other "short" Combine quarterbacks who have found some success in the NFL.

Russell Wilson: 5-10 5/8" – 204 pounds – 10 1/4" hands
Drew Brees: 6-0 1/4" – 213 pounds – 10 1/4" hands
Michael Vick: 6-0 – 210 pounds – 8 1/2" hands

Wilson ended up in the third round (2011, 75th overall) to the Seattle Seahawks, Vick was selected with the No. 1 overall pick by the Atlanta Falcons (2001) and Brees was drafted with the first pick in the second round (2000, 32nd overall) to the San Diego Chargers.
Manziel's size (or lack thereof) isn't unprecedented, but it's the hand size that stands out. Larger hands obviously help with a better grip, especially in poor weather, and when scrambling to hold onto the ball and avoid fumbles. But while the measureables are comparable, each of these quarterbacks bring something different to the football field. And so the more important question with Manziel isn't so much about the size, but does he have the necessary skills and the durability to be a consistent NFL passer?
Would Teddy Bridgewater weigh above 210 pounds?
Yes, he tipped the scale at 214 pounds. His height was about what was expected at 6-2 1/8 with 9¼-inch hands. Bridgewater doesn't have the type of frame to carry a lot of weight and as a loose, mobile passer, NFL teams don't want him tight and muscle-bound. So the 215-pound mark is probably his benchmark, I wouldn't expect him to get much bigger.
Just how big is Blake Bortles?
On the Central Florida game day roster, he is listed at 6-4 and 230 pounds. But on Friday, Bortles measured at 6-5 and 232 pounds with 9 3/8-inch hands -- the rare example of a prospect who is actually bigger than his listed measureables from school. With the prototypical size for the quarterback position, if Bortles runs in the 4.7 range in the 40 as expected and performs well in the agility drills, his draft profile will continue to be strong.