NFL combine: Jake Matthews or Greg Robinson? Pick your flavor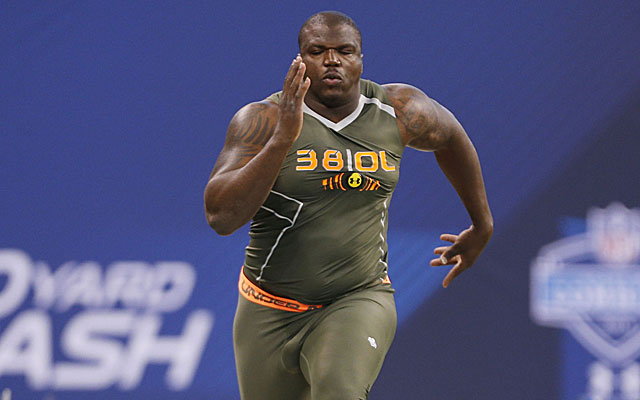 More Draft: NFL Mock Drafts | Prospect Rankings | NFL combine workout results
Which offensive tackle prospect would you rather have: the technically sound four-year starter or an athletic mauler with tremendous upside?
That is the question NFL teams who are considering an offensive tackle in the top 10 will need to ask themselves when deciding between Texas A&M's Jake Matthews and Auburn's Greg Robinson. Both have SEC resumes and both project as above average NFL prospects, but for different reasons.
It might not be a "who is better?" argument, but rather a "pick your flavor" situation.
Maybe the "safest" prospect in this draft class, Matthews is as steady as they come. From the bloodlines to the pedigree, the former Aggie tackle was destined to play offensive line at the highest level.
"I'd like to think I wasn't grandfathered in, that I earned my way," Matthews said at the combine in response to his family's rich NFL lineage.
Matthews began his Texas A&M career as a reserve, but it didn't take long for him to earn a starting job as a true freshman, starting 33 straight games at right tackle before replacing Luke Joeckel at left tackle in 2013. Over his time in College Station, he played in very different offenses, with different styles of quarterbacks and against some of college football's top pass rushers in the SEC.
Matthews has seen it all.
"We had a coaching change and switched offenses, going from a pro style to a spread style," said Matthews. "I learned a lot from both coaching staffs. Having all those different circumstances thrown at me and still playing well is something I'm proud of."
Matthews isn't the longest, strongest or meanest, but he's a coordinated athlete with smooth body control and natural balance. A true technician, the game appears to come easy to him with his football smarts and scouts believe he can excel at any of the five offensive line spots in the NFL. But what can Matthews accomplish in Indianapolis this week to prove to scouts he's the top offensive lineman at the NFL Combine?
"I want to reiterate what I've put on film all year," Matthews said. "I want to put up good numbers and show I'm the best tackle."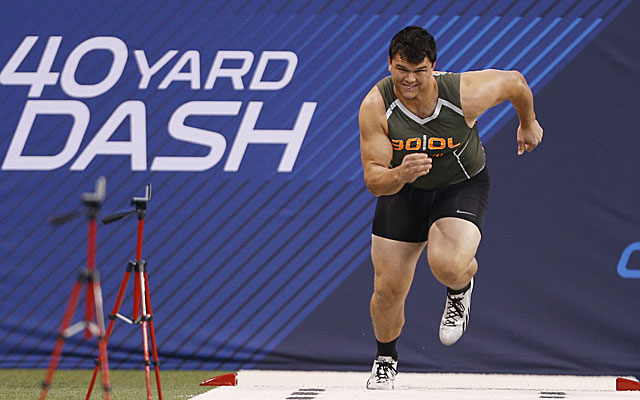 Robinson became the starting left tackle at Auburn in 2012 and became an unheralded fixture for Auburn's productive run attack that led the nation in total offense. Although he's still learning and noticeably unrefined in some areas, Robinson has an intriguing blend of natural power, body control and athleticism. Factor in the violent mentality and he consistently flashes dominating qualities in the run game with very high upside in pass protection.
The upside is clear, but how much time will he need to reach it.
"I'm not at full potential right now," Robinson said on Thursday at the combine. "I still have a lot to go. I started last year, my first season starting. The guys they have ahead of me like Jake Matthews, he started since he was a freshman. That's just something I feel I need to prove."
Robinson has strong hands to steer defenders in the run game to take them where he wants with his finishing attitude. But his pass protection is somewhat untested because of Gus Malzahn's offense at Auburn. He has the athleticism and wide base to seal the edge, but his aggressive demeanor will also cause him to lunge, overextend at the waist and be undisciplined at times protecting the pocket.
"I understand about run blocking because I worked on a lot," Robinson said. "I've also worked the pass. It was limited. I feel I'm decent enough and I will prove myself if there's anybody doubting that I can't pass block."
Robinson isn't a project, but he does need some seasoning and time to button up his flaws.
Matthews and Robinson do have their similarities: neither started playing on the offensive line until midway through high school careers. Matthews was a quarterback when he was younger, but once he switched over as a high school sophomore, he realized offensive line was his best fit. Robinson played mostly basketball growing up, but gravitated to the football field, moving from defense to the offensive line as a junior in high school.
And despite very different career paths, Matthews and Robinson are only eight months apart in age.
While Matthews is widely viewed as the safer choice and Robinson is the sky high ceiling prospect, both players offer intriguing qualities that will appeal to NFL teams. So the question might not be who is better, but rather which style fits each particular team's need? Team A might prefer the "Steady Eddie" approach of Matthews, while Team B will gravitate towards the perceived upside of Robinson.
Basically, you can't go wrong. Just pick your flavor.
When asked about Robinson, Michigan's Taylor Lewan and some of the other top offensive line prospects in this class, Matthews kept it short and sweet.
"They are great players, but I think I'm a great player too."