2014 NFL combine: LB Shayne Skov what you see is ... what the heck?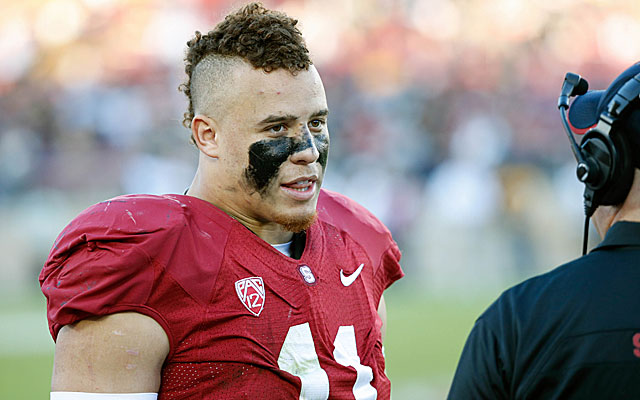 More Draft: NFL Mock Drafts | Prospect Rankings | NFL combine workout results
INDIANAPOLIS -- Stanford inside linebacker Shayne Skov will do his best to convince everybody at the NFL Scouting Combine that he is a pretty straightforward guy.
"It's not complicated, what you see is what you get," Skov told The Sports Xchange.
Good luck to the media and scouts at the combine who try to put that into perspective.
While that may be a simple concept in Skov's complex life, it in no way helps describe him on or off the field.
Off the field, what you get see is a redhead with a Mohawk haircut. What you get is a well-educated, but complicated, multi-lingual, multi-faceted guy who has described himself as "half-white, half-black and half Mexican."
That's not some new math, it's just a family saying that reflects not only genetics, but a nomadic life that addressed many family needs. Although a native of San Francisco -- a sixth generation descendant of the Ghirardelli chocolate family -- Skov attended prep school in up-state New York and made Guadalajara, Mexico, his home for 10 years, which is where he began playing football.
On the field, which is the main reason he is among 335 players here this week to prepare for NFL's May draft, Skov is a 6-foot-2, 245-pound master of mayhem who just last season regained his dominant abilities following a devastating knee injury in 2011.
He is rated as the fourth best inside linebacker and a third-round draft prospect by NFLDraftScout.com, which describes his 2013 season in these glowing terms, per analyst Rob Rang:
"Skov started all 14 games, leading a highly instinctive and physical Cardinal defense with 109 tackles, including 13 for loss, 5.5 sacks and three forced fumbles.
"Best of all, Skov seemed to rise to the occasion in Stanford's biggest games, recording nine tackles (including two for loss) and two forced fumbles against a speedy Oregon offense, a team-high nine tackles (including eight solos) against Arizona State in the Pac-12 Championship Game and nine tackles, including three for loss, a sack and a forced fumble against Michigan State in the Rose Bowl."
Based on that, and more, there are those who believe his value is worth a higher pick. Among them is Derek Mason, Skov's defensive coordinator at Stanford who last month became head coach at Vanderbilt.
"Shayne's football career was much better than Manti Te'o," Mason told The Sports Xchange, naming the former Notre Dame linebacker who finished second in the 2012 Heisman vote and was drafted in the second round by the San Diego Chargers.
"Everybody talked about Te'o and what he did, but if you look at Shayne there is really no comparison. He was far more productive. Te'o had one good year. Shayne had a great career."
Taking it further, Mason compared Skov to ...
"A Junior Seau type of impact player, especially when you look at his pass rush ability," said Mason, naming the late long-time great linebacker for the San Diego Chargers and New England Patriots. "I don't understand why people discount Shayne. He has rare abilities, a knack. ... "/p>
That knack referenced by Rang and Mason is Skov's uncanny ability to burst -- or blitz -- past the offensive line and get the quarterback. Never was that knack so obvious, or obviously confusing, than on a sack he made against Notre Dame during a nationally televised game in 2010.
Broadcaster Mike Mayock, who doubles as an NFL Draft guru, was doing that game and screamed repeatedly that the officials blew the call and not only should he have been called offsides, but there should have been a personal foul.
However, the only foul was by Mayock, who was one of many who remained convinced Skov was offsides even after seeing instant replay.
Mason explained.
"That's the knack," Mason said. "Shayne timed that so perfectly that he was faster than instant replay. You have to stop the tape where the center snaps the ball. Shayne is still on his side of the line. He does it all the time."
"It's an observational thing, not just guesswork," said Skov. "If you watch the offense for a while, on tape and then in the game, you get a feel for their rhythm."
Skov enjoyed watching the San Francisco 49ers and Seattle Seahawks dominate games with defense last season, and especially with good linebacking.
"Yeah, it's a good sign for me," he said. "I grew up watching Brian Urlacher, Zach Thomas and Ray Lewis. They could dominate games. That's the kind of football I like."
His father, whose previous career included working in the dot.com world, opened several hamburger restaurants that are still operating in Mexico.
Despite going to prep school in New York and then college at Stanford while his family also had a home in the Piedmont Hills near Oakland, Skov still claims Guadalajara as home and sends man of his Tweets in Spanish.
"I feel like that is where I grew up, although I really grew up all over the place," he said. "That's where I first played football, so it obviously had an impact on the direction of my life."
And now that direction is pointing to the NFL.
Frank Cooney, founder and publisher of The Sports Xchange and NFLDraftScout.com, covered the NFL and the draft since the 1960s and is a selector for the Pro Football Hall of Fame.