2014 NFL combine: Bama OT Kouandjio falls after failed physical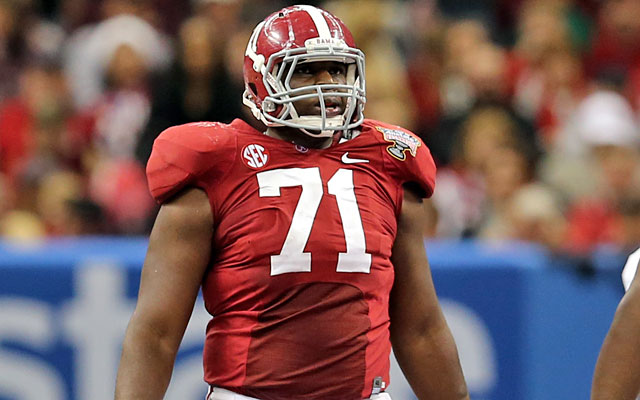 More Draft: NFL Mock Drafts | Prospect Rankings | NFL combine workout results
INDIANAPOLIS -- Alabama left tackle Cyrus Kouandjio was classified as "failed medical" by some NFL teams because of concern over an arthritic knee condition.
The massive Kouandjio (6-feet-7, 322 pounds) ran a 5.59 40-yard dash Saturday, with a relatively poor 21 reps of 225 pounds on the bench press, as word began to leak out that his knee was a major concern.
He met with the media a day after most of the offensive linemen in attendance held press sessions, which can often signal a snag in the medical evaluation. His arthritic knee is reportedly linked to a failed surgery.
"I didn't get enough medical stuff done my first day here because they had me do the medical after the orientation, which pushed my whole schedule back," Kouandjio said. "It kind of threw everything off."
The miserable combine experience is sure to have a serious negative impact on Kouandjio's final grade and some teams will take him off their board entirely unless they find improvement at the medical re-check in April.
"Yeah, they were tweaking me," Kouandjio said of the medical tests here. "Actually I was laying in an x-ray machine for two hours and 30 minutes straight. Not x-ray, MRI ... I felt like a taco."
Kounandjio entered the weekend as the No. 5 offensive tackle and 24th overall in NFLDraftScout.com's 2014 draft rankings.
The junior missed part of his freshman season with a knee injury suffered against Tennessee.
His final college game, a Sugar Bowl loss to Oklahoma, was one of his worst individual performances.
When his next chance will come has never been more unclear. The Cameroon native, who came to America at age four with his family, said he's not concerned about losing money -- a reality if his knee causes the expected precipitous drop on draft boards.
"It's a blessing," Kouandjio said. "I don't see making money giving me happiness. I think it's going to help me be a lot more comfortable, but it's not going to make me happy. I want to win. I want to go to an NFL team and win some championships. Out of the three years that I played at Alabama in college, I won two national championships. I want to continue doing that. I want to be successful."
Follow Jeff Reynolds on Twitter @ReynoldsJD