2014 NFL combine: Mack, Barr raise stakes with stellar numbers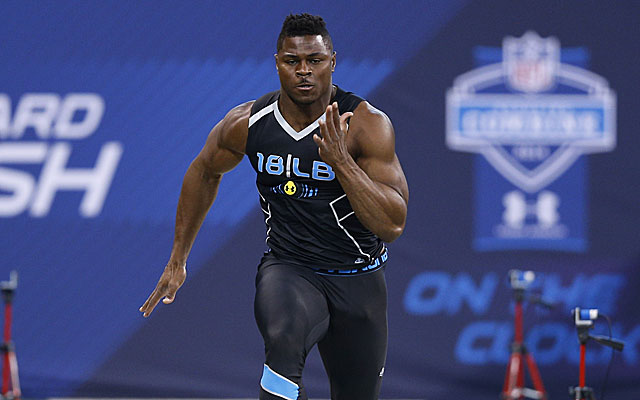 More Draft: NFL Mock Drafts | Prospect Rankings | NFL combine workout results
Khalil Mack and Anthony Barr spiced up speculation that one of the two outside linebackers could leap defensive end Jadeveon Clowney as the top defensive player in the 2014 NFL Draft with strong all-around workouts.
Both players jumped early with rolling starts that were whistled before a retry.
Mack (4.65 seconds) was a tick faster than Barr (4.66) when the NFL released their hybrid or "official" times Monday afternoon.
NFLDraftScout.com's Rob Rang said following the Senior Bowl that Mack was beginning to be mentioned in No. 1 pick conversation with some teams.
It would be a massive leap for Mack, who was offered college scholarships by only Buffalo and Liberty. He had 10.5 sacks as a senior, including a dominant lashing of Ohio State right tackle Jack Mewhort.
He is powerful and twitchy-explosive -- see his unofficlal 1.56-second 10-yard split. Mack put up 23 reps of 225 pounds, a 10-foot-8 broad jump and 40-inch vertical. Clowney had better results only in the 40-yard dash (4.53 official).
To compare Mack to a first-round pass rusher of recent vintage, Clay Matthews (26th overall, Packers) had 23 reps, 10-1 broad jump and 1.49-second 10-yard split on a 4.62-second 40. His vertical was 35 1/2 at the combine, 35 at his pro day.
Alabama junior All-American linebacker C.J. Moseley, the top-ranked inside linebacker in the draft and NFLDraftScout.com's 16th-ranked player overall, did not run but participated in position drills.
Ohio State linebacker Ryan Shazier did not run Monday. He projects to be one of the fastest at the position. He did put up 25 reps of 225 and a 42-inch vertical as a scouting combine parting gift.
Barr (6-4 7/8, 255 pounds) isn't a seasoned defensive player having coverted at UCLA from running back. He was disappointing with 15 reps of 225 on Saturday but had strong overall athletic testing numbers.
Follow Jeff Reynolds on Twitter @ReynoldsJD