2014 NFL combine: CB Gilbert cruises to Tuesday's fastest 40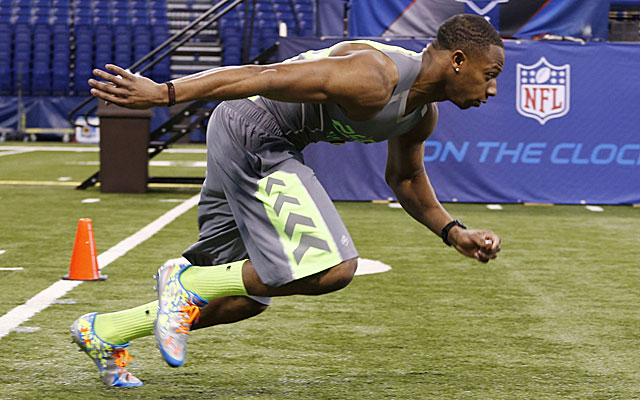 More Draft: NFL Mock Drafts | Prospect Rankings | NFL combine workout results
Michigan State cornerback Darqueze Dennard, NFLDraftScout.com's top-ranked cornerback, posted a 4.51 40-yard time, likely cementing a spot in the top 15 in Tuesday's mornings defensive back workouts at the NFL Scouting Combine.
Dennard's game tape was enough to win over coaches and evaluators. The blazing unofficial time of 4.42 (produced by a handheld stopwatch at the finish line but eventually washed away by a hybrid of handheld and electronic results) to open the final day of workouts at Lucas Oil Stadium pushes him over the top. He posted an unofficial 4.46 on his second 40.
Oklahoma State's Justin Gilbert was given a 4.37 "official" time, fastest among defensive backs (4.35, 4.38 unofficially), along with a 35 1/2-inch vertical and 10-6 broad jump.
Gilbert was smooth and fluid in position drills. He will battle to be the first cornerback off the board, but scouts aren't all convinced Gilbert's athleticism translates to the field. Undoubtedly he's the most naturally gifted athlete. He had seven interceptions last season and with his size (6-0, 202) and arms, projects as a No. 1 cornerback in the NFL.
It was thought Dennard's time might be closer to Cleveland Browns cornerback Joe Haden at 4.6 -- that didn't disqualify Haden from being a first-round pick. It turns out he is closer to Dee Milliner's test results. Milliner, the top-ranked cornerback out of Alabama in 2013, was 13th overall after posting two stunning handheld times (4.31, 4.37) at last year's combine.
Ohio State junior Bradley Roby rates as a first-round talent. Heart, work ethic and off-field character questions could be hushed by his speed and testing numbers. Roby wasn't unproductive for the Buckeyes, but his inconsistency in 2013 was a red flag. Roby said Sunday that he coasted through preseason knowing he wouldn't play in the opener (suspension). That's the kind of confession general managers list in bold type on a scouting report.
Of course, some of those same evaluators will circle in permanent ink the 4.39-second "official" 40 time he posted Tuesday, too.
Alabama's Ha Ha Clinton-Dix clocked at 4.58 (4.52 unofficial on his first run, 4.50 on the second) also confirmed NFLDraftScout.com's evaluation as the top-ranked safety in the class. Louisville's Calvin Pryor matched his 40 result Tuesday afternoon in the second DB group. What Clinton-Dix brings is a centerfield safety who can cover tight ends or receivers in man coverage if schemes require.
Pryor is NFLDraftScout.com's second-ranked safety and No. 28 overall. He had a 34 1/2-inch vertical and 9-8 broad jump -- average overall and below-average for top-40 safety prospects -- and then, in the second group of defensive backs to run Tuesday, posted an unofficial 4.62 in his initial 40. His workout was regarded as a more important piece of his final draft grade than others in the position group. The Chicago Bears (14), Pittsburgh Steelers (15) and Dallas Cowboys (16) are in the market for safety help if not found in free agency.
Dennard was Mr. Consistency for the Spartans, and he plays with the pure dynamism and animated, infectious spirit coaches and teammates appreciate and admire. Other than perhaps wildcard Virginia Tech corner Kyle Fuller (who timed unofficially in a surprising 4.4 flat on both 40s Tuesday), Dennard is the best football player -- instincts, awareness and intelligence -- at the position.
"I think he's a pretty good corner," said Roby.
Dennard needs an ideal scheme fit, a team that presses at the line to physically jam and re-route receivers, or his shot at stardom is nil. He is not a superb or rare athlete and could be overlooked. There are also questions about durability including shoulder and head injuries.
Oklahoma State's big-bodied man cornerback wasn't a major surprise -- his fluid movement skills were expected test off the charts.
"I ran a 4.33 a couple weeks ago and that was just my first attempt," Gilbert said.
He's trying to erase two Sharpie markings on his scouting report that won't be easily overcome. The gambler has "average ball skills" despite decent interception totals in his career. The more stinging criticism is easily seen on game tape. For his agility and ability, Gilbert is toasted more than Eggos, and that's a fatal flaw if scouts and coaches don't believe technical adjustments will correct it.
Gilbert spent time with Dennard in Orlando. Gilbert said Dennard is a wise guy, always making jokes, but scouts might agree that Dennard gets the picture with Dennard.
"He calls me 'Pretty Boy,'" Gilbert said. "He makes fun of me because I always take selfies on my phone."
TCU's Jason Verrett ran 4.38 "officially" and might offer the best combination of talent and production, but his height and smaller frame are limiting. He might have reduced those worries by weighing in at 189 -- and confirming speed projections -- after being listed at 174 pounds. Verrett measured at 5-9, but eats up run-support responsibilities. He wants to hit, and competes on every play, a product of his junior college development that feeds the underdog mentality.
"If I'm 5-9, I'm 5-9. But I can compete with anybody," Verrett said Sunday. "I've been challenged with receivers that have been over 6-foot my whole college career,"
Verrett is nicknamed Fever, "because he's always hot" but said his cover skills made him "Fever Island." Verrett said Sunday he considers himself the best cornerback in the draft.
The human sledgehammer style that draws comparisons to former Jets cornerback Aaron Glenn and Rams cornerback Cortland Finnegan also contributes to concerns about the health of his shoulder.
He played through a torn labrum most of the season after the injury occurred three games into his senior year. Verrett is scheduled to have surgery in Los Angeles after his March 21 pro day.
There are scouts who rate Verrett as a first-round talent. It would be mildly surprising to see him drafted in the top 25 picks because his size likely pushes him into a nickel corner or No. 2 role.
Rice's Phillip Gaines set a breakneck 40-yard pace with matching unofficial 4.34s and when "official" times were released, he was a tick behind Gilbert at 4.35.
Below are the top 25 verified cornerback times of the century according to NFLDraftScout.com records (below) prior to Tuesday.
Follow Jeff Reynolds on Twitter @ReynoldsJD
TOP CORNERBACK 40-YARD TIMES VERIFIED BY NFLDRAFTSCOUT.COM
TIME/YEAR/PLAYER/SCHOOL/HT/WT/ROUND/OVERALL/TEAM
4.25 2011 Demarcus Van Dyke / Miami / 6-1 176 / 3/81/Raiders
4.27 2005 Stanford Routt Houston / 6-2 193 / 2/38/Raiders
4.29 2005 *Fabian Washington Nebraska / 5-11 188 / 1/23/Raiders
4.29 2008 Domq. Rodgers-Cromartie Tennessee State / 6-2 184 / 1/16/Cardinals
4.29 2012 *Josh Robinson Central Florida / 5-10 199 / 3/66/Vikings
4.30 2005 Darrent Williams Oklahoma State / 5-09 176 / 2/56/Broncos
4.31 2004 Michael Waddell North Carolina / 5-11 187 / 4/124/Titans
4.31 2006 *Johnathan Joseph South Carolina / 5-11 193 / 1/24/Bengals
4.31 2008 Tyvon Branch Connecticut 6-0 204 / 4/100/Raiders
4.31 2008 *Justin King Penn State / 5-11 192 / 4/101/Rams
4.31 2011 *Patrick Peterson LSU / 6-0 219 / 1/5/Cardinals
4.31 2013 Terry Hawthorne Illinois / 6-0 195 / 5/150/Steelers
4.31 2013 Darius Slay Miss. State / 6-0 192 / 2/36/Lions
4.32 2003 Kevin Garrett SMU / 5-10 194 / 5/172/Rams
4.32 2005 Chris McKenzie Arizona State / 5-09 185 / Undrafted
4.32 2006 Tim Jennings Georgia / 5-08 185 / 2/62/Colts
4.32 2007 *Chris Houston Arkansas / 5-10 185 / 2/41/Falcons
4.32 2008 *Orlando Scandrick Boise State / 5-10 192 / 5/143/Cowboys
4.32 2010 Akwasi Owusu-Ansah Indiana (PA) / 6-0 207 / 4/126/Cowboys