NFL Draft: Manziel, Bridgewater headline upcoming pro days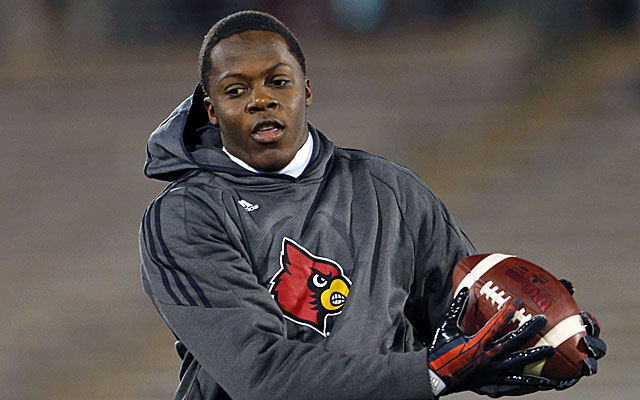 More Draft: NFL Mock Drafts | Prospect Rankings | NFL combine workout results
With the NFL combine in the rearview mirror, the attention of NFL teams shifts to on-campus pro days, the final chance for top prospects to show their football skills to general managers, coaches and scouts.
Pro days are always heavily attended for the top-rated quarterback prospects, but especially this year with Texas A&M's Johnny Manziel and Louisville's Teddy Bridgewater deciding not to throw at the combine, instead waiting for their pro day. Texas A&M's on-campus pro day is scheduled for March 5, but Manziel, along with WR Mike Evans and other former Aggies pass catchers, will have their pro day on March 27 in College Station. Bridgewater will throw at Louisville's pro day, scheduled for March 17.
Manziel told reporters it was an "extremely hard decision" to not throw at the Combine, but throwing to his own receivers was something he's "very comfortable with" and that he listened to the advice of his agent. He also told NFL teams that he's an open book.
"From what I've told every team, if they want to work me out privately…any interview, any question they want to ask me, any throw they want to see me make at any time, I'm more than willing to do that," Manziel said in Indianapolis over the weekend.
Fresno State's Derek Carr didn't throw at the combine, but he participated at the Senior Bowl and Blake Bortles plans to throw at his pro day on March 19 after showing well at the combine. So there is a little added pressure for Manziel and Bridgewater, who have only one more chance prior to the 2014 NFL Draft to impress.
When asked why he didn't throw at the combine, Bridgewater told reporters he is a "perfectionist."
"I just want everything to go right," Bridgewater said at the combine. "I tend to look at it from a pro standpoint. When you're throwing in the offseason, you want to be with your guys to have that timing and connection, so what was the biggest thing."
There are dozens of game tapes for teams to study on these prospects and decision-makers will enter pro days with a strong opinion already on each player. But seeing prospects perform in person, even quarterbacks throwing against air, allows evaluators to break down each prospect even further. If an organization isn't high on a quarterback, a pro day workout usually won't change that. But for teams who are considering a quarterback, especially in the top-five picks, a pro day is a chance to confirm what evaluators see on film.
Here's what to look for at two of the most important pro days this year:
March 17, Teddy Bridgewater
Bridgewater needs to show consistent touch and accuracy on downfield throws of 20+ yards. His deep placement was streaky throughout the season and he needs to show a better feel for all vertical passes. Bridgewater can also help himself by showing leadership traits throughout the passing drills, instructing receivers on different routes and taking full command of the field and workout. His slender body type isn't something that will change for his workout, but Bridgewater should be able to show off his efficient mobility, timing and overall arm talent.
March 27, Johnny Manziel
Manziel needs to show the same velocity to all levels of the field with proper anticipation and placement at the top of each route. A pro day setting won't give Manziel a chance to show off his instinctive and elusive scrambling, but it will help show his ability to operate from within the pocket. It won't be surprising if a broom or two is involved to help simulate Manziel throwing over outstretched hands at the line of scrimmage. He seems to step up on the big stage so with every eye on him at his pro day look for Manziel to perform well.
Other notable pro days to watch:
March 7, Ohio State: RB Carlos Hyde suffered a left hamstring pull during his first 40-yard dash attempt at the NFL combine, but is expected to be healthy for his pro day. A similar situation for LB Ryan Shazier who "tweaked" his hamstring and didn't run the 40-yard dash in Indianapolis, although he did post a combine-best 42-inch vertical leap.
March 18, Florida: The trio of Florida cornerback prospects had average NFL combine performances, but all three still have something to show at their pro day in Gainesville. CB Jaylen Watkins ran a 4.41 in the 40-yard dash, but didn't participate in the positional drills due to a strained Achilles. CB Marcus Roberson and CB Loucheiz Purifoy both ran 4.61 in the 40-yard dash, a number that isn't indicative to their play on the field. Both will presumably like to improve that number at Florida's pro day. DT Dominique Easley won't work out at this pro day as he still recovers from ACL surgery, but is planning to do drills sometime in April.
April 2, South Carolina: While he impressed with his 40-yard dash and vertical jump, DE Jadeveon Clowney didn't have a great 3-cone drill (7.27) and skipped the positional drills, telling reporters "I really didn't feel like doing it here." He will perform the positional drills and agility drills (that he skipped) at his pro day.
April 16, Georgia: When asked if he would be ready for Georgia's pro day, QB Aaron Murray, who suffered a torn ACL in November, said that was the goal "right now." He said the knee is feeling "awesome" and he's doing everything already, just not a full speed yet.