2014 NFL combine: 10 takeaways from Indianapolis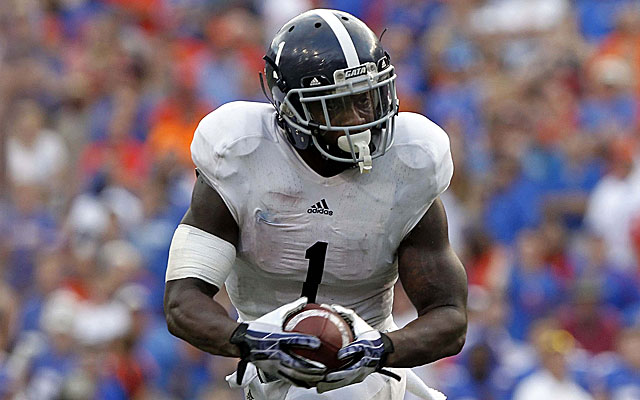 More Draft: NFL Mock Drafts | Prospect Rankings | NFL combine workout results
The 2014 NFL combine concluded Tuesday with defensive backs tearing up the track, including the three seniors earning first round grades from NFLDraftScout.com -- Michigan State's Darqueze Dennard, Oklahoma State's Justin Gilbert and TCU's Jason Verrett -- each of whom posted impressive times in the all-important 40-yard dash.
Looking for a broader scope of the 2014 NFL combine's biggest stories? Here are 10 takeaways you need to get caught up.
10. Dennard, NFLDraftScout.com's top-ranked cornerback and reigning Thorpe Award winner as the nation's top defensive back, officially clocked in at 4.51 seconds, a time that paled in comparison to some of his peers but when taken in conjunction with his fluid hips, physicality and awareness, puts him in position to earn a spot among the top 15 selections.
At 4.37 and 4.38 seconds, respectively, Gilbert and Verrett turned in the two fastest times among all athletes tested Tuesday.
Due to Gilbert's inconsistent technique and Verrett's size (5-foot-9, 189 pounds), not all scouts are convinced either will be a surefire star in the NFL but given the explosive athleticism they demonstrated Tuesday, expect some team to gamble in the first round on this being the case.
9. Missouri defensive end Michael Sam entered the combine as one of its biggest stories. Considering the relative lack of athleticism he demonstrated during workouts, however, some will characterize him as one of the week's biggest disappointments.
Sam acknowledged Monday that he was disappointed in his 25 1/2-inch vertical leap (nevermind his 4.91 40). We can understand why.
In 2004, Miami (Fla.) nose tackle Vince Wilfork's vertical was 26 inches at his pro day. Wilfork, the behemoth Pro Bowl lineman for the New England Patriots, was 6-1, 329 during the pre-draft measurements (safe to say he might be up a few pounds, or 10). Last February, eventual No. 1 overall pick Eric Fisher had a 28 1/2 vertical. A reminder -- he's 6-7, 302 and plays offensive tackle.
The vertical and broad jump were not impressive for Sam, nor were they as vital as position workouts. He was tight and stiff in the hips and ankles and kept his head down and chest up through linebacker drills.
The workout proved what Sam showed at the Senior Bowl last month -- that his niche to begin his NFL career will be on special teams and as backup depth who might eventually get time in nickel pass-rushing situations.
8. Running backs worked out Sunday at the combine but San Diego State junior Adam Muema was not among them.
That's because he left the workout early, citing God's plan for him. According to a report from the U-T San Diego, Muema said that he was "following God" who told him that his dream of playing for the Seattle Seahawks would come true if he left Indianapolis before testing.
Muema, currently NFLDraftScout.com's 30th rated running back, was given a 4th to 7th round projection from the NFL Advisory Committee according to the report. The 5-foot-9, 205-pounder has good quickness and lateral agility. He does not possess ideal speed or power and projects best as a chance-of-pace back.
The fourth all-time lead rusher in school history with 2,955 yards and 34 touchdowns, including 1,244 yards and 15 touchdowns in 2013 despite being hampered early with an ankle injury. He's only the fourth Aztec -- behind Marshall Faulk, Paul Hewitt and Ronnie Hillman -- to ever put up multiple 1,000-yard seasons.
Muema is expected to work out at San Diego State's Pro Day. It remains to be seen if the Seahawks will be represented. It seems highly unlikely that all 32 teams will be - which, of course, they were this week in Indianapolis.
7. While Muema elected not to participate, Kent State's Dri Archer certainly did, recording the 40-yard dash in a staggering 4.26 seconds.
Archer came up short of the combine record, but left no debate as to who the fastest running back is at the 2014 Scouting Combine, posting a 4.26-second 40-yard dash on Sunday. The former Kent St. speedster was a full 0.15 faster than Georgia Southern's Jerick McKinnon.
While the NFL credits Chris Johnson with the combine record with a 4.24 clocking in 2008, NFLDraftScout.com records list Trindon Holliday (2010) and Marquise Goodwin (2013) with 4.21 times. Archer's 4.26 ranks in a tie for seventh-fastest since 2000.
Everyone knew Archer was fast. The bigger question entering the combine was the straight-line speed of some of the elite running backs in this class. Arizona's Ka'Deem Carey, NFLDraftScout.com's top-rated running back entering the week, turned in a highly disappointing 4.70 time that could certainly affect his draft stock.
6. South Carolina superstar Jadeveon Clowney was equally astonishing and exasperating in Indianapolis. The No. 1 rated player in the draft, did enough to show why, with a 40-yard time that was announced in 4.53 second, a vertical jump of 37.5 inches, 21 reps on bench and a 10-03 broad jump after measuring in at 6-foot-5, 266 pounds.
He had promised a 40 time in the 4.4 range, but at 4.53 is among the best ever for defensive ends at the combine. Four other defensive ends have run as fast or faster this century at the combine on NFLDraftScout.com's list.
The best time this century for a defensive end at the combine came in 2002 when UAB's Bryan Thomas, at 6-4, 266, was clocked in 4.47 and was the 22nd overall pick (New York Jets).
While he certainly wowed with his straight-line explosiveness, Clowney did not to participate in shuttle drills or the positional workouts, citing a hip flexor. By not fighting through the injury, Clowney did not take advantage of an opportunity to win over critics, who question why he wasn't more productive in 2013 despite his obvious talent.
5. Pittsburgh's Aaron Donald stole Clowney's spotlight, dazzling during combine drills the same way he did throughout the 2013 season. Thought to be undersized at 6-0, 285 at Pittsburgh, played big last season and is getting bigger in the post-season.
His explosive power was obvious in games, were be blew up the line of scrimmage and led the nation with average sacks per game (1.6) and tackles for loss (2.4). On Monday, he showed why. He blasted through 40 yards in 4.68, had a 32-inch vertical and benched 225 pounds 35 times.

This should validate that this mighty mite of an interior lineman -- think John Randle skill set -- could move up in the first round of the draft.
4. Moving up in the first round of this draft is a legitimate accomplishment, as several long-time scouts praised it for its talent and depth.
"I've been doing this 30 years," Pittsburgh Steelers' general manager Kevin Colbert said, "this is the deepest draft I've ever seen."
A record 102 underclassmen entered this year's pool, which clearly improvement the depth of the talent pool but also added to its unpredictability.
"The juniors added into it make it a very talented group," Colbert said. "With the juniors and redshirt sophomores, we are very cautiously optimistic about their emotional and physical readiness for this huge jump. Even though it's the most talented group I've seen, it's probably the most immature group."
3. Mike Mamula might be the most famous workout warrior in combine history. Scouts are left to wonder who among this year's class could someday join him in infamy.
One player who certain to have scouts returning to the film room was Georgia Southern's Jerick McKinnon, a former option quarterback and running back who may have turned in the best all-around workout of any player tested at this year's combine.
The 5-9, 209-pounder showed off blazing speed (4.41 seconds in the 40-yard dash), explosiveness (40.5" vertical) and power (32 reps of 225 pounds). Perhaps best of all, he showed quickness and balance in the change-of-direction tests, running the three-cone drill in 6.83 seconds and the short-shuttle in 4.12 seconds.
2. With Teddy Bridgewater, Johnny Manziel and Derek Carr choosing not to throw at the combine, Central Florida's Blake Bortles had the stage to show why many have touted him as a possibility to be drafted No. 1 overall by the Houston Texans.
He didn't disappoint with the spotlight on him, displaying his smooth set up and release and tossing darts down the field. Bortles' accuracy and footwork on his three-step drops were excellent, showing very good rhythm, timing and precision to rip it with very good target placement.
He was a tick late with his seven-step drops and has room to improve his feet and balance in this area, but Bortles was still able to be accurate down the field, especially on deep bucket throws.
Bortles wasn't so dynamic as to seal up the No. 1 overall selection -- or frankly, even the No. 1 spot among quarterbacks - but he was good enough to put the pressure on Bridgewater and Manziel to light up their Pro Days, scheduled for March 17 and 27, respectively.
1. The flashy athleticism of the workouts certainly make for the most interesting components of the combine but the event was originally created as an efficient way for NFL teams to generate medical tests for all of the players currently expected to be drafted.
Unfortunately, in what in this regard that plenty of news was created this year with a disproportionate number of high profile players earning medical red-flags.
Alabama offensive tackle Cyrus Kouandjio (knee), Auburn pass rusher Dee Ford (back), Washington tight end Austin Seferian-Jenkins (fractured foot) and Notre Dame defensive lineman Stephon Tuitt (fractured foot) have each generated first round buzz in the weeks leading up to the combine but will have to prove their health after medical tests conducted at the combine revealed pre-existing injuries and kept them from participating in drills.
NFLDraftScout.com's staff of Frank Cooney, Jeff Reynolds, Derek Harper and Dane Brugler contributed to this report.