2014 NFL Draft: Bortles 'hasn't been invited' to New York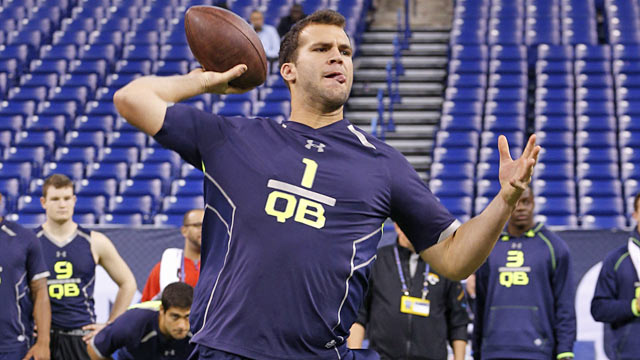 More Draft: NFL Mock Drafts | Prospect Rankings | NFL combine workout results
Central Florida quarterback Blake Bortles got two other major college offers out of high school -- from Purdue and Tulane.
"But it was to play tight end," Bortles said Wednesday on the Dan Patrick Show.
Bortles, very much in the conversation for the No. 1 overall pick as endorsed by NFLDraftScout.com's Dane Brugler in January, went straight from Indianapolis back to his pre-draft training ground in California. He hasn't decided yet if he's attending the May 8 draft in New York because "I don't know if I've been invited."
Our hunch is he'll be hearing from the Park Avenue bunch via mail any day now.
The invite NFL teams were most concerned about, Bortles said Wednesday, involved Lindsey Duke. Bortles described questions he took in private interviews at the combine as awkward. He said multiple teams wanted to know if, when they came to take him to dinner, if his bikini model girlfriend would join him.
Perhaps the takeaway from scouts is no more than a crafty way of identifying Bortles' priorities. Perhaps they wanted to gauge his reaction to potentially sensitive lines of questioning. Perhaps it was research and security of those teams monitoring Duke's Twitter feed https://twitter.com/liindseyduke, where they would learn Duke would join Bortles in L.A. following the Combine.
By all reasonable measures, this is allowable activity, even for a football-married first-round NFL prospect.
Bortles didn't blink at the head-scratcher.
Bortles said he left Indianapolis, where he threw Sunday in position workouts as Texas A&M's Johnny Manziel and Teddy Bridgewater of Louisville chose not to participate, glad he put his best foot forward.
"It's a first opportunity to make a first impression on all 32 teams. Why wait until Pro Day?" Bortles said Wednesday of his choice to participate in position drills. "I wanted to take part and compete in every part of it."
His next step is to continue sharpening his accuracy and footwork, which was nicked by some. Bortles is athletic, but seven-stop drops were new territory for him.
"I think really nail the Pro Day coming March 19, get that down," Bortles said. "And be ready for the private workouts after that."
With a tight race to be the first quarterback off the board, Bortles was asked what he does better than Manziel.
"I think as a quarterback being 6-foot-5, 235, being able to stand in the pocket make plays, being able to extend plays," Bortles said. "I can't name things he can do. I can tell you what I can do as a quarterback."
Follow Jeff Reynolds on Twitter @ReynoldsJD