2014 NFL combine: Real winners, losers, surprises of 40-yard dash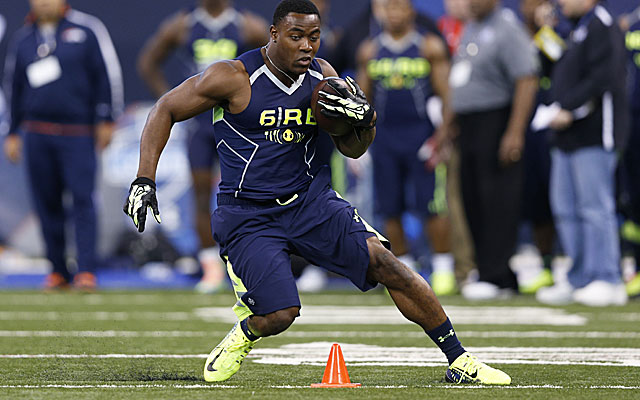 More Draft: NFL Mock Drafts | Big Board | NFL combine news

From a fan's perspective, the 40-yard dash may be the most exciting event that occurs each year at the NFL combine, but from a scout's point of view the nearly weeklong assembly line of players lining up for drills is more analogous to a marathon than a sprint.
Ask someone who was most impressive during the 2014 edition of the NFL's annual Underwear Olympics and they are likely to respond with the cliche of Jadeveon Clowney, Sammy Watkins or Justin Gilbert. Folks, we knew those guys were athletic -- that's why they've been among our first-round mock drafts all year long.
Over the next nine days, NFLDraftScout.com will take a closer look at each event at the combine, shifting the spotlight to some athletes who slipped through the cracks during the combine coverage.
These combine close-ups are meant to identify some players whose athleticism (or lack thereof) demonstrated in a specific drill really will have an impact on where they are selected May 8-10 in the 2014 NFL Draft.
The Event: The 40-yard dash is, of course, designed to measure speed. It is also a measurement of explosiveness and acceleration, which is why the 10-yard and 20-yard splits are every bit as important by some scouts.
The Results: The results can be sorted by name, position, size, school or event by clicking here.
The Winners: Mississippi's Donte Moncrief may have been beaten out by a handful of other receivers -- most notably Kent State's Dri Archer (4.26) Oregon State's Brandin Cooks (4.33) -- but given that he weighed 32 pounds more than any of the pass-catchers who beat him, the 6-foot-2, 221-pound wideout certainly will get a bump up draft boards with his 4.40-second showing in Indianapolis.
Virginia Tech cornerback Kyle Fuller could jump into the first round mix by erasing concerns about his straight-line speed in 4.49 seconds. Perhaps only Clowney and Auburn's Greg Robinson offered a more staggering combination of size and speed than Tennessee State tight end A.C. Leonard, who recorded a 4.50-second time at 6-2, 252 pounds.
The Losers: Just because most of his games were played in the land of the sun, doesn't mean that Arizona junior running back Ka'Deem Carey should've brought his sun dial for this event. His physical running and improved commitment to blocking make Carey one of this draft's better three-down backs but he showed little explosiveness with a 4.70 second showing in the combine's marquee event. He could rescue his falling stock with improvement during Arizona's Pro Day March 6.
Perhaps even more disturbing than Carey's time was the 5.01-second showing from another highly regarded early entrant into the 2014 draft -- Connecticut linebacker Yawin Smallwood. The Butkus Award-finalist was just .02 seconds faster than Illinois' Jonathan Brown as the slowest of the 27 linebackers tested in Indianapolis this year. Smallwood cited a hamstring pull suffered while running the event as to why he ran so poorly. He'll have another opportunity to impress during the Huskies' Pro Day, which is scheduled for March 11.
Smallwood, like Carey, had previously impressed me with his athleticism. Each could see their stock sliding into Day Three with these results.
The Surprises: West Virginia's Charles Sims (4.48) and Washington's Bishop Sankey (4.49) took advantage of slower-than-expected times from some of the draft's highest-touted running backs to show off their underrated burst. Among the more surprisingly slow times came from Oregon's De'Anthony Thomas (4.50) and Baylor's Lache Seastrunk (4.51), each of whom now may have to prove during Pro Day workouts that their speed wasn't a mirage enhanced by spread offenses.
The Schedule:
40 yard dash -- Saturday, March 1
Vertical jump -- Sunday, March 2
Broad jump -- Monday, March 3
Three Cone -- Tuesday, March 4
Short Shuttle -- Wednesday, March 5
Long Shuttle -- Thursday, March 6
Positional Drills -- Friday, March 7
Interviews -- Saturday, March 8
Medical -- Sunday, March 9