2014 Pro Days: Pittsburgh DT Donald continues climb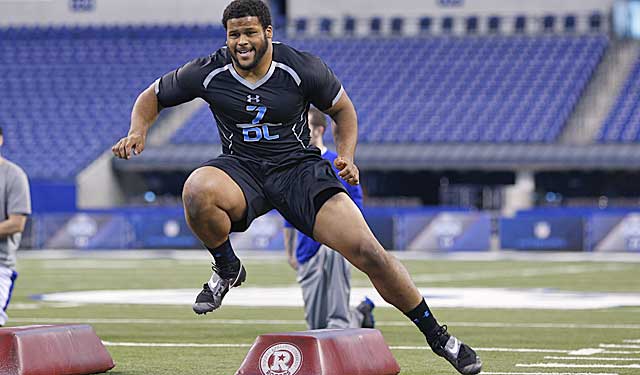 More NFL offseason: NFL Mock Drafts | Prospect Rankings | Top free agents
Pittsburgh defensive tackle Aaron Donald was not in a racing mood on Monday.
Donald, a 287-pound three-technique and NFLDraftScout.com's 22nd-ranked player overall, allowed his 4.68 40-yard dash time at the NFL Scouting Combine to stand while going through position drills at Pitt's pro day, held at the Panthers' indoor facility.
Bill O'Brien of the Houston Texans made Pitt his first pro day stop as an NFL head coach. Four quarterbacks coaches and Philadelphia Eagles head coach Chip Kelly were also in attendance according to Pitt's Sports Information Department.
Donald's height (6-foot 5/8-inch) is the only legitimate nick on his evaluation. He plays with power, suddenness and violent, jolting hand strength to shed blocks. With the momentum gained at the NFL Scouting Combine and as a dominant, award-winning defender last season, Donald could come off the board in top 15.
Quarterback Tom Savage, who could be a late-round riser, went through a scripted workout of 100 passes. Savage (6-4, 228), has the arm strength to be at least a quality backup.
A two-time transfer, Savage said he patiently explains to scouts that his travels should not be a red flag. But his limited experience against FBS defenses do complicate Savage's evaluation. Savage, who also attended Rutgers and Arizona, said it doesn't have to be a negative.
"I've been in three different systems, probably four or five different offensive coordinators. I don't even know anymore I've been to so many schools," Savage said. "You kind of have to pick it up on the run. You have to learn on your own. At Pittsburgh, I had to walk on and earn my spot. I had to pick up the offense and learn it by myself. Being ineligible you can't offer to much to the team. You really have to grind in the film room and pick it up on your own, kind of like the NFL will be. There will be veterans that know the playbook. They're not going to slow down for some rookie."
Wide receiver Devin Street (6-3, 198) said Monday that some scouts timed him below 4.5 seconds in the 40 after going 4.55 at the Scouting Combine.
"A lot of teams had me at 4.46 today," he said.
The possible fourth-round pick is NFLDraftScout.com's 21st-ranked wide receiver in what is regarded as a very deep class.
Follow Jeff Reynolds on Twitter @ReynoldsJD