2014 NFL Draft: Winners, losers, surprises in combine short shuttle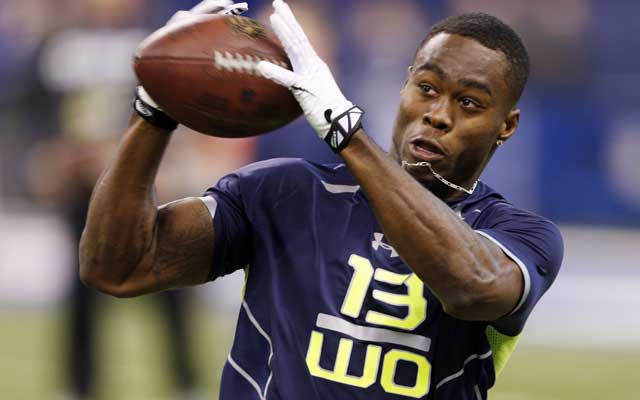 More Draft: Pro Day schedule | Mock drafts | Rankings | Big Board | Latest news
While the 40-yard dash and bench press earn the most attention in the media, the change of direction drills are generally viewed as a greater indication of a football player's overall athleticism. For some talent evaluators, the 3-cone drill ranks as the Combine's elite test. For others, it is the shuttle, a test designed to demonstrate lateral agility, flexibility, balance and acceleration - traits that scouts are looking for at virtually every position on the field.
The class of 2014 posted some extraordinary results in this test, including Oregon State's Brandin Cooks' time of 3.81 seconds, tying former Miami Dolphins' first round pick Jason Allen for the fastest time in this event since 2006.
Montana linebacker Jordan Tripp was every bit as historic. He was clocked at a lightning-fast 3.96-seconds in the event after measuring in at 6-foot-3, 234 pounds - a faster time than any linebacker tested in Indianapolis since A.J. Hawk was credited with the same time eight years ago.
These combine close-ups are meant to identify some players whose athleticism (or lack of it) demonstrated in a specific drill really will have an impact on where they are selected May 8-10 in the 2014 NFL Draft.
This focus on the short shuttle drill is one of a nine-part series from NFLDraftScout.com taking a closer look at each combine event, shifting the spotlight to some athletes who might otherwise have slipped through the cracks of coverage from the week in Indianapolis.
The Event: The short shuttle is sometimes referred to as the 5-10-5, which explains the amount of distance the athlete is asked to run in this event. Starting out of the three point stance, the athlete is asked to explode out to his right, touching the line five yards away. There, they quickly turn and run ten yards to the other end of the drill and touch the line with their left hand. The drill is finished when the athlete pivots one last time and accelerates through his initial starting point. Thus, he's running five yards, turning and running 10 yards and finishing with a final five.
The Results: The results can be sorted by name, position, size, school or event here.
The Winners: As mentioned previously, Cooks and Tripp were big winners in this event with times that rank among the best in Combine history.
Cooks was the fastest of an extraordinary collection of light-footed receivers in this class who essentially tore up the Combine records books. Over the past eight years, a grand total of seven receivers have been clocked at 3.95 seconds or faster in this event. Five of them came from this class with Louisville's Damian Copeland (3.90), LSU's Odell Beckham (3.94), Fresno State's Isaiah Burse (3.94) and South Carolina's Bruce Ellington (3.95) joining Cooks.
Washington running back Bishop Sankey's terrific all-around workout was nowhere more impressive than in this event. The 5-foot-9, 209 pounder clocked in at 4.0 seconds flat in the event, leading all running backs (including 40-yard dash champion Dri Archer). Of all the diminutive, explosive backs over the years, only one back has run a faster time since 2006 in this event - former Florida Gator and Pittsburgh Steeler (and current Indianapolis Colt) Chris Rainey, who was clocked at 3.93 seconds two years ago at 5-foot-8, 180 pounds.
The Losers: While there were some terrific times turned in among receivers, the consensus top wideout in the draft - Clemson's Sammy Watkins - wasn't nearly as explosive in this event as one might expect given his trademark acceleration on the field. Watkins' 4.34-second time tied for 22nd among the 38 receivers tested in Indianapolis.
The idea of offensive linemen running timed drills may sound like scintillating television but for scouts looking for the unique athletes that might fit best in a zone-blocking scheme, numbers in this event can be critical. As such, the slow times from Tennessee's Zach Fulton (5.16), Stanford's Cameron Fleming (5.0), and Virginia's Morgan Moses (4.95) could be enough to convince proponents of this scheme to look for talent elsewhere.
The Surprises: Given the extraordinary burst with which he plays, some scouts may elect to throw out Watkins' relatively slow and surprising time. Other, bigger men who provided more positive surprises at the Combine include tight ends C.J. Fiedorowicz (Iowa) and Jake Murphy (Utah). While each is viewed as a quality football player well worthy of middle round consideration, their size (6-foot-5, 265 and 6-foot-4, 249, respectively), strength and reliable mitts were generally considered their best traits. Fiedorowicz led all tight ends with a 4.26 showing in this event with Murphy, checking in just a hundredth later.
Among other big guys, expect to see UCLA's Xavier Su'a-Filo and Nevada's Joel Bitonio continue to move up draft boards after each recorded impressive 4.44-second efforts.