Patriots QB Ryan Mallett just 'OK' at Arkansas Pro Day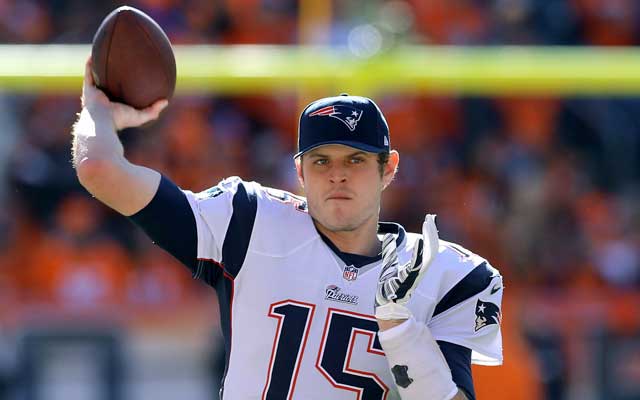 More Draft: Pro Day schedule | Mock drafts | Rankings | Big Board | Latest news
Taking advantage of an NFL rule which allows former players to either throw or catch passes at a Pro Day should the team need it, former Arkansas quarterback Ryan Mallett shed his New England Patriots uniform for a day and threw to a collection of Razorbacks attempting to join him in the NFL.
Mallett, a 6-foot-7, 225 pound gunslinger with a first-round arm, is entering the final year of his rookie contract with the Patriots and is a source of frequent trade speculation. He certainly had an audience during Wednesday's Pro Day. According to the Razorbacks' official athletics website, representatives of all 32 teams attended the workout.
Mallett was certainly the big man on campus again as the four Razorbacks who were invited to the Combine -- center Travis Swanson, pass rusher Chris Smith, defensive tackle Robert Thomas and kicker Zach Hocker -- largely sat on their numbers from Indianapolis. Thomas improved his bench press numbers from 32 in Indianapolis to 37.
Mallett's performance was described as simply "OK" from a source who attended the workout. Mallett's time in the NFL has not translated into a better build. He remains gangly and looked "weak physically." Despite his less-than-ideal build, Mallett remains a talented thrower. His most impressive passes on the day, according to the source, were deep outs and go routes -- two of the more valued throws in today's NFL.
Of the other Arkansas players tested Wednesday, wide receiver Javonte Herndon (6-foot 1/4, 207) timed well, clocking in at 4.47 seconds in the 40-yard dash but dropped several passes during positional work.
Others -- like 6-foot, 197 pound Julian Horton (4.69), 6-foot-4, 260 pound Austin Tate (5.12) and 5-foot-8, 244 pound running back Kiero Tate (4.91) -- all showed a disappointing lack of speed that all but assures them of being undrafted.