2014 NFL Draft: Week 1 Pro Day takeaways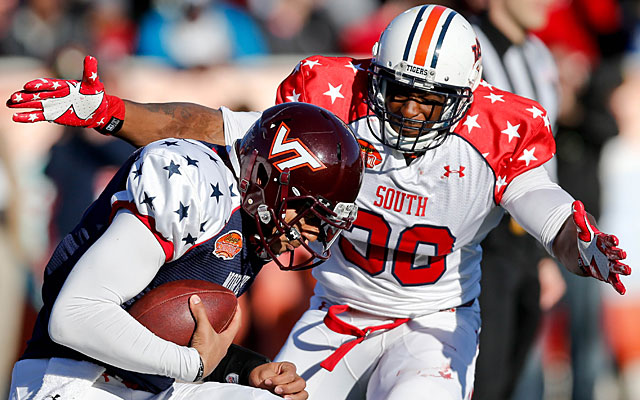 More NFL offseason: Mock Drafts | Prospect Rankings | Pro Days | Top free agents
The statistics generated at the annual scouting combine can border on information overload -- and that is with all of the players attending the workout competing in the same environment.
Pro Day workouts complicate the process. They're completed under varying conditions throughout the country and can be overblown. Only in rare occasions do the results of Pro Day workouts actually impact a player's stock.
As such, we've boiled down the five storylines from this week's Pro Day workouts that every NFL Draft fan needs to know.
5. Carey crashing? As the nation's leading rusher over the past two seasons, Arizona's Ka'Deem Carey entered the 2014 combine with plenty of hype. Concerns about whether his success was partially due to head coach Rich Rodriguez's spread offense were only increased with a disappointing workout in Indianapolis, including a 4.70-second time in the 40-yard dash.
Carey was unable to significantly improve on his time at his March 6 Pro Day, registering times varying from 4.66-4.69 in the all-important event and electing not to participate in shuttle drills at all.
Graded the top back in the class by many (including me) throughout much of the 2013 season, Carey's poor workouts and questions about his decision-making off the field could push him into Day 3 of the draft.
4. Dee gets his day: Auburn pass rusher Dee Ford terrorized opponents throughout the Tigers' run to the BCS title game and the Senior Bowl but the frightening news that came out of the combine centered on an old back injury rather than his athleticism, sidelining him for the biggest workout of his life.
"There is nothing wrong with Dee and he will show it," Adisa Bakari, Ford's agent, told the Sports Xchange on Monday. "He had a procedure on his back in 2011 and has played a lot of great football since then with no problem whatsoever. We were all surprised he was held out. There was no reason for it."
While teams will certainly rely on their own medical staff to determine Ford's long-term health, he showed off his unique blend of athleticism at his Pro Day, recording a 35½-inch vertical, 10-foot-4 long jump, 29 reps of 225 pounds on the bench press and 4.59 on his first 40-yard dash attempt and 4.54 on his second after measuring in at 6-feet-2, 244 pounds.
3. Small frame, not game: Northern Illinois safety Jimmie Ward eased any concerns about his straight-line speed and toughness Friday as well, unofficially clocking in at 4.47 seconds in his two attempts at the 40-yard dash. How does that demonstrate his toughness? Ward informed scouts before running that he'll soon undergo surgery to insert a screw in his foot.
Speaking of tough defensive backs, TCU's Jason Verrett managed to post 19 repetitions of 225 pounds during his workout despite having a torn labrum in his shoulder. Best of all, the grit Verrett showed on the bench is reflected in his scrappy play on the field. Add this toughness and strength to the fact that Verrett was clocked at 4.39 seconds in the 40-yard dash in Indianapolis and one can appreciate why he's viewed as a near lock to get selected in the first round despite his 5-9, 189-pound frame.
Ward, similarly built at 5-11, 193 pounds, is gaining traction as a top-32 pick himself.
2. Go Wildcats! Northwestern hasn't produced a first round pick at any position since 2005 (Luis Castillo) and only one quarterback in school history -- the legendary Otto Graham -- has ever earned the distinction of being drafted in the opening frame.
With the ever-increasing buzz surrounding Eastern Illinois' Jimmy Garoppolo, the Wildcats might be able to at least boast they held a Pro Day with a highly regarded NFL passing prospect.
Garappolo was allowed to participate at Northwestern's on-campus workout because Eastern Illinois did not have a Pro Day workout of its own.
Garappolo threw for 45 minutes with San Francisco 49ers head coach Jim Harbaugh and later conducted a private workout with the Houston Texans, who were represented by head coach Bill O'Brien and quarterback coach George Godsey.
Garappolo reportedly threw 36 passes -- 22 of which were specifically requested by NFL personnel -- to demonstrate his ability. He has enjoyed a steady rise up draft boards following an impressive showing at the East-West Shrine Game, Senior Bowl and combine.
Intelligent, accurate and athletic, Garappolo is an ideal match in a timing-based offense -- just like the ones the Texans and 49ers are expected to use in 2014.
1. Who needs a hamstring? Ohio State linebacker Ryan Shazier was unofficially clocked at 4.36 seconds in the 40-yard dash Friday despite struggling with a hamstring injury. The 6-1, 237-pound linebacker had previously wowed by leading the combine with a 42-inch vertical and -- oh, by the way -- led the Big Ten with 143 tackles this past season.
Shazier's workout was terrific but like every other linebacker in the 2014 draft, he's chasing Buffalo's Khalil Mack when it comes to draft position.
The 6-3, 251-pound Mack shaved over a 10th of a second off of his combine 40-yard dash time of 4.65 seconds, clocking in at 4.53-4.55 in his first attempt on campus. Because of minor hamstring tightness, Mack did not run a second 40 on Tuesday.
Like Shazier, production is not a question with Mack. He set school records for sacks (28½) and FBS marks for tackles for loss (75) and forced fumbles (16) and kicked off his senior campaign in style with a dominating performance against Shazier's Buckeyes, recording 9½ tackles, 2½ sacks and an interception which he returned 45 yards for a score.
Mack is viewed as a top-six lock and is one of five players -- along with South Carolina's Jadaveon Clowney, Auburn offensive tackle Greg Robinson, and quarterbacks Teddy Bridgewater (Louisville) and Blake Bortles (Central Florida) -- that rank as legitimate candidates to be the No. 1 overall pick.