2014 NFL Draft: Winners, losers, surprises in combine interviews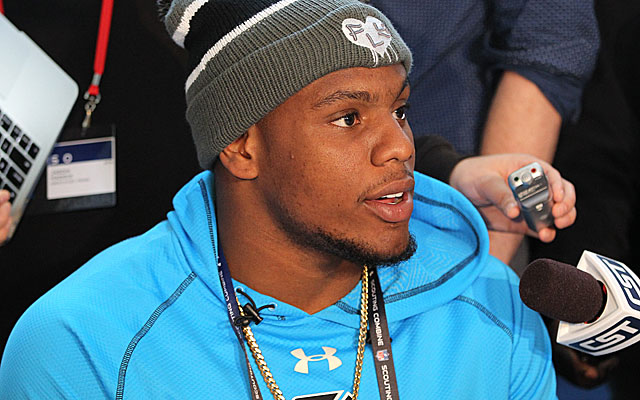 More NFL offseason: Mock Drafts | Prospect Rankings | Pro Days | Top free agents
The exciting part of the annual NFL combine may lie with the athletic drills but the most important part of the process remains the medical testing and interviews that take place.
Like any other job interview, talent evaluators are looking for passion, honesty and ingenuity when they pose questions to the players. Some teams focus on getting to know the player personally. Others focus on football, asking players to diagram plays on the board or explain their responsibilities on big plays they made or gave up throughout their collegiate career.
Regardless of the style, each staff is looking for the same thing in these interviews -- those unique young men who will actually work harder once they've signed an NFL contract.
The Results: All measurable results can be sorted by name, position, size, school or event here. The interviews, of course, aren't numbers-based.
The Winners: Perhaps the biggest winner of the interviews conducted at the combine will prove to be Fresno State quarterback Derek Carr. He entered the week in Indianapolis with momentum after a strong performance on and off the field at the Senior Bowl and carried that over in meetings with teams, impressing scouts and coaches alike with his intelligence, humility and leadership.
It has been reported that the Cleveland Browns are targeting him with their second selection of the first round (No. 26 overall). Given the buzz building around Carr, I'd be surprised if he made it past the Minnesota Vikings at No. 8 and wouldn't be shocked if he would up being the first quarterback selected in the 2014 draft.
The Losers: Given his well-documented arrest for cocaine possession shortly after abruptly leaving the Oregon Ducks, few players had more riding on their combine interviews than Colt Lyerla.
Given his talent, Lyerla should have commanded a podium and been addressing hundreds of people during his interview with the media. Instead, he relegated to a small table where a dozen or so reporters peppered him with questions. I listened to every question and evaluated his verbal and non-verbal responses. I wish I could say that I am convinced Lyerla won't get into trouble again but I can't.
His answers were short and sounded rehearsed rather than from the heart. Eye-contact with interviewers was inconsistent. He admitted that as of that time he had not much contact with his former coaching staff.
Frankly, Lyerla didn't have to convince me. His job was to earn the trust of an NFL team and I hope that he was successful in doing so.
Lyerla is a rare talent, a player who would warrant a first-round selection if teams were convinced of his dedication. If he's committed to the game, I have no doubt he'll compete for Pro Bowl honors early in his career.
That said, I'd put the over-under on where he'll ultimately be drafted as the sixth round.
Some of the greatest players in the history of the game had the ability to walk away from football once they left the field. Many others, however, are consumed by it. As such, when players readily admit that they don't watch football much, it can earn red flags.
Florida defensive tackle Dominique Easley told the media that he'd never watched an NFL game from start to finish and instead might "change it to a cartoon or something."
Easley has demonstrated his commitment to the game. He came back stronger and faster after tearing his left ACL in 2011. He may duplicate his impressive recovery if able to work out prior to the draft after a torn ACL in his right knee limited him to just three games in 2013. His lack of focus on the game, however, was criticized by some scouts.
The Surprises: While Pittsburgh Steelers general manager Kevin Colbert characterized the 2014 crop as the deepest he's seen in his 30 years in the business but also as one of the most immature. As such, it is worth mentioning that two of the younger players in the draft earned positive marks with teams during interviews.
Fresno State wide receiver Davante Adams and Florida State defensive tackle Timmy Jernigan, each just 21 years old, showed uncommon poise when fielding questions during the media session and I'm told this carried over into team interviews, as well.
Adams was characterized by one long-time scout as "being wired right," the same phrase used a year ago to describe wideout Keenan Allen, who was CBSSports.com's Offensive Rookie of the Year after the Chargers plucked him out of Cal in the third round.
Jernigan also impressed, answering tough questions about his conditioning, his role in Florida State's rise to the BCS championship and why he considered himself a leader with the Seminoles.
As he told the assembled media, "I definitely do [consider himself a leader], on the field and off the field. On the field I was definitely one of the leaders of our defense. I feel like we had probably the best defense in the country, and off the field I was a leader as well. Definitely in the weight room. I was a weight room warrior at Florida State. Just getting guys to follow behind me."