2014 Pro Days: De'Anthony Thomas clocked at 4.34 at Oregon workout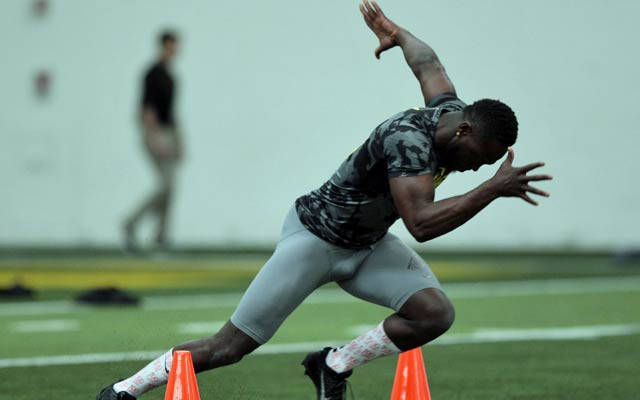 More NFL offseason: Mock Drafts | Prospect Rankings | Pro Days | Top free agents
De'Anthony Thomas put to bed any concerns about his straight-line speed during Oregon's Pro Day, clocking in at 4.38 and 4.34 according to the hand-held times of one long-time league scout attending Thursday's workout.
The times were more in tune with the explosive speed Thomas had demonstrated throughout his three seasons with the Ducks and significantly faster than the 4.50 he was credited with at the Scouting Combine.
Thomas' best time would have ranked behind only Kent State's Dri Archer and Oregon State's Brandin Cooks for fastest recorded in Indianapolis this year.
Just like Oklahoma's Jalen Saunders yesterday, Thomas proved faster than quick when changing directions, recording less impressive times in the short shuttle (4.23 seconds), long shuttle (11.46 seconds) and 3-cone drill (6.95 seconds) in the 3-cone drill. He did show improvement in the bench press, lifting the bar 10 times on Thursday (as opposed to eight times in Indianapolis) and had a 10'3" broad jump, according to the Ducks' official athletic website.
According to the report at GoDucks.com, Thomas showed "explosive burst and quick cuts" while running seven routes and didn't drop a pass.
The ability to offer playmaking ability at running back, receiver and returner is Thomas' greatest asset. At 5-foot-9, 174 pounds, he doesn't possess the bulk to handle more than 5-10 touches a game but few enjoyed greater success than Thomas, whose serpentine-like manueverability in the open field earned him the affectionate nickname DAT.
While Thomas was certainly the most impressive athlete on the field for the Ducks Thursday, he could ultimately be upstaged by several former teammates come May.
Wideout Josh Huff may wind up being the first Oregon player selected this year. He built upon a strong off-season at the Senior Bowl and Combine with a solid workout, shaving a few hundredths of a second off of his 40-yard time in Indianapolis (4.51) with a 4.47 and 4.49 on Thursday. He also added two inches to his Combine broad jump to finish at 9'10" and posted one more rep in the bench press, lifting the bar 15 times Thursday.
Defensive lineman Taylor Hart showed off his underrated athleticism with times in the high 4.8s at 6-foot-6, 284 pounds. According to a report from NFL.com, Hart was asked to work out as both a defensive end and outside linebacker by Indianapolis Colts' defensive line coach Gary Emanuel.
One player not present for Oregon's workout was former Ducks' tight end Colt Lyerla .
Lyerla, who abruptly quit the team October 5 and was later arrested for possession of cocaine, told the media at the Combine that he hoped to repair relationships with his former Oregon coaches. Clearly, that has not occurred to the level that he was allowed to participate in the Ducks' workout Thursday -- an audition that reportedly saw some 30 scouts and coaches representing nearly two-thirds of the league's teams.