2014 NFL Draft: Week 2 Pro Day takeaways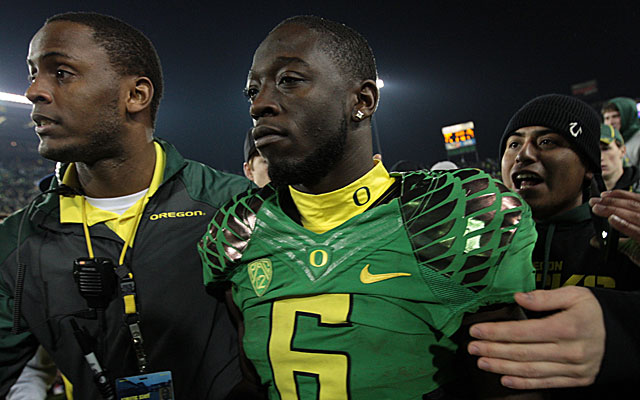 More NFL offseason: Mock Drafts | Prospect Rankings | Pro Days | Top free agents
The NFL scouting world is in the thick of Pro Day season as scouts, coaches and evaluators travel the country from campus to campus.
With double-digit workouts each day, it can be tough to properly track each prospect, so we narrowed down the last week of Pro Days to the top five storylines that every NFL Draft fan needs to know.
Amaro back on pace
After North Carolina's Eric Ebron, who will be the second tight end drafted in May? For most of the draft process, that player was expected to be Texas Tech's Jace Amaro, but after an inconsistent NFL combine performance, that became less clear. He ran a disappointing 4.74 40-yard dash with more drops than expected during the positional drills.
But Amaro helped himself on Friday at his on-campus Pro Day, recording a 4.59 and 4.62 (into the wind) in the 40-yard dash with better results catching the ball from former Red Raiders quarterback Seth Doege. With 22 team in attendance, including New York Jets general manager John Idzik, Amaro remains the favorite to be the next tight end drafted after Ebron. The bigger question might be: Will he sneak into the late first round?
Dennard and Gilbert continue to ascend
For many (not me), the top two cornerbacks in this draft class are Michigan State's Darqueze Dennard and Oklahoma State's Justin Gilbert. Both had positive showings at the combine and kept that momentum going this week with strong Pro Day performances.
Dennard's 4.51 40-yard dash in Indianapolis wasn't spectacular, but it wasn't terrible either. However, his results in the vertical jump (36-inch) and broad jump (11-foot-2) at Michigan State's pro day this week can be classified as spectacular, showing off his lower body explosion and technique. Dennard didn't do either drill at the combine due to a left hamstring injury, but he looked plenty healthy this week and helped solidify himself as a top-20 prospect.
After running a 4.37 40-yard dash in Indianapolis, Gilbert was advised not to run at Oklahoma State's Pro Day on Thursday, but he did slightly improve his time in the 3-cone drill (6.91) and performed average in the short shuttle (4.43) after not participating in that drill in Indianapolis. With his blend of height, length and pure speed, Gilbert will likely be high on several draft boards and nothing at his Pro Day will change that.
Steelers general manager Kevin Colbert and head coach Mike Tomlin were present at both workouts and will likely consider both with their 15th pick in the first round … if either is still on the board.
Bama's bumps and bruises
Nick Saban's program has developed a discouraging reputation in recent years as a place that produces damaged goods on the football field. And LB C.J. Mosley and OT Cyrus Kouandjio in this year's class don't do much to dispel that notion as both left the combine with less than favorable medical reviews.
However, Mosley and Kouandjio fought back this week at Alabama's Pro Day. Mosley looked "fluid" in positional drills and ran his 40-yard dash in the 4.65-4.72 range after not running in Indianapolis due to soreness. Although Kouandjio didn't work out or help his paltry numbers from the combine (he'll have his own pro day on April 8), he did emphatically shoot down the thought that his knee will be a long-term durability issue. And his former coach backed him up:
"The teams we talked to, I can't find anybody that failed the guy on a physical," Saban said. "If you don't understand how people grade players in terms of NFL medical grades, it's not pass-fail. There are usually five categories that a guy falls in, and if you don't understand it you shouldn't be writing about it, because he didn't really fail."
The medical situation can be a murky one for prospects, but stay tuned to this situation, we haven't heard the last of it yet.
De'Anthony Thomas' redemption
Going into the combine, when I was asked who the top 40-yard dash result would be, I debated between Oregon's De'Anthony Thomas and Kent State's Dri Archer. Most times I answered Thomas. And was obviously I was wrong as Archer blazed a 4.26 and Thomas ran a disappointing 4.50.
But Thomas redeemed himself on Thursday in Eugene, clocking a 4.38 and 4.34 in his 40-yard dashes according to one long-time NFL scout at Oregon's Pro Day. His other results were good, not great, including a 6.95 3-cone drill and 4.23 shot shuttle, but boosting his straight-line speed numbers were important for a player known as a track athlete.
Thomas is a little bit of an enigma due to his lack of a natural position in the NFL, but he should make an impact on special teams right away while attempting to find a home on offense. And with 4.34 speed, he'll get a chance at cornerback or another position before he's without a job in the NFL.
Barr. Is. A. Star.
Considered an elite athlete by many, UCLA OLB Anthony Barr turned in ho-hum numbers at the combine with a 4.66 40-yard dash and 34.5-inches on the vertical jump. But at the Bruins' on-campus pro day on Tuesday, he ran 4.44 electronic time, according to his head coach at UCLA, Jim Mora.
"With Anthony, the ceiling is so high," Mora told the Orange County Register. "He's only played the position for two years, and they see the talent. Then, he comes out today and runs a 4.45 at 247 pounds and 6-foot-4 ½. Then he goes and benches 19 times, which is a four-rep improvement from two weeks ago. They understand that there's so much room for growth."
Barr has above average physical and athletic traits, that much is clear. But the technique and consistency needs to catch up for him to become a complete football player and that's something that will come with more reps. Barr was a running back two years ago and he seemed to discover how to be more successful on defense with each game. It's clear he's not yet a finished product, but his numbers back up what he shows on tape: an outstanding specimen who is learning on the fly.