2014 Pro Days: Baylor's Seastrunk improves combine times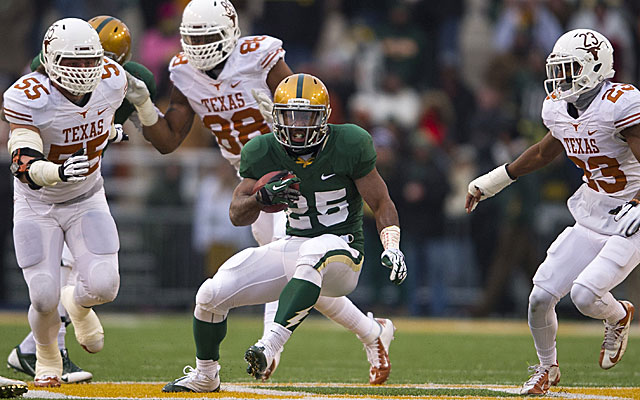 With 36 NFL scouts in attendance, over a dozen prospects worked out on Wednesday at Baylor's pro day and several, including RB Lache Seastrunk, improved on their NFL Combine numbers.

After a somewhat disappointing showing at the NFL Combine, Seastrunk boosted his numbers in Waco, recording a 4.46 40-yard dash after running a 4.51 in Indianapolis. He has elusive moves with the ability to create yards on his own, but the pedestrian 40 time put his straight-line speed into question.

Seastrunk finished among the Combine leaders in the vertical jump (41.5-inches) and broad jump (11-foot-2) and rested on those numbers Wednesday, but he did post impressive times in the 3-cone drill (6.81), short shuttle (4.31) and long shuttle (11.33). Overall it was a positive day for the borderline top-100 prospect.

Other notes from Baylor's pro day:
OG Cyril Richardson slightly improved a few of his numbers from the NFL Combine, including in the 40-yard dash (5.36 to 5.19) and the bench press (25 to 27). He had a solid performance during positional drills as well and helped himself after a lackluster pre-draft showing up to that point.

CB Demetri Goodson, a former basketball starter at Gonzaga, improved his 40-yard dash time from 4.52 to 4.46 and matched his 37-inch vertical jump from the Combine. Although unrefined, his natural athleticism makes him a draftable prospect.

A deep sleeper prospect, WR Darius Jones had himself the most impressive day of all with a 4.40 40-yard dash, 37-inch vertical, 10-foot-9 broad jump, 4.27 short shuttle and 7.13 3-cone drill. He has zero career starts on his resume, but Jones, who wasn't invited to the NFL Combine was a special teams standout throughout his four years at Baylor, appearing in 48 games over his career. And his numbers on Wednesday should earn him at the very least a tryout for NFL teams.