2014 Pro Day: Despite nausea, Derek Carr 'didn't have a bad throw'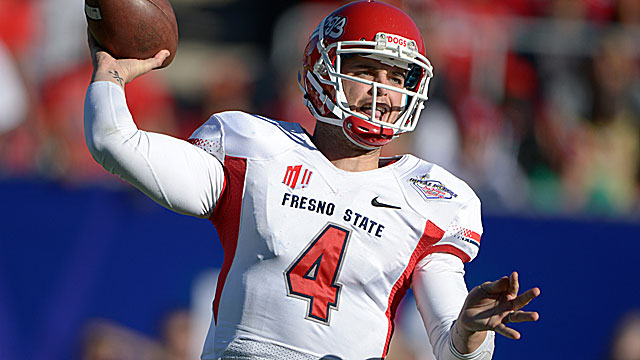 More NFL offseason: Mock Drafts | Prospect Rankings | Pro Days | Top free agents
While virtually all of the focus on quarterbacks for the 2014 NFL draft has centered on the "Big Three" trio of underclassmen, Fresno State senior Derek Carr quietly ranks as a high first round candidate for a number of teams.
On Thursday, Carr had the opportunity to show off his powerful right arm in front of scouts representing 23 NFL teams. I'm told Carr shined, completing 56 of 63 passes in a scripted workout that "demonstrated everything you hope to see," according to a veteran scout attending the throwing session.According to the scout, Carr "didn't have a bad throw." His only incompletions were deep balls and a few drops.
Among those also on hand for the workout was a large contingent from the Oakland Raiders, including general manager Reggie McKenzie and head coach Dennis Allen. Minnesota Vikings general manager Rick Spielman and offensive coordinator Norv Turner also attended Thursday's Pro Day. I project Carr to be selected by Spielman and the Vikings with the No. 8 overall selection in my latest mock draft. Given how well he threw Thursday, I'm not sure he'll be available to them.
Carr's sterling performance is all the more impressive considering that he spent much of the morning in discomfort. According to a source close to the Bulldogs, Carr woke up vomiting this morning at 5 a.m. To replenish his fluids Carr was given an IV by Fresno's trainers. Despite being sick, Carr was adamant about competing.
Though his late illness obviously could have complicated matters, Carr's impressive workout is hardly a surprise. The younger brother of 2002 No. 1 overall selection David Carr, Derek enjoyed a spectacular 2013 season in which he led the nation in passing yards (5,082) and touchdowns (50).
Carr went on to further distance himself from the rest of the upperclassmen quarterbacks at the Senior Bowl. He cited his strong performance in Mobile as a reason for not throwing at the Combine, though he did compete in most of the timed drills. Any question about Carr's athleticism was erased when the 6-foot-2 (3/8), 214 pound quarterback was electronically timed at 4.69 seconds in the 40-yard dash -- just a hundredth of a second slower than Johnny Manziel.
The reigning two-time Mountain West Conference Player of the Year boasts a Matthew Stafford-like arm. Further, he's proven his ability to adjust to different offenses, starring in a traditional pro-style attack for the Bulldogs early in his career under then-head coach Pat Hill as well as the spread attack that Tim DeRuyter brought from Texas A&M.While the buzz might have focused on Carr, his top pass-catchers also turned heads during Thursday's workout.Wideout Davante Adams was clocked in the high 4.4s to low 4.5s in the 40-yard dash on Thursday. The 6-1. 212-pound redshirt sophomore was credited with a 4.56 in this event in Indianapolis. Adams showed off the strong hands which helped him lead the country this past season with 24 touchdowns during positional drills, snatching passes away from his body.Tight end Marcel Jensen also helped his cause with an impressive workout, shaving a few hundredths of a second off of his Combine 40-yard dash and short shuttle times with a 4.82 and 4.45, respectively. The 6-6, 259 pounder clearly has the NFL intrigued as evidenced by the fact that he met with two teams last night and has a private workout already scheduled for Friday.