2014 Pro Days: Notre Dame's Nix, Martin take care of business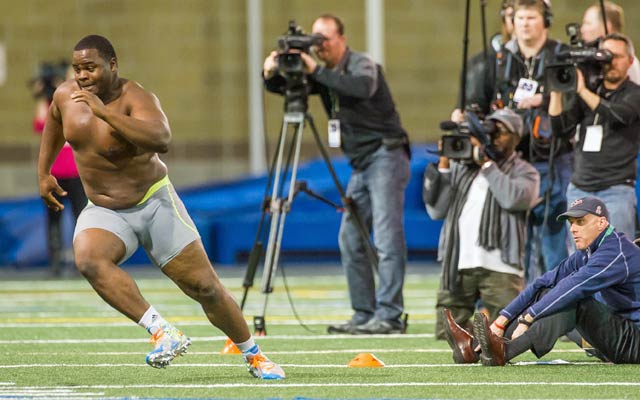 With all 32 NFL teams represented, including head coaches Gus Bradley (Jaguars) and Mike Tomlin (Steelers), NT Louis Nix, OL Zach Martin and 14 other former Irish players participated on Thursday at Notre Dame's pro day in South Bend.

Working out shirtless to show off his decreased body weight, Nix, who said he was "down" to 331 pounds, performed positional drills for scouts, even lining up nose-to-nose with Tomlin on some drills. He showed why some around the league feel he belongs in the top-15 discussion of the first round, appearing quick, controlled and strong with whatever the coaches asked him to do. Nix's charismatic personality also stood out as it usually does.

"I hope they liked my thighs and my footwork and my hips," Nix said when asked what he wanted to show scouts. "Because I've been working on them and trying to get them flexible and be able to move around."

Nix measured in at 6-2 and 331 (same as his NFL Combine numbers) and ran a 5.36 40-yard dash in South Bend, besting his 5.42 and 5.43 results from Indianapolis.

Martin stood on his numbers from the NFL Combine, but did perform positional drills and has done little this pre-draft process to scare off the many scouts who turned in first round grades on the versatile lineman. The four-year starter said he is ready to play guard or tackle in the NFL and that teams have talked to him about both.

Projected top-100 draft pick DL Stephon Tuitt was also on campus for the workouts, but didn't participate as he rehabs from left foot surgery – a surprise injury the medical staffs found at the NFL Combine.

QB Tommy Rees, who wasn't invited to the NFL Combine, had a very up-and-down collegiate career for the Irish with good production, but too many head-scratching decisions over the years. However on Thursday, he looked sharp, throwing passes to WR T.J. Jones, WR Robby Toma and RB George Atkinson and finishing 32-for-34 during the scripted workout.

The 40-yard dash (5.1 range) and broad jump (8-foot-9) weren't as impressive, but overall, Rees had a positive day and will definitely receive a call from a NFL team shortly after the NFL Draft if he goes undrafted.