Week 3 Pro Days takeaways: Michael Sam shows improvement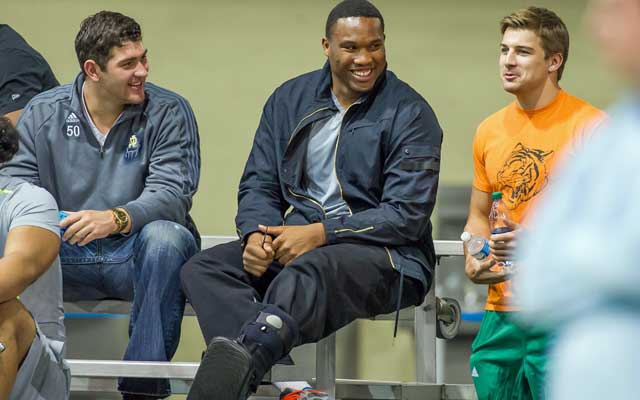 More NFL offseason: Mock Drafts | Prospect Rankings | Pro Days | Top free agents
The statistics generated at the annual scouting combine can border on information overload -- and that is with all of the players attending the workout competing in the same environment.
Pro Day workouts complicate the process. They're completed under varying conditions throughout the country and can be overblown. Only in rare occasions do the results of Pro Day workouts actually impact a player's stock.
As such, we've boiled down the five storylines from this week's Pro Day workouts that every NFL Draft fan needs to know.
5. For players unable to perform at the Combine due to injury, Pro Days are especially important. Utah's versatile edge rusher Trevor Reilly helped prove that he has successfully recovered from surgery to repair a partially torn meniscus by starring during his school's workout March 19. The 6-foot-4, 244 pound outside linebacker was clocked at 4.66 seconds in the 40-yard dash -- a better time than every similarly built linebacker tested at the Combine other than Buffalo's Khalil Mack.
While Reilly helped restore his draft stock by confirming his health, Notre Dame's Stephon Tuitt and Florida's Dominique Easley were not as fortunate. Tuitt was forced to watch his former Irish teammates work out March 20 while wearing a boot to protect his foot, for which he recently underwent surgery to repair a stress fracture.
Easley didn't yet feel ready to compete at Florida's March 17 Pro Day due to his recovery from a torn ACL and meniscus suffered in September. His former head coach, Will Muschamp, said that Easley may be able to work out for scouts on April 18.
4. For those invited to the Combine but deemed medically unable to compete, Pro Days are important. For players snubbed by the Combine selection committee, Pro Days are absolutely critical. As such, the performances from Wyoming quarterback Brett Smith, San Jose State wide receiver Chandler Jones and Stanford defensive end Ben Gardner deserve special recognition here.
Scouts from 19 teams traveled to Wyoming to watch Smith, wideout Robert Herron and defensive back Marqueston Huff, the latter two of which performed well at the Senior Bowl and Combine. Smith showed off the athleticism that has earned comparisons to Texas A&M's Johnny Manziel, clocking a 4.51-second 40-yard dash and impressing with his velocity and accuracy during his throwing session.
Straight-line speed was very much the goal for Jones in his Pro Day workout and he certainly demonstrated it, registering a pair of sub 4.4 times that are sure to attract plenty of attention from scouts.
Considering that he was an integral component of Stanford's success defensively the past three seasons, Gardner may have been the most shocking of the Combine snubs and he posted the most eye-popping numbers in retaliation, wowing scouts from all 32 NFL teams on March 20 with a 39.5" vertical and 10-2" broad jump after measuring 6-foot-4, 262 pounds. Those numbers would have ranked second and fifth, respectively, among all defensive linemen tested in Indianapolis in 2014.
3. Since coming out on February 9, Missouri defensive end Michael Sam has become one of the biggest storylines of the 2014 draft. Nearly a month and a half later, the co-SEC Defensive Player of the Year also demonstrated that he is one of the most improved athletes since the Combine, shaving nearly a fifth of a second off of his 40-yard dash time and adding a full five inches to his vertical jump during Missouri's Pro Day.
The numbers in themselves aren't necessarily eye-popping. After clocking in at 4.91-seconds in the all-important 40 in Indianapolis, Sam was timed at 4.73 seconds on March 20. His 30.5" vertical jump and 19 repetitions of 225 pounds despite weighing in two pounds heavier during the Pro Day, however, do serve as a testament to Sam's commitment.
2. The vast majority of the attention placed upon the 2014 class of quarterbacks has focused upon underclassmen Teddy Bridgewater, Blake Bortles and Manziel but San Jose State's David Fales and Virginia Tech's Logan Thomas turned enough heads during their respective senior Pro Days to solidify their own stock as two of the more intriguing second-tier passers.
The two couldn't be more opposite. Fales, 6-foot-2, 212 pounds, relies on anticipation and accuracy to beat opponents and showed as much in hitting on virtually all of his 52 scripted passes during his workout March 19.
Thomas, on the other hand, is the physical prototype at 6-foot-6, 248 pounds, whose combination of athleticism and arm strength has earned comparisons to Cam Newton. His workout drew the likes of San Francisco's Jim Harbaugh and Philadelphia's Chip Kelly and he performed well, showing not only the velocity scouts expected but improved fundamentals and accuracy.
1. While Fales and Thomas showed off intriguing traits during their respective Pro Days, the best performance from a quarterback so far may have been turned in by Fresno State's Derek Carr, whose sparkling session March 20 was all the more impressive given that he woke up nauseous and took an IV from trainers prior to throwing for scouts.
Carr's impressive throwing session looks all the more impressive given that two of the underclassmen ranked above him on NFLDraftScout.com's board were unable to distance themselves from the competition. Central Florida's Bortles showed significant improvement in his footwork and overall accuracy, earning a solid "B" from one scout in attendance, but struggles with the deep ball may be enough to force the Houston Texans to look elsewhere with the No. 1 overall selection.
Bortles' performance, however, was better than Bridgewater's, whose disappointing throwing session March 17 certainly raises red flags. Lighter than expected and throwing without the gloves with which he'd used throughout his career, Bridgewater pushed rather than passed the ball, too often forcing receivers to adjust. Given the accuracy and command he's shown over the past three seasons, Bridgewater remains NFLDraftScout.com's top-rated quarterback.
Given the blue chip talent at other positions and the depth at quarterback, that doesn't mean that Bridgwater, Bortles or any of the other quarterbacks are necessarily a guarantee to be selected among the top 10.