2014 NFL Draft: Week 4 Pro Days takeaways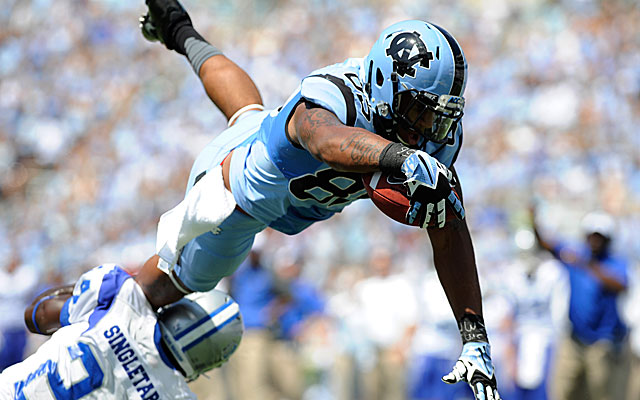 The start of April means that baseball's opening day is here, April's Fool's jokes are inevitable and that the pro days are starting to wind down as we count down the final days to the NFL Draft. But with the draft pushed back until May 8, this April will have more workouts than ever before, especially for prospects who have been on the mend and are finally healthy.
But before we can look forward, let's look back at the past week and the top five storylines from the pro day circuit.
5. Ebron's case of the dropsies. The top question with North Carolina's Eric Ebron isn't whether or not he's the top tight end in this class (he is). The better question is how high will he go? Already viewed as a possible top-10 pick, he had a chance to help himself even more at his pro day in Chapel Hill, but a few drops were the lasting image for several in attendance.
Ebron is a special athlete with impressive tools for the position, but on tape he isn't the most reliable finisher with inconsistent focus, making some of the toughest catches look easy, but too many routine ones hit the ground. And his pro day backed up what he showed on film -- awesome potential due to his athleticism, developing strength and overall attitude, but he needs some seasoning to his game to help with the inconsistency issues. Nonetheless, Ebron did nothing at his pro day to dissuade teams from not taking him in the first half of round one.
4. Healthy and movin' up. Due to a partially torn hamstring, Georgia Tech pass rusher Jeremiah Attaochu didn't work out at the NFL combine last month, but was good-to-go on Friday for Georgia Tech's pro day. And, as expected, he was impressive. Attaochu ran his 40-yard dash times in the late 4.5, early 4.6 range with a 37.5-inch vertical jump, 4.64 short shuttle and 7.28 three cone drill. His 1.55 10-yard split would have ranked him tops among all linebackers at the combine.
Attaochu, who was born in Nigeria before moving to the Washington, D.C., area, set the Georgia Tech all-time record for career sacks (31.5) and continues to be one of the more underrated prospects in this class. He's extremely active, using his athleticism, motor and heady instincts to win off the edge, collapse inside or find the quarterback whichever way possible. Attaochu is still unrefined in some areas, something he also showed during his pro day performance, but there is definitely some untapped potential there as a 21-yeard old who didn't start playing football until high school. In the late first or early second round, Attaochu is going to make a team that implements a 3-4 defense very happy.
3. Speaking of underrated prospects. Indiana's Cody Latimer has flown under the radar since the wide receiver declared early for the draft. But after his pro day this week, that might no longer be the case. Latimer ran a 4.38 40-yard dash and turned some heads with his speed and athleticism just two months removed from surgery on his left foot.
The 6-foot-3, 215-pound wideout is a former basketball player who decided to play football in high school and found a new love. And NFL scouts are loving what he brings to the field, although clearly still growing and developing. Latimer, who also showed his strength with 23 reps on the bench press, was originally expected to be drafted somewhere on day two of the draft and his pro day performance only confirmed that thought.
2. Evans the top WR? Sticking with receivers, Texas A&M's Mike Evans wasn't the main attraction at Thursday's pro day down in College Station (he shouldn't feel bad, neither was a former U.S. President), but he created some buzz for himself with his performance catching the ball during Johnny Manziel's much ballyhooed workout. Evans showed strong, crisp routes with sharp footwork to plant-and-go with some natural explosion out of his breaks. He also caught everything thrown his way with his large catching radius to snare throws all around him.
While Sammy Watkins is the frontrunner to be the top wideout selected on draft day, don't count out Evans, who is considered the No. 1 player at his position by several NFL teams. The 6-5, 231-pound pass catcher didn't perform any agility drills, standing on his 4.51 40-yard dash from the combine, but was still impressive catching the ball and while many in attendance came to watch Manziel, they left talking about Evans (including me).
1. The man. The myth. The top-5 pick? I'd be remiss if I didn't put Johnny Football as the No. 1 pro day topic from this past week. I've been to a lot of pro days and the performance of Robert Griffin III at Baylor two years ago is probably the only on-campus workout that came close to the spectacle I witnessed on Thursday. Manziel, who surprisingly donned a helmet and shoulder pads for his passing session, threw 65 times with only two balls hitting the ground. And of the 65 passes only eight were inaccurate, according to my eyes.
While it was a positive workout, Manziel didn't show much that we didn't already know about him. He has a better-than-advertised arm, he can throw on the move and he shines with all eyes locked on him. Maybe the only thing he answered for scouts and coaches this week was that he can take snaps from under center without any issues as all 65 of his snaps were from a traditional pro-style, under center look. So while he looked good and started a stir among most in the media, let's keep the pro day in perspective as there is nothing new about him that we didn't know already. Manziel will be considered at No. 1 for the Texans and he does have a realistic shot of going first. But if not to Houston, I expect Jacksonville at three and the Browns at four to be the next likeliest landing spots for the exciting, but polarizing prospect.