2014 NFL Draft: Auburn's Ford has a proven motor -- and confidence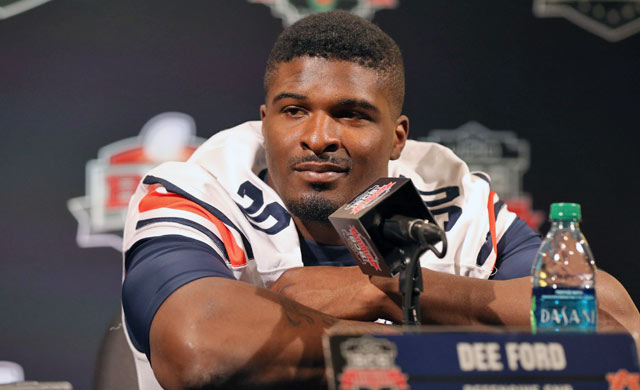 More NFL offseason: Mock Drafts | Prospect Rankings | Pro Days | Top free agents
Amidst the commotion about South Carolina's Jadeveon Clowney being the best defensive end, if not top overall prospect, in the 2014 NFL Draft, there are those who point to another defensive lineman who could be more productive as a pro.
Wait, that is Auburn defensive end Dee Ford pointing to himself. And he seems to have an online following that agrees.
"I was not kidding when I said I think I can be better than him, but it goes way beyond anything to do with Jadeveon," Ford told NFLDraftScout.com, reprising what seemed to be outlandish claims made in February at the NFL Scouting Combine in Indianapolis.
"I must believe I can be better, because that is what drives me -- to be the best," Ford said. "Once you get into the NFL, it doesn't matter where you were rated or what number you are drafted. The only thing that matters is what you do from there."
Ford, an athletic and vocal team leader, is rated as the No. 3 defensive end and No. 29 overall by NFLDraftScout.com, behind Clowney (1/1) and Missouri's Kony Ealy (2/29).
Ford isn't the only one who thinks he may be more productive than Clowney. In an online poll of almost 3,000 viewers, 59.7 percent said Ford would be more productive than Clowney (40.3 percent).
Still, Ford says NFL teams tell him he could go "between 20 and 30 overall." He still has scheduled visits with Houston, Tampa Bay and Indianapolis, but says "all the teams know what I have offer" and that he talked to each team at least once.
"I have proven I bring a consistent level of production," said Ford, which would be in stark contrast to Clowney's inconsistent college performance. "I think all of us show flashes of being productive players, but I provide consistency and intangibles."
Clowney gained a lot of attention with 23.5 tackles for a loss, including 13 sacks in 2012, but managed only 3.5 sacks last year and appeared unable or unwilling to give it his best.
By contrast, Ford came back from a 2011 injury and surgery to lead Auburn in sacks with six in 2012 and 10.5 in 2013 while showing ample athletic ability to line up here, there and almost anywhere. Many NFL teams see him as an outside linebacker in a 3-4 scheme.
No problem, he insists, reminding that he was used in many different ways already at Auburn.
"I've laid the foundation and proved I can be versatile and especially productive as a pass rusher," Ford said. "I have improved every year and I will improve every year going forward. Defensive end, linebacker, it doesn't matter to me. Working in space is not foreign to me."
In fact, Ford began making the transition himself when he changed to uniform No. 30 last season, after previously wearing No. 95.
When asked about what seemed to be outrageous remarks at the combine, where he declared Clowney played "like a blind dog in a meat market," Ford did not back down.
"I didn't mean it to be disrespectful and Jadeveon and I talked about it," Ford said. "He is a great raw talent. But I did mean what I said in terms of my ability to be better."
Ford said he studied a lot of players on tape, including Clowney, and although he concedes that the South Carolina pass rusher is talented, he has a ways to go. Ford knows. He said he already traveled that road from using only raw ability and has become a more dynamic player.
"I watched Jadeveon and I am a huge fan of his," said Ford. "But when you ask who is the better pass rusher, I think I am because I have worked hard to improve. He is still relying on his great athletic ability, same as I did when I first got into college."
And Ford's raw athletic ability is impressive, although he was prevented from showing it at the combine, where officials cited remnants of his 2011 back surgery and held him out of action.
"It was out of my control, but I was ready to go," Ford said. "Usually when you get red-flagged at the combine you must go back and get cleared. But I don't even have to go back. Doctors have cleared me and sent letters to every team in the NFL.
"I've played two productive seasons since that surgery. I showed at my pro day that I am fine."
Better than fine. He was outstanding. On March 4, 15 days before his 23rd birthday, Ford checked in at 6-2, 244, eight pounds lighter than he was 10 days earlier at the combine.
His pro day show included a 35 1/2-inch vertical leap, 10-foot-4-inch long jump, 29 reps of 225 pounds on the bench press and a 40-yard time of 4.53 seconds.
"I think I did OK," he understated. "I'm just glad I finally got the chance to do what they didn't let me do at the combine. Now that is behind me and I just want to get through the draft and show what I can do in the NFL."

Frank Cooney, founder and publisher of The Sports Xchange and NFLDraftScout.com, has covered the NFL and the draft since the 1960s and is a selector for the Pro Football Hall of Fame.