2014 Pro Days: QB Keith Price is right at Washington workout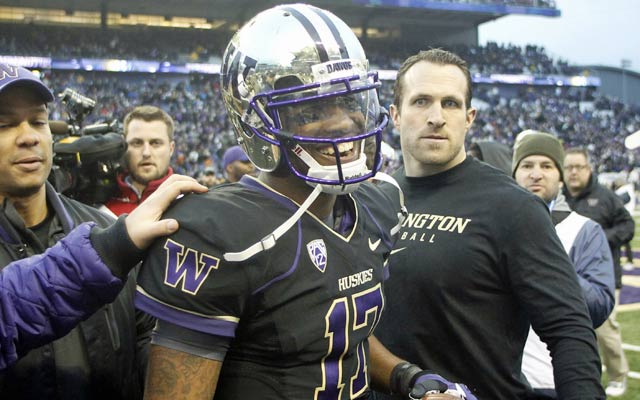 More NFL offseason: Mock Drafts | Prospect Rankings | Pro days | Top free agents
SEATTLE -- Representatives from at least 20 NFL teams attended Washington's Pro Day workout on Wednesday, a significantly higher number than expected given that the Huskies' top two prospects weren't expected to do much.
Star running back Bishop Sankey elected only to run the 60-yard shuttle and perform in positional drills Wednesday after a dazzling workout at the Combine.
Sankey's workout was short but sweet.
One veteran scout had Sankey at a blazing 11.11 seconds in the long shuttle. That would've ranked sixth among all athletes tested in Indianapolis this year and a full quarter second faster than Stanford's Tyler Gaffney, whose 11.36-second time led all running backs tested at the Combine.
Sankey followed up the eye-popping shuttle time with an impressive performance during receiving drills. As he did throughout his career, Sankey showed soft hands and the ability to both track over his shoulder and extend outside of his frame -- elements which have led to my comparison to Bengals' running back Giovani Bernard.
Tight end Austin Seferian-Jenkins attended the workout to meet with scouts and support his former teammates but the reigning Mackey Award winner is still recovering from surgery for the stress fracture discovered during medical testing in Indianapolis.
At this time Seferian-Jenkins is not planning to work out prior to the draft May 8-10, though he is expecting to be fully cleared by that time, according to multiple sources close to him. The injury doesn't appear to have hampered his interest from NFL teams. Seferian-Jenkins has "at least eight" visits scheduled.
While Sankey (NFLDraftScout.com's No. 4 rated running back) and Seferian-Jenkins (No. 3 tight end) didn't do much, a number of other former Huskies stepped up during the workout, most notably quarterback Keith Price.
After being shunned by the Combine selection committee, Price had to enjoy a strong performance at his Pro Day and he delivered, demonstrating very good mobility, accuracy and his underrated arm strength throughout the throwing session. Price, who measured in at 6-1 (even) and 204 pounds, started of the workout in confident fashion, delivering strikes on several deep throws to quickly erase any doubts about his arm strength.
Wearing a baseball cap that he'd had made special for this workout emblazoned with the words, "Don't Doubt Me," Price zipped through quarterback coach Steve Calhoun's orchestrated workout, showing off the ability that helped him complete 64% of his passes for 8,757 yards and 73 touchdowns against 30 interceptions in three starting seasons under former head coach Steve Sarkisian.
Price told reporters following the workout that he was surprised by criticism of his velocity.
"I've always had arm strength," Price said. "I like to throw catchable balls. If I have to throw [the ball] through a window I can do that."
Several scouts leaving Washington's Pro Day had complimentary words for his workout. Most stopped short, however, of characterizing the session as good enough to get him drafted.
As one scout put it, "It was a good workout and he's a good player. He's fighting against a tough class of quarterbacks, though."
Price, who is currently listed as NFLDraftScout.com's No. 23 rated passer, almost surely guaranteed himself a free agent tryout with a team with his performance, if he isn't drafted outright.
While Price was the star of the show, pass catcher Kevin Smith certainly helped his cause as well.
Measuring in at 5-11 (1/2) and a solid 208 pounds, Smith was clocked at 4.54 seconds in the 40-yard dash and recorded a 37" vertical jump. He also ran crisp routes, showed the ability to track the ball over his shoulder and good hands to extend and pluck outside of his frame.
Unfortunately, the news wasn't so good for another former Husky. Safety Sean Parker measured in smaller than his listed size of 5-10, 197 pounds, coming in officially at 5-09 (3/4) and 190 pounds. He also ran slower than expected, with one club recording him at 4.79 seconds in the 40-yard dash.
As is often the case at Pro Day workouts, the local NFL team was best represented. The defending Super Bowl champion Seahawks were in full force, sending head coach Pete Carroll, general manager John Schneider, offensive coordinator Darrell Bevell and college scouting coordinator Kirk Parrish, among others, to the workout.
Other teams represented Wednesday included the Arizona Cardinals, Atlanta Falcons, Cleveland Browns, Dallas Cowboys, Denver Broncos, Houston Texans, Indianapolis Colts, Jacksonville Jaguars, Kansas City Chiefs, New England Patriots, New Orleans Saints, New York Giants, New York Jets, Oakland Raiders, Philadelphia Eagles, Pittsburgh Steelers, San Diego Chargers, Tampa Bay Buccaneers and Washington Redskins, among others.