Week 5 Pro Day Takeaways: Clowney sails, Henderson bails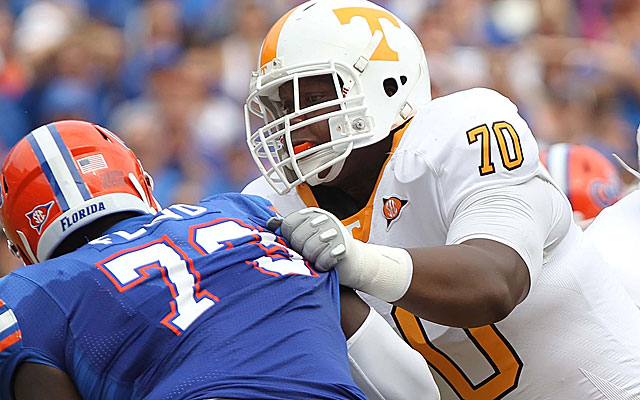 More NFL offseason: Mock Drafts | Prospect Rankings | Pro days | Top free agents
The statistics generated at the scouting combine can border on information overload -- and that is with all of the players attending the workout competing in the same environment.
Pro Day workouts complicate the process. They're completed under varying conditions throughout the country and can be overblown. Only in rare occasions do the results of Pro Day workouts actually influence an established player's stock.
As such, we've boiled down the five storylines from this week's Pro Day workouts that every NFL Draft fan needs to know.
5. Miami OT Seantrel Henderson abruptly leaves his own Pro Day.
Pro Day workouts are like a lawyer's closing argument. They should provide scouts a last, best case why a player is worthy of being selected in the upcoming draft.
Henderson provided the opposite during Thursday's on-campus workout, quitting during a drill orchestrated by Seattle Seahawks' offensive line coach Tom Cable. Sources who were there say Henderson, who weighed in eight pounds heavier Thursday than he was at the Combine, returned to the field 10 or 15 minutes later but at that point the workout was over and scouts were focusing on other positions.
Henderson's talent is as undeniable as his incredible size and body control. The 6-foot-7, 331-pounder moves well and has impressive strength. Some scouts have compared him, athletically speaking, to Minnesota Vikings' right tackle Phil Loadholt. Whereas Loadholt has been the picture of consistency (starting 78 of a possible 80 games since earning a second-round selection in 2009), Henderson's unreliability could push him deep into day three or even out of the 2014 draft, entirely.
4. South Carolina Pro Day more than just Clowney.
While all of the hype centered on superstar pass rusher Jadeveon Clowney, several other former Gamecocks put forth strong workouts during Wednesday's workout.
As a combine snub, fellow pass rusher Chaz Sutton needed an impressive workout and sources on hand indicate that is precisely what he delivered. After measuring in at 6-foot-3, 245 pounds, Sutton was clocked in the mid 4.6s, recorded a 35.5-inch vertical jump and posted 27 reps on the bench press, similar numbers to the ones Clowney posted in Indianapolis. Like Clowney, Sutton was asked to participate in defensive line and linebacker drills, showing burst, balance and enough flexibility to intrigue scouts from 4-3 and 3-4 teams, alike.
Athletic wideout Bruce Ellington (5-foot-9, 198) elected to stand on his combine numbers but showed off his light feet and balance and natural hands during his positional workout. Ellington signed and starred as a freshman with South Carolina to play basketball so the development he's already shown as a route-runner had scouts buzzing.
Quarterback Connor Shaw, cornerbacks Victor Hampton and Jimmy Legree and defensive tackle Kelcy Quarles also worked out. Their efforts were characterized as "solid but not sensational."
3. Washington's Bishop Sankey may have emerged as draft's top back.
Quarterback Keith Price's impressive throwing session was the highlight at Washington's Pro Day, but that was only because the best player there, Sankey, largely elected to sit on his combine numbers.
The only timed drill Sankey ran was the 60-yard "long" shuttle. Scouts clocked him at 11.11 seconds -- a full .25 seconds faster than any running back timed at the combine and the sixth fastest overall. He carried over his impressive effort into his positional workout, demonstrating his lateral agility and burst as he zipped around cones.
Perhaps most importantly, Sankey showed off his excellent hands during receiving drills, demonstrating the all-around game that could help him jump to the top of his positional group come draft day -- just like a similarly gifted back, Giovani Bernard, did a year ago.
2. Tennessee offensive line trying to make history.-
Scouts make up the vast majority of the NFL personnel who attend Pro Day workouts so when positional coaches cut into their limited offseason to evaluate college players, it is worth noting. Offensive line coaches from eight different teams made their way to Knoxville on Wednesday to put an extraordinary group of blockers through the workout.
While junior left tackle Antonio Richardson has received the most fanfare, it was senior right tackle Ja'Wuan James who turned in the best workout, demonstrating the impressive fluidity and balance which helped him start all 49 games of his collegiate career.
Interior linemen James Stone and Zach Fulton also performed well, likely assuring that they too will be drafted, perhaps as early as the middle rounds.
The last time four offensive linemen were drafted from one school was in 2003 when former Notre Dame center Jeff Faine was selected in the first round by Cleveland and the Chiefs, Bucs and Packers invested late-round selections in Jordan Black, Sean Mahan and Brennan Curtin, respectively.
Alex Bullard, ironically enough a Notre Dame transfer, wasn't as impressive during his Pro Day workout but the versatile interior lineman also could get a late round sniff.
Nebraska saw all five of its starting offensive line get drafted into the NFL in 1975. Of course, the NFL draft at that time was 17 rounds. The first Cornhusker blocker drafted that year was tackle Mark Doak, selected in the sixth round by the Redskins.
1. King Clowney proves yet again that he's the elite talent in the 2014 draft.
Any question about Jadeveon Clowney's ability to handle the transition to outside linebacker may have been put to rest with his sparkling workout.
Asked to run through a mix of defensive line and linebacker drills for scouts representing every team in the league, Clowney dazzled with his acceleration, fluidity and length. The 6-foot-5, 266-pounder was especially impressive during a leaping drill led by Detroit Lions' defensive line coach Jim Washburn in which he soared over seven blocking bags, landed cleanly and showed off his balance and arm length to pluck tennis balls off the ground.
The ability to leap over bags may sound like a silly way to way to evaluate a prospect but Clowney has already dominated every other test put in front of him. The drill, which Washburn has used for years to test explosion, balance and agility, has reportedly never before been successfully completed with seven bags.
The Houston Texans may elect to go in another direction with the first pick. But if they do, Clowney has vowed to make them "miserable."
As my top-rated prospect all year long, I'm certainly not betting against him.