2014 NFL Draft: Clemson OL Brandon Thomas tears ACL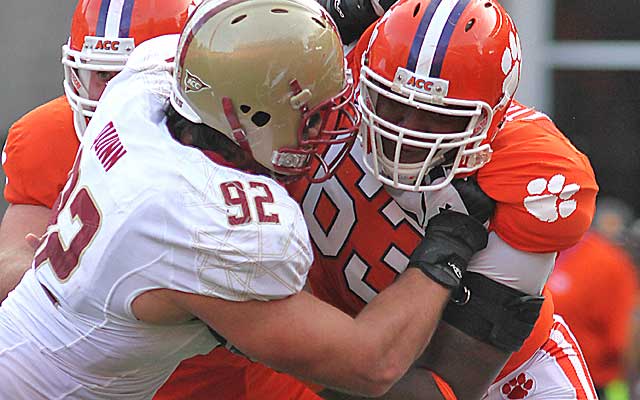 More NFL offseason: Mock Drafts | Prospect Rankings | Pro days | Top free agents
The nightmare scenario for any prospect preparing for the NFL draft happened to Clemson offensive lineman Brandon Thomas, who tore the ACL in his right knee while working last week.
Thomas, a versatile three-year starter with experience at left guard and left tackle, had earned a second round grade from NFLDraftScout.com.
The news was first reported by ESPN's Adam Caplan. It was confirmed by Aaron Brenner of The Post and Courier, who quoted Thomas' agent, Tom Kleine:
"As you can imagine, [Thomas is] kind of running the gamut of emotions. Training was going great," Kleine said Monday. "We're just still in the process of notifying teams. Will it affect his stock? Probably."
News of his injury and upcoming surgery and rehabilitation, however, has already dropped him to the 119th overall prospect on NFLDraftScout.com's board and 3rd-4th round grade.
Teams might be even tougher on Thomas, whose ability to play next year is now seriously in doubt.
Klein told Brenner that Thomas had already gone through seven or eight individual workouts with NFL teams with several more scheduled. That number could grow now with news of Thomas' injury as teams evaluate how quickly he'll be able to recover.
It is a tragic turn of event for Thomas, whose stock had been soaring after turning heads at the Senior Bowl due to his surprisingly long arms, light feet and versatility.