In deep WR class, Kelvin Benjamin's mistake could be others' gain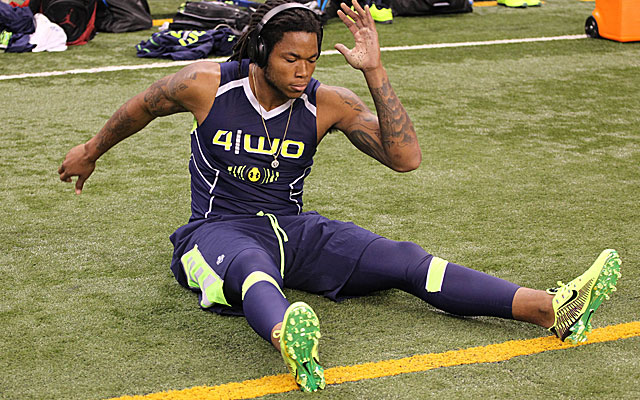 More NFL offseason: Mock Drafts | Prospect Rankings | Pro days | Top free agents
With the 2014 NFL draft pushed back two weeks later than normal, scouts and prospects all over the country are racking up frequent flyer miles conducting official visits and private workouts.
In past years, it wasn't uncommon for a players to have five or six meetings with teams prior to the draft. Players with more than a 10 visits or private workouts, however, was relatively rare.
This year, I've been told of numerous players with 10-15 meetings with teams.
Florida State wide receiver Kelvin Benjamin apparently decided he'd had enough, electing to blow off a workout with an NFL coach who made "a special trip" to work him out, according to NFL.com's Gil Brandt.
There are any number of legitimate reasons why Benjamin may have been unable to work out. For a player who admitted at the NFL combine, however, that he'd struggled with work ethic earlier in his career at Florida State, Thursday's news could come as a significant red flag. And given the tight rankings in this year's highly talented receiver class, that could mean trouble for Benjamin's draft stock.
At 6-foot-5, 240 pounds, Benjamin uses his great size and strength to fight through press coverage. He also possesses deceptive downfield speed to burn cornerbacks if he gets past them, as well as the vision, body control and timing in his leaps to sky over defenders to high-point passes. This skill set could make him an ideal fit for an offense needing help in the red-zone, like the Seattle Seahawks, for example.
For a head coach who preaches competition like Pete Carroll, however, Benjamin might now be a long shot.
Penn State's Allen Robinson (6-3, 220), Fresno State's Davante Adams (6-1, 212), Clemson's Martavis Bryant (6-4, 211) and Mississippi's Donte Moncrief (6-2, 221) offer similar size and are each more explosive athletes.
Most of the receivers at the combine, in fact, tested better than Benjamin.
Benjamin, 23, might want to take his next workout seriously.
Those two extra weeks before the draft not only are adding to scouts' time to work out other receivers.
It also gives them that much more time to forget his 15 touchdowns, including the quick slant that won Florida State the national championship.