2014 NFL Draft: Denver Broncos Spotlight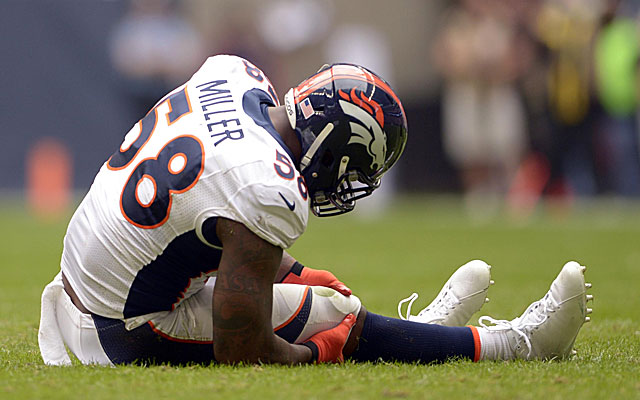 2014 NFL DRAFT TEAM SPOTLIGHTS: ARI | ATL | BAL | BUF | CAR | CHI | CIN | CLE | DAL | DEN | DET | GB | HOU | IND | JAC | KC | MIA | MIN | NE | NO | NYG | NYJ | OAK | PHI | PIT | SD | SF | SEA | STL | TB | TEN | WAS
More NFL offseason: Mock Drafts | Prospect Rankings | Pro days | Top free agents
2014 NFL Draft: Denver Broncos Spotlight
This is the second of a team-by-team series, analyzing five prospects that each team should consider in the 2013 NFL Draft.
While their 2013 season may not have ended the way they hoped, in landing Pro Bowlers Demarcus Ware, Aqib Talib and TJ Ward, the Denver Broncos should enter next season as the favorite to again represent the AFC in the Super Bowl. They're joining a roster that already should be better next season with left tackle Ryan Clady and pass rusher Von Miller expected to be back at 100 percent.
General manager John Elway attacked free agency, luring big fish this year just like he did Peyton Manning and Wes Welker a year ago. Extending head coach John Fox for another three years was another bold, intelligent decision.
While the Broncos roster is clearly talented, holes remain up the middle on both sides of the ball. Adding the right pieces on the interior of the offensive line and at middle linebacker could mean searching not only for athleticism but for grit.
Elway addressed concerns about the Broncos' perceived lack of physicality during his interview with the media at the NFL combine.
"The question always comes up: what makes somebody physical? What makes a team physical? In 1997-98, we were not a physical football team and we were world champions," Elway said, referring to the Broncos' 31-24 victory over the Packers in Super Bowl XXXII.
"To me, being physical is more of a mentality than it is the type of offense or defense that you run," Elway said. "It's about how you attack the game. In the zone running game, it's the ability to be able to cut off the backside. If you have to cut their legs out, you cut them out. If you get an elbow in the head then you get up and say, 'You know what? I'm going to get up and do it again.'
"So it's not about blowing guys off the ball or being physical, it's about a mentality of whatever you're doing offensively or defensively you do it 100 percent and you do it in a physical nature. Sometimes it's not, as I said, double-teaming a guy off the line of scrimmage. It's also making sure you cut off the backside."
Ward, while lacking the name recognition of Ware or Talib, is the most physical of the Broncos' free agent additions so a 'Work in Progress' might as well be posted outside of Elway's door.
With a class as deep and talented as this one, expect Denver's search for physicality to extend throughout all three days of the draft.
Denver Broncos' 2014 draft picks: 31, 63, 95, 131, 171, 207, 246
Primary needs: OG, ILB, CB, DE, WR
General manager: John Elway, fourth year
Five draft picks that clicked:
• WR Demaryius Thomas, 22nd overall, 2010
• OT Ryan Clady, 12th overall, 2008
• TE Julius Thomas, 129th overall, 2011
• DE Von Miller, 2nd overall, 2011
• OLB Danny Trevathan, 188th overall, 2012

Five players who should be on the Denver Broncos' draft radar:
Player, school (overall rating, position rating)
OG Xavier Su'a-Filo, UCLA (25, 1): Given Manning's age and the Broncos aggressive moves in free agency, Denver is clearly all-in to win now. That normally doesn't lend to drafting an offensive lineman in the first round. Su'a-Filo is far from the typical offensive lineman, however. He's a natural left guard who plays with athleticism and an anchor to handle both athleticism and power in the passing game. Given the loss of Zane Beadles to free agency and the retirement of Chris Kuper, the Broncos will almost surely be devoting extra attention to their offensive line in the draft, perhaps as early as the first round.
OLB Ryan Shazier, Ohio State (29, 3): While the hole at guard may be literally bigger than at linebacker, this is clearly the largest concern on the defensive side of the ball. A traditional inside linebacker to replace free agent defection Wesley Woodyward (Titans) might be the ticket but should an instinctive, explosive athlete like Ryan Shazier still be on the board in the first round, he'd certainly make sense, as well. Any team looking for an infusion of physicality could be especially intrigued by Shazier, who ranks among the more fearless defenders in the 2014 draft.
CB Bashaud Breeland, Clemson (74, 9): No one knows better than a quarterback the effect quality cornerbacks can have in tilting the field and therefore Elway paid handsomely to add Talib. The Broncos remain high on veteran Chris Harris, added Jerome Murphy and are intrigued by second-year pro Tayvon Austin but with each struggling with consistency early in their respective careers and Talib always a durability concern, adding depth will remains a priority. Breelend, 5-foot-11, 197 pounds, is a fluid athlete whose best football is ahead of him.
DE James Gayle, Virginia Tech (122, 12): The combination of Miller and Ware should be formidable but the Broncos are still expected to address the position in the draft given the loss of veterans Robert Ayers (Giants), Jeremy Mincey (Cowboys) and Shaun Phillips (Titans) via free agency. The Broncos could see Gayle as another intriguing developmental pass rusher to bring along with 2013 fifth rounder Quanterus Smith. Gayle started his last three seasons with the Hokies and while not as productive as his athleticism indicates, he could impress in a part-time role on a defensive line this talented.
ILB Avery Williamson, Kentucky (214, 9): Given their prior success with former Wildcat linebackers Woodyard and Trevathan, Williamson is a logical consideration for the Broncos. Like the former Kentucky stars before him, Williamson is instinctive and a reliable open-field tackler. He didn't emerge as a full-time starter until his junior season but once on the field, Williamson emerged as one the SEC's most consistent defenders. Williamson worked out better than expected and in a weak ILB class, he is a candidate to rise as the draft approaches.