What to make of Johnny Manziel's 32 score on the Wonderlic?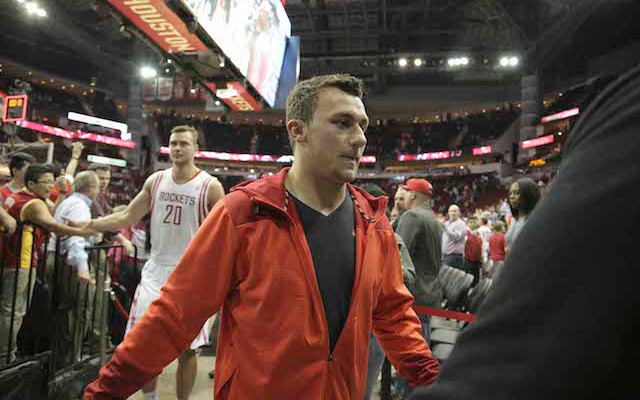 More NFL offseason: Mock Drafts | Prospect Rankings | Pro days | Top free agents
Texas A&M redshirt sophomore quarterback Johnny Manziel reportedly scored a 32 on the Wonderlic intelligence test, tops among the highest-ranked prospects at the position in the 2014 NFL Draft.
At the combine, Texas A&M QB Johnny Manziel rang up an impressive score of 32 on the Wonderlic, I'm told. Should help his cause.

— Albert Breer (@AlbertBreer) April 11, 2014
For most teams, the timed logic and reasoning test is used to gauge calm and critical thinking in a pressure environment. The test was created by late Dallas Cowboys coach Tom Landry in the 1970s and is given by most teams at the Scouting Combine, when they also are put through athletic, medical and psychological testing.
Manziel is regarded as a top 10 prospect in the 2014 draft. As many as five quarterbacks could be drafted in the top 40 picks: UCF's Blake Bortles, Louisville's Teddy Bridgewater, Fresno State's Derek Carr and Eastern Illinois' Jimmy Garroppolo.
The high score for Manziel doesn't come as a shock as he is clearly intelligent on the field with a quick-paced style that requires him to process everything at lightspeed. His smarts show with his pre-snap reads and quick eyes to survey and find favorable match-ups. As the point guard of the offense at Texas A&M, Manziel clearly understood what he saw and knew how to apply it on the field.
A test obviously doesn't tell the entire story and Manziel still has room to improve his decision-making in the pocket, but his positive Wonderlic score surely won't hurt his case as a top-flight NFL prospect.
Acing the 50-question Wonderlic is possible. Pat McInally, a fifth-round pick in 1975, got a 50. Recently retired Alabama quarterback Greg McElroy had a nearly perfect test and Harvard product Ryan Fitzpatrick of the Houston Texans scored a 48. Another Harvard Crimson, Matt Birk, had a 46.
Scores in the 30s are common. Reportedly the list of 30-plus scores includes Tom Brady (33), Aaron Rodgers (35) and Andrew Luck (37).
By comparison, Seattle Seahawks quarterback Russell Wilson said he scored 25 and Dolphins Hall of Fame quarterback Dan Marino had a 15.
Don't scoff at the scores until you've tried it. To find your Wonderlic score, set your stopwatch for 12 minutes. Eyes on your own tablet.