2014 NFL Mock Draft: Bridgewater goes No. 8 overall? It can happen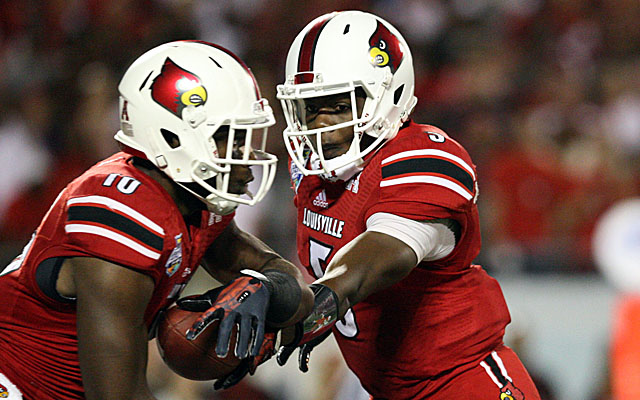 More NFL offseason: Mock Drafts | Prospect Rankings | Pro days | Top free agents
We are officially under a month to the 2014 NFL Draft and for the first time in 2014, I have a projection at No. 1 that isn't Blake Bortles. Is he still possibly the pick for the Texans? Definitely.
But based on what I'm hearing, Clowney is the favorite to be the top pick for Houston if the Texans stay put at No. 1. It's hard to argue with the Texans opting for the most talented player, but it also says that Bill O'Brien has his eye on a quarterback in the second or third round like Jimmy Garoppolo, who is quietly one of the more coveted players in this class.
Could I change my mind and go back with Bortles before it's all said and done? Maybe. But for right now, I'll trust what I'm hearing and shift to Clowney at the top spot.
NFL Mock Draft - 4/11/2014
Round 1
1. Houston Texans

(2-14)
Jadeveon Clowney, DE, South Carolina: Since Bill O'Brien was hired in Houston, I've penciled Blake Bortles into this spot for the Texans at No. 1. But Clowney might be too talented to pass up here and from what I'm hearing, he is the favorite at No. 1 if Houston keeps this pick.
2. St. Louis Rams (from Washington)

(7-9)
Greg Robinson, OT, Auburn: Yes, the Rams brought back Rodger Saffold, but with his injury history and Jake Long coming off a serious injury, Robinson is still a strong possibility here. At the end of the day, I think St. Louis trades down, but if they stay at No. 2, I like the Auburn tackle here.
3. Jacksonville Jaguars

(4-12)
Blake Bortles, QB, UCF: If Clowney is still on the board, this pick gets interesting -- the elusive "franchise" quarterback or the all-world pass rusher? He's off the board here and the Jaguars could easily go with Khalil Mack or Sammy Watkins, but Jacksonville has done a lot of homework on Bortles and he could be their guy.
4. Cleveland Browns

(4-12)
Johnny Manziel, QB, Texas A&M: The Browns will give Brian Hoyer a shot, but is he the long-term option? No, Ray Farmer and his staff weren't at Manziel's pro day, but if you think that means they're not interested, you'd be wrong.
5. Oakland Raiders

(4-12)
Sammy Watkins, WR, Clemson: The Raiders need upgrades at several positions, most importantly quarterback. But they might be left in a spot in which their primary targets are no longer on the board. If that's the case, Watkins would be a very nice consolation prize.
6. Atlanta Falcons

(4-12)
Khalil Mack, OLB, Buffalo: The Falcons have more than a few needs, but especially at pass rusher where the production has been underwhelming. Mack is a hybrid rusher who can play with his hand on the ground or rush from different angles, giving the Falcons an instant boost in the front seven.
7. Tampa Bay Buccaneers

(4-12)
Mike Evans, WR, Texas A&M: With Mike Williams traded to Buffalo, Evans might become the en vogue pick to Tampa among mock drafts, giving Josh McCown an impressive tandem of Vincent Jackson and Evans, similar to what he had in Chicago (Brandon Marshall, Alshon Jeffery).
8. Minnesota Vikings

(5-10-1)
Teddy Bridgewater, QB, Louisville: The Vikings have been linked to Bridgewater in recent weeks and if he's still on the board with this pick, could they really pass on him? Many think Bridgewater falls out of the top-10, but I'll slot him to the Vikings for now.
9. Buffalo Bills

(6-10)
Jake Matthews, OT, Texas A&M: A former offensive lineman and offensive line coach, Doug Marrone will have a tough time passing on Jake Matthews if he's still on the board at this point. Matthews gives Buffalo flexibility on the offensive line.
10. Detroit Lions

(7-9)
Justin Gilbert, CB, Oklahoma State: The Lions have needs on defense, especially in the secondary at cornerback. Gilbert needs footwork and technique work, but his height, length and speed will push him up draft boards.
11. Tennessee Titans

(7-9)
Anthony Barr, OLB, UCLA: With the Titans moving to a 3-4 scheme, Barr is an excellent value pick here as a stand-up rusher in Ray Horton's defense. Barr is still developing, but the natural skills and athleticism make him worth the risk.
12. NY Giants

(7-9)
Aaron Donald, DT, Pittsburgh: The defensive line has been the bread and butter of the Giants winning seasons over the past decade, but the interior positions need some help. Donald is a quick penetrator who can step in from day one and be an impact player.
13. St. Louis Rams

(7-9)
Hasean Clinton-Dix, FS, Alabama: The Rams needs to continue and build the secondary with young, talented players and with TJ McDonald slotted for strong safety, Clinton-Dix would be an attractive option at free safety.
14. Chicago Bears

(8-8)
Timmy Jernigan, DT, Florida State: This pick is expected to be either defensive line or secondary and with no interior defensive lineman drafted to this point, the Bears could have their pick of the litter. Jernigan has the versatility and well-rounded style that might attract Chicago.
15. Pittsburgh Steelers

(8-8)
Taylor Lewan, OT, Michigan: I fully expect this pick to be a defensive player, either a nose tackle like Louis Nix or cornerback like Darqueze Dennard. But if a talented offensive tackle like Taylor Lewan is still available, it would be tough to pass him up, giving them a cornerstone on the line - the Steelers aren't one player away from the Super Bowl.
16. Dallas Cowboys

(8-8)
Zack Martin, OT, Notre Dame: With Aaron Donald off the board, Martin might be Dallas' plan B with his ability to play right tackle if the Cowboys decide to move Doug Free inside or Martin can play either of the two guard positions.
17. Baltimore Ravens

(8-8)
Calvin Pryor, FS, Louisville: Could the Ravens go safety in back-to-back years? Why not, that's one possibility with James Ihedigbo not expected back and pairing Pryor with Matt Elam would give Baltimore options in the deep half.
18. NY Jets

(8-8)
Darqueze Dennard, CB, Michigan State: Most see wide receiver with this pick and I think it's a strong possibility, but so is cornerback, despite New York drafting Dee Milliner first round last year. Dennard fits the Jets scheme and should be able to start from day one.
19. Miami Dolphins

(8-8)
Eric Ebron, TE, North Carolina: Miami has some solid options at tight end, including Charles Clay who emerged last year as a reliable receiving threat. But no tight end on the Dolphins' roster can match the ability of Ebron and what he brings to the offense.
20. Arizona Cardinals

(10-6)
Ryan Shazier, OLB, Ohio State: The Cardinals defense was one of the better units in the league, but need to get younger at outside linebacker. Shazier has shown the versatility to be effective dropping in space (122 tackles this season) or rushing the passer and making stops in the backfield (22.5 tackles for loss).
21. Green Bay Packers

(8-7-1)
Jimmie Ward, SS, Northern Illinois: Green Bay has a need at free safety and although it would be somewhat uncharacteristic for Ted Thompson to go safety in the first round, Ward gives the Packers an instant upgrade in the secondary.
22. Philadelphia Eagles

(10-6)
Bradley Roby, CB, Ohio State: Chip Kelly, who watched Roby in person at Ohio State's pro day last week, wants to get faster and tougher on defense and the former Buckeyes' cornerback will help accomplish that with his natural speed and aggressive mentality.
23. Kansas City Chiefs

(11-5)
Odell Beckham Jr., WR, LSU: Dwayne Bowe is locked up as the Chiefs' No. 1 option, but Beckham would give Alex Smith a consistent No. 2 on the other side (and another LSU first round WR) to help open the passing game.
24. Cincinnati Bengals

(11-5)
Jason Verrett, CB, TCU: Although shoulder surgery will likely keep Verrett shelved until training camp, he is an outstanding cover man who will be able to help the Bengals immediately in the secondary.
25. San Diego Chargers

(9-7)
Louis Nix, DT, Notre Dame: With Cam Thomas signing with the Steelers, San Diego can add some depth in the middle of their defensive line. Not sure they'll anticipate Nix still being on the board, but if he is, the pick would make sense.
26. Cleveland Browns (from Indianapolis)

(4-12)
Kyle Fuller, CB, Virginia Tech: As the Browns begin talks to lock up Joe Haden long-term, they'll also be looking to draft a worthy counterpart for the No. 2 cornerback spot in Cleveland. Fuller has the instincts and natural athleticism to be an impact performer on the inside or outside.
27. New Orleans Saints

(11-5)
Demarcus Lawrence, DE, Boise State: The Saints ranked top-five in the NFL last season in team sacks, but it's tough to pass up playmaking pass rushers. Lawrence gives New Orleans another option on the edge who can grow into a double-digit sack artist.
28. Carolina Panthers

(12-4)
Cyrus Kouandjio, OT, Alabama: The Panthers will likely look to help Cam Newton with this pick, possibly at offensive tackle where Jordan Gross recently announced his retirement. Kouandjio's draft stock is a mystery right now due to the knee durability concerns, but his fall could be the Panthers' gain.
29. New England Patriots

(12-4)
C.J. Mosley, ILB, Alabama: With the Brandon Spikes leaving for Buffalo, the Patriots will be in the market to add depth at linebacker. And with Nick Saban likely giving Bill Belichick a ringing endorsement, Mosley makes sense.
30. San Francisco 49ers

(12-4)
Brandin Cooks, WR, Oregon State: The last time the 49ers drafted a fast, undersized slot receiver in the last first round, it didn't work out so well (A.J. Jenkins). But Cooks is a different story with his combination of athleticism and polish to start at the "Y" from day one.
31. Denver Broncos

(13-3)
Dee Ford, DE, Auburn: The Broncos battled numerous injuries to their pass rushers last season and despite signing DeMarcus Ware, Denver needs to continue and develop depth to their front-seven. Ford has the get-off quickness and motor to put dents in the backfield of opposing offenses.
32. Seattle Seahawks

(13-3)
Xavier Su'a-Filo, OG, UCLA: Offensive guard has been an inconsistent position on the Seattle roster. Su'a-Filo has experience at tackle and guard, but projects best inside and will be the top guard in this class for several teams.
Round 2
1. Houston Texans

(2-14)
Jimmy Garoppolo, QB, Eastern Illinois: If the Texans go with Clowney at No. 1 overall, then quarterback becomes a possibility here and Garoppolo would be a smart option.
2. Washington Redskins

(3-13)
RaShede Hageman, DT, Minnesota: The physically gifted Hageman has the tools to line up as a full-time five-technique while also taking some snaps at the nose.
3. Cleveland Browns

(4-12)
Donte Moncrief, WR, Ole Miss: The Browns signed Andrew Hawkins to cover the slot duties, but are still searching for a reliable No. 2 opposite Josh Gordon.
4. Oakland Raiders

(4-12)
Derek Carr, QB, Fresno State: Yes, the Raiders brought in Matt Schaub to be the presumed starter, but the chance to bring in the strong-armed Carr here is low-risk investment.
5. Atlanta Falcons

(4-12)
Jace Amaro, TE, Texas Tech: While impossible to replace Tony Gonzalez, Amaro would help lessen the blow along with second-year player Levine Toilolo.
6. Tampa Bay Buccaneers

(4-12)
Kyle Van Noy, OLB, Brigham Young: Van Noy can do it all at linebacker, rushing the passer, dropping in space or playing the run and could fit at the Bucs' new SAM linebacker.
7. Jacksonville Jaguars

(4-12)
Marqise Lee, WR, Southern California: With Jacksonville going quarterback first round, why not add a big-play target for Bortles with a talent like Lee.
8. Minnesota Vikings

(5-10-1)
Davante Adams, WR, Fresno State: Minnesota added Teddy Bridgewater in the first round and he could use another target in the passing game.
9. Buffalo Bills

(6-10)
Kony Ealy, DE, Missouri: Buffalo needs to add another pass rusher to the mix. Ealy has first-round tools and he would be able to develop with the Bills.
10. Tennessee Titans

(7-9)
Carlos Hyde, RB, Ohio State: With Chris Johnson released, Hyde becomes an option here as the Titans look to find the future starting running back.
11. NY Giants

(7-9)
Kelvin Benjamin, WR, Florida State: Once a strength, the receiver position for the Giants needs help and Benjamin could be New York's next Plaxico Burress.
12. St. Louis Rams

(7-9)
Cody Latimer, WR, Indiana: St. Louis has a bevy of average targets (Austin Pettis, Brian Quick, Chris Givens), but Lattimer has scouts giddy about his potential.
13. Detroit Lions

(7-9)
Scott Crichton, DE, Oregon State: The Lions lost several defensive ends to free agency, including Willie Young and Crichton would help them rebuild the depth at the position.
14. Pittsburgh Steelers

(8-8)
Marcus Roberson, CB, Florida: The Steelers have been eyeing cornerback prospects expected to go in the early rounds and could target one here.
15. Dallas Cowboys

(8-8)
Dominique Easley, DT, Florida: The knee durability is certainly a red flag, but when healthy, Easley is a dominating interior presence who can live in the backfield.
16. Baltimore Ravens

(8-8)
Stephon Tuitt, DT, Notre Dame: Baltimore needs to continue and build their front-seven and Tuitt gives him a low risk, high reward option on the defensive line.
17. NY Jets

(8-8)
Allen Robinson, WR, Penn State: The Jets added Eric Decker in free agency, but shouldn't stop there as they continue to bulk up their wide receiver group.
18. Miami Dolphins

(8-8)
Morgan Moses, OT, Virginia: The Dolphins need to revamp the offensive line and took a big step with the signing of Branden Albert, but Moses could be the new right tackle.
19. Chicago Bears

(8-8)
Bashaud Breeland, CB, Clemson: The Bears' cornerback tandem of Charles Tillman and Tim Jennings are both over 30 and some youth is needed at the position.
20. Arizona Cardinals

(10-6)
Ego Ferguson, DT, LSU: Defensive line depth is an area of need for Arizona and Ferguson will be intriguing because he can play multiple spots, including the nose.
21. Green Bay Packers

(8-7-1)
Jarvis Landry, WR, LSU: The Packers' wide receiver unit isn't as strong as a few years ago -- minus Greg Jennings (2013) and James Jones ('14) -- but Landry could be the next Jennings in Green Bay.
22. Philadelphia Eagles

(10-6)
Jeremiah Attaochu, OLB, Georgia Tech: Chip Kelly wants to upgrade the pass rush position and Attaochu is a very talented rush linebacker who would be a steal this late.
23. Cincinnati Bengals

(11-5)
Joel Bitonio, OT, Nevada: With Anthony Collins moving on, the Bengals could use added depth on the offensive line, at both guard and tackle.
24. San Francisco 49ers

(12-4)
Marcus Martin, C, Southern California: Yes, the 49ers extended Daniel Kilgore at center, but Martin adds value at center or guard and Mike Iupati's is entering the final year of his rookie deal.
25. San Diego Chargers

(9-7)
Lamarcus Joyner, CB, Florida State: The Chargers' depleted secondary needs help and Joyner brings versatility at cornerback or safety.
26. New Orleans Saints

(11-5)
Martavis Bryant, WR, Clemson: New Orleans needs more size and speed at the receiver position and Bryant brings both.
27. Indianapolis Colts

(11-5)
Terrence Brooks, FS, Florida State: With no first-round pick (sent to the Cleveland Browns in exchange for Trent Richardson), the Colts are under pressure to fill a pressing need and replace Antoine Bethea. Drafting Brooks would allow LaRon Landry to play strong safety.
28. Carolina Panthers

(12-4)
Phillip Gaines, CB, Rice: Carolina's relatively unknown cast of cornerbacks played admirably last season, but there's always room for improvement in a division with Drew Brees and Matt Ryan.
29. San Francisco 49ers

(12-4)
Pierre Desir, CB, Lindenwood: San Francisco needs help on the outside on defense and are expected to add youth at cornerback in the early rounds.
30. New England Patriots

(12-4)
Troy Niklas, TE, Notre Dame: Niklas is an above-average blocker and just scratching the surface of his potential as a receiver, pairing him with Rob Gronkowski.
31. Denver Broncos

(13-3)
Bruce Ellington, WR, South Carolina: With Eric Decker no longer in Denver, the Broncos could add some young talent to the wide receiver position.
32. Seattle Seahawks

(13-3)
Stanley Jean-Baptiste, CB, Nebraska: The Seahawks are always looking for tall, long cornerbacks who fit their scheme and Jean-Baptiste could be that prospect.