2014 NFL Draft: San Francisco 49ers Spotlight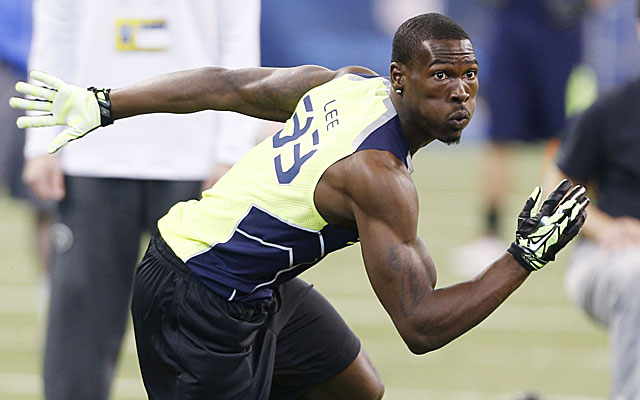 2014 NFL DRAFT TEAM SPOTLIGHTS: ARI | ATL | BAL | BUF | CAR | CHI | CIN | CLE | DAL | DEN | DET | GB | HOU | IND | JAC | KC | MIA | MIN | NE | NO | NYG | NYJ | OAK | PHI | PIT | SD | SF | SEA | STL | TB | TEN | WAS
More NFL offseason: Mock Drafts | Prospect Rankings | Pro days | Top free agents
2014 NFL Draft: San Francisco 49ers Spotlight
This is the third of a team-by-team series, analyzing five prospects that each team should consider in the 2013 NFL Draft.
Given that the 49ers were potentially one tipped interception away from playing in their second consecutive Super Bowl, the off-season hasn't gone as quietly as they hoped.
Reports of growing discontent between head coach Jim Harbaugh and general manager Trent Baalke presented an early distraction. Quarterback Colin Kaepernick and wide receiver Quinton Patton (and former 49ers, current Seattle Seahawks' wide receiver Ricardo Lockette) are now mired in a controversy of their own.
On the field, however, there is no doubt that San Francisco remains one of the league's truly elite teams. And with a bounty of draft picks to fortify the roster that much more, the 49ers are in an enviable position.
A year ago the team elected to build for the future, investing early selections in talented players whose stock tumbled due to injury. Should pass rusher Cornelius Carradine or running back Marcus Lattimore return to their pre-injury form, the "redshirt" years they were allowed in their first NFL seasons could pay off handsomely for the 49ers.
San Francisco could opt to take a similar approach in 2014. They also could elect to package some of their 11 picks (tied for second most in the NFL) in a bold effort to win now.
Baalke was asked repeatedly at the Combine about the established trade value charts and his club's interest in potentially moving up.
He acknowledged that the 49ers and other teams in the NFL use different charts to evaluate potential trades and pointed out the most critical element to any deal.
"The No. 1 one thing is targeting the players you want, identify those and find a way to go get them."
San Francisco 49ers' 2014 draft picks: 30, 56, 61, 77, 94, 100, 129, 170, 242, 243, 245
Primary needs: WR, CB, OC, ILB, DL
General manager: Trent Baalke, fifth year
Five draft picks that clicked:
• ILB Navarro Bowman, 91st overall, 2010
• QB Colin Kaepernick, 36th overall, 2011
• OLB Aldon Smith, 7th overall, 2011
• OG Mike Iupati, 17th, 2010
• FS Eric Reid, 18th overall, 2013
Five players who should be on the San Francisco 49ers' draft radar:
Player, school (overall rating, position rating)
WR Mike Evans, Texas A&M (11, 2): To nab Evans, the 49ers would clearly have to trade up. Given their stacked roster and 11 draft picks, San Francisco certainly possesses the ammunition to consider such a bold move. And considering that San Francisco has already visited privately with the potential top-10 pick, it appears that the club is intrigued by the option. At 6-foot-5, 231 pounds, Evans has the height to battle Seattle's monster cornerbacks. His long arms and physicality make him a nightmare to defend at the catch-point, as he was routinely able to box-out collegiate defenders on jump-balls and beat them deep with his rare speed (4.53), drawing plenty of comparisons to Tampa Bay Bucs' star Vincent Jackson along the way. Sure the 49ers boast two dependable possession receivers in Michael Crabtree already but neither possesses Evans' ability to stretch the field. Given Boldin's age (will turn 34 in October) and Crabtree's struggles with durability and pending contract (he's entering the final year of his rookie contract), the 49ers may see adding a weapon to take advantage of Kaepernick's big arm as their top priority.
WR Marqise Lee, Southern Cal (28, 5): In Harbaugh's ball-control offense, slot receivers only occasionally see the field. Given the way the rest of the league is evolving towards the pass, however, spreading the field with playmakers could be a priority for San Francisco. The 49ers already boast two physical, reliable pass-catchers on the outside with Crabtree and Boldin. Lee's first-step acceleration, however, would serve as an effective complement. Lee struggled with injuries and drops in 2013 and doesn't have the buzz of similarly gifted slot receivers like Odell Beckham, Jr. (LSU) or Brandin Cooks (Oregon State), but the talent that helped him dominate the Pac-12 his first two seasons of college football didn't just disappear. If the 49ers are satisfied with Lee's recovery from the knee issues which plagued him as a junior, they might be able to simply stand pat at No. 30 and allow the dynamic playmaker to fall into their lap.
OG Dakota Dozier, Furman (70, 4): With starting guards Iupati (2014) and Alex Boone (2015) nearing the end of their respective contracts, the 49ers have some decisions to make on the interior of their offensive line. They opted to go younger and cheaper at center, allowing steady veteran Jonathan Goodwin to test free agency while extending Daniel Kilgore. Given his small school experience, Dozier is a bit raw and he'll be asked to make the transition from left tackle. He is athletic, powerful and aggressive and with a year to develop before likely asked to play significant time, he could be molded into whatever role the 49ers felt he fit best.
CB Phillip Gaines, Rice (87, 11): Inconsistent play in the secondary led to the 49ers allowing veterans Tarell Brown and Carlos Rogers to leave via free agency. The team remains high on youngsters Chris Culliver and Tramaine Brock but may find Gaines' length (6-0, 193) and speed (4.38) too intriguing to pass up with one of three picks in a 21-selection run through the second and third rounds (picks 56, 61 and 77). Gaines, a 45-game starter, is a natural cover corner with the fluid hips and light feet to match up with speedy playmakers in the division like Seattle's Percy Harvin and St. Louis' Tavon Austin. Gaines has generated some momentum during the build-up to the draft as he demonstrated his pure athleticism in workouts to back up his dominance on the field. The two-time All-Conference USA pick was particularly impressive as a senior, allowing just 13 receptions in 40 targeted throws during the year.
ILB Shayne Skov, Stanford (133, 13): When healthy, the 49ers may possess the league's most fearsome quartet of linebackers, but the horrific knee injury suffered by Bowman in the NFC Championship game and a gradual leveling of play in recent years from Patrick Willis could make ILB a surprisingly high priority on draft-day. Skov plays with the physicality and instincts to fit into this scheme and obviously Harbaugh would know him well due to their time together on The Farm. What Skov may lack in straight-line speed, he more than makes up for with efficient movement and explosive, timely hitting.