2014 Pro Days: QB Aaron Murray healthy, impressive in workout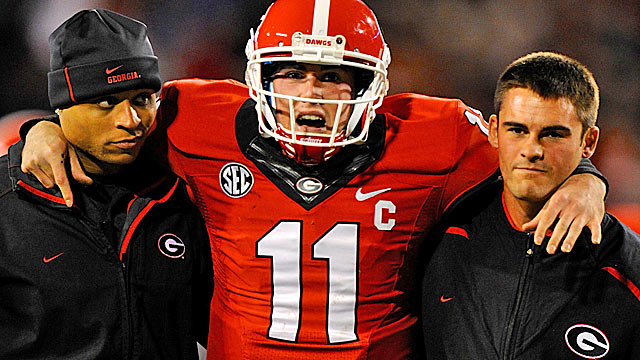 More Draft: Mock drafts | Rankings | Big Board | Latest news
For a prospect who was a four-year SEC starting quarterback and holds numerous school and conference passing records, Georgia's Aaron Murray still has a lot to prove. And on Wednesday at the school's on-campus pro day, he checked a lot of boxes for NFL scouts, most importantly throwing well with his surgically repaired knee.
Murray completed 48 of 54 passes outside on the Bulldogs' practice fields, showing he could throw the entire route tree and that the knee injury wasn't a concern. He suffered a torn ACL in his left knee last November and rehabbed vigorously to be walking without crutches by the NFL combine and looked natural in his movements on Wednesday -- a remarkable recovery in less than five months.
Murray's 54-pass script was run by former NFL quarterback coach, Terry Shea, and was designed to show a myriad of different throws with the former Bulldog quarterback moving, planting and showing full range of motion with his knee.
"I feel great right now," said Murray, who didn't participate in any of the agility drills like the 40-yard dash. "I feel no limitations with the knee. I think everyone today saw that between all the movement I was doing, the cutting, the sprinting. We put a lot of throws on the right, left, demonstrate my ability to cut off my leg and show everyone that I'm healthy. These teams don't have to worry about if they draft me, I'm going to have to sit out or something like that."
With 23 NFL teams represented, Jaguars head coach Gus Bradley, Cowboys quarterbacks coach Wade Wilson and several others were in attendance to see Murray perform.
At a hair under 6-1 and 207 pounds, Murray doesn't have the size NFL teams covet at the position, but similar to Russell Wilson, he grades above average with his mental development and natural intangibles to run an offense. He leaves Georgia as the most accomplished passer in school history, running a traditional under-center, pro-style offense with a lot of I-formation and NFL throws.
Murray lacks ideal physical traits with his size and arm strength, but he is an extremely detailed passer with his mechanics and movements, showing the decisions of a smart, seasoned veteran. He thrives with a clean pocket and clear sight lines, but it's a different story when pressured, lacking the escapability to routinely run away from pass rushers.
Murray has strong football character traits with a coachable attitude and has even attracted some Russell Wilson comparisons. And when healthy, Murray's NFL floor is as a solid NFL backup, but that might also be his ceiling as the lack of physical tools might be too much to overcome. However, his positive workout on Wednesday only helped remind NFL teams how talented Murray is and it shouldn't surprise anyone if he is a top-100 pick on draft weekend.