2014 NFL Draft: Cincinnati Bengals Spotlight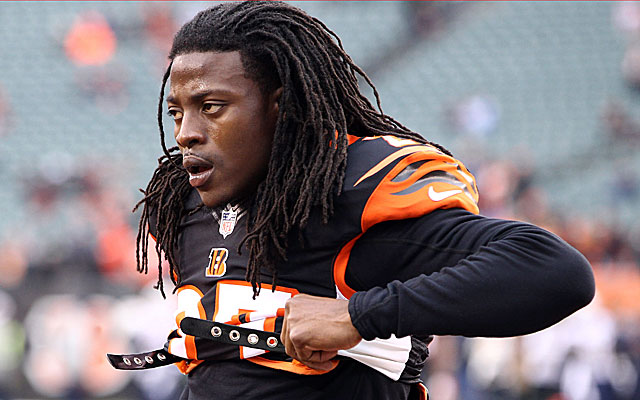 2014 NFL DRAFT TEAM SPOTLIGHTS: ARI | ATL | BAL | BUF | CAR | CHI | CIN | CLE | DAL | DEN | DET | GB | HOU | IND | JAC | KC | MIA | MIN | NE | NO | NYG | NYJ | OAK | PHI | PIT | SD | SF | SEA | STL | TB | TEN | WAS
This is the 10th of a team-by-team series, analyzing five prospects that each team should consider in the 2014 NFL Draft.
Since Marvin Lewis took the Bengals coaching job, he has a winning career record (90-85-1), but his playoff record is another question (0-5). So what will it take for Cincinnati to get over the hump? A change at quarterback? A revamped secondary? Maybe all of the above, but a positive return on this year's draft class is a good place to start.
The Bengals are forced to fill several holes this offseason, losing DE Michael Johnson, OT Anthony Collins, LB James Harrison and G/C Kyle Cook. But the biggest loss might be former defensive coordinator Mike Zimmer, who is now head coach of the Minnesota Vikings.
With the 24th pick in the first round, Cincinnati won't be locked into one position, but cornerback seems to be the favorite, especially if CB Darqueze Dennard out of Michigan State or TCU CB Jason Verrett is still on the board. But there might be some intrigue if a quarterback prospect like Teddy Bridgewater out of Louisville or Derek Carr of Fresno State is still available. Could the Bengals possibly bite?
It's no secret Andy Dalton, who is entering a contract year, has had his share of high ups and low downs. Enough that the Bengals might invest a high pick in a quarterback if the opportunity presents itself? Maybe. But just the fact that the question needs to be asked should be evidence of the inconsistencies at quarterback.
Cincinnati Bengals' 2014 draft picks: 24, 55, 88, 123, 164, 199, 212, 239, 252
Primary Needs: CB, DE, OL, SS, SLB
Head Coach: Marvin Lewis, 12th season
Five draft picks that clicked:
• RB Giovani Bernard, 37th overall, 2013
• WR Marvin Jones, 166th overall, 2012
• WR A.J. Green, 4th overall, 2011
• DT Geno Atkins, 120th overall, 2010
• DE Michael Johnson, 70th overall, 2009
Five players who should be on Cincinnati's draft radar:
(overall rating, position rating)
CB Jason Verret, TCU (29, 4): The Bengals have question marks at cornerback with Leon Hall returning from injury, Pacman Jones on the decline and the enigma known as Dre Kirkpatrick so there is a good chance of Cincinnati's first pick being a corner. The Bengals have spent a considerable amount of time doing their homework on several first-round prospects at the position, especially Verrett. Cincinnati coaches put the TCU corner through his positional drills at his pro day and he also recently visited the organization. Verrett isn't the biggest and recently had shoulder surgery, but his speed, reaction quickness and ballhawking skills translate well to the next level.
OL Joel Bitonio, Nevada (42, 3): Cincinnati's starting five on the offensive line is probably already on the roster, but depth is needed across the board, especially after the loss of Anthony Collins. Bitonio is a player that can wear several hats and line up on the edges (where he played in college), but also kick inside if needed. He is barrel-chested with the upper body strength to punch at the point of attack and bury his man, but he needs to show better body control and his lack of length shows up frequently. Bitonio is tenacious, stubborn and sticky as a blocker who is at his best in a phone booth where he can let his mean streak take over -- a reliable second-round draft pick.
SS Deone Bucannon, Washington State (82, 2): While Reggie Nelson has free safety locked down, strong safety has been a trouble area. Incumbent starter Taylor Mays is the type that you will always look to replace and if a prospect like Bucannon is still on the board in the second or third round, that time might be now. The Washington State product is a tough, physical player who emphatically throws his body around and will pile up the tackles, but needs to stay under control to make consistent stops. Bucannon has stiff hips and joints, but he plays fast with very good play speed, especially downhill, attacking the line of scrimmage.
DE Ethan Westbrooks, West Texas A&M (188, 17): The Bengals drafted Margus Hunt in the second round last year, anticipating the loss of Michael Johnson to free agency this season. And while Cincinnati expects a big jump in Hunt's development in his second season, adding youth depth at pass rusher should still be in the plans on draft weekend. Westbrooks is an intriguing developmental option who will probably cost a mid-round draft pick. He dominated the Division II ranks, flashing impressive pass rush skills for a player at his level. Westbrooks is very unpolished and unrefined, but there is a certain high reward for the coaching staff that can corral his raw talent.
LB Denicos Allen, Michigan State (223, 22): With James Harrison no longer on the roster, the Bengals will have a new SAM linebacker in 2013 and adding a player like Allen to compete for the job makes sense. He produced consistent numbers the past three seasons as a starter, leading the country's top-rated defense in tackles as a senior. Allen lacks ideal height and plays straight-linish, but his reaction time, play speed and nose for the ball stand out. He plays with a chip on his shoulder and is accustomed to proving doubters wrong, something I expect him to do in the NFL, at the very least on special teams coverages.